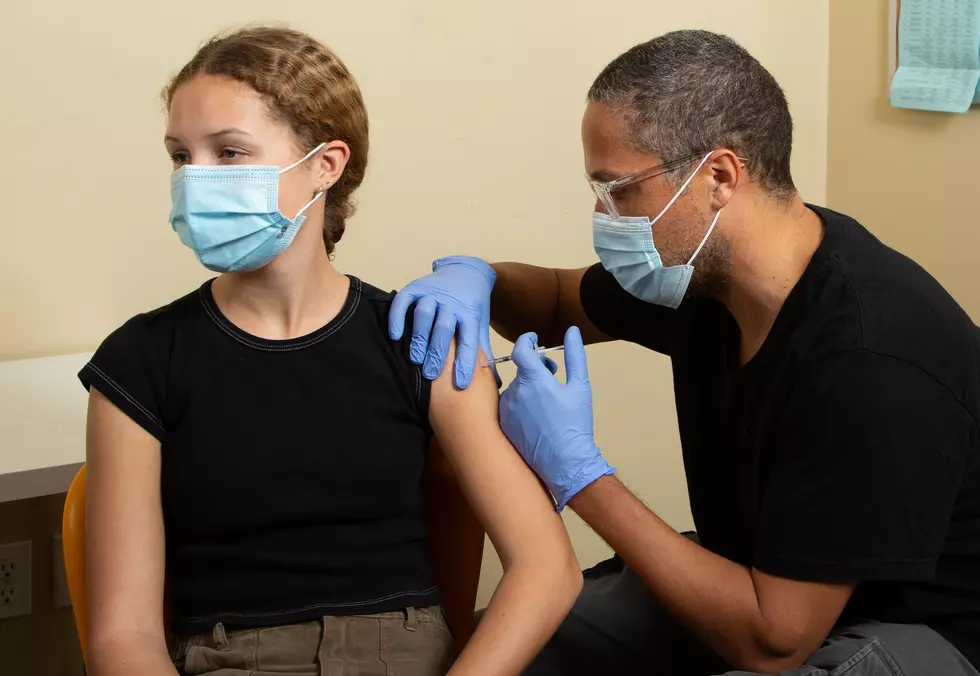 Covid vaccines are the key to reopening Jersey Shore and State by June or July
Getty Images/iStockphoto
The Covid-19 Rate of Transmission in New Jersey has been under 1.00 for a couple weeks, most recently dancing around 0.92, so a positive trend, the lower the number, the quicker we can get back to normal and know that less people are becoming infected.
When is the right time to lift restrictions and reopen? Is one vaccine more affective than another? How can we prevent further spread of the coronavirus? Why is it so important to get vaccinated?
I ran these questions and more by Dr. Ken Sable, the Regional President for Hackensack Meridian Health's Southern Region, which overseas Jersey Shore University Medical Center in Neptune City, Ocean Medical Center in Brick and Southern Ocean Medical Center in Manahawkin, for an explanation to the answers many are having regarding Covid-19 testing, vaccines and restrictions.
(Video of Dr. Sable above and at the bottom of page)
Hospitalization Rate:
These Jersey Shore hospitals haven't seen any issues with overcrowding due to Covid patients but they have seen the amount of people coming in with the virus go up then down then back up again.
"We have seen kind of a wave pattern and after December, January and the holidays we had seen some decreases for a period of time starting in mid to late January and certainly February and March we started to see the numbers creep back up significantly. In many of our hospitals, we were down significantly in numbers of patients and those numbers actually doubled in the past month or two," Dr. Sable tells Townsquare Media News. "The good news is that in the past week or two we have seen a somewhat steady decline across the Southern Market."
As of Monday, Dr. Sable said that at JSUMC, OMC and SOMC they had about 117 patients in the hospital who are Covid positive with some being admitted to the ICU and others on the medical floor. It had been much more than that up until recently.
Overall, there have been positive trends as well.
"We're definitely making progress, we've discharged about 5,000 Covid patients from those three hospitals, we've taken about 300 off of ventilators and just in our three hospitals alone, we've done almost 100,000 vaccinations that have been administered." Dr. Sable said.
Vaccination Rate:
There are more people getting vaccinated which is helping to curb the spread and more of that happening will slide us into a healthier reality much more sooner than perhaps originally anticipated.
"We continue to maintain that getting vaccinated, providing the vaccine to a majority of New Jersey residents and of course the country remains the best way to beat Covid-19 so we are aggressively trying to get our hands around the product and having as much vaccine as we can to be able to distribute to various villages and our Mega-Site up in Bergen County," Dr. Sable said. "We also want to reassure the public that the vaccines are safe. The MRNA vaccines are short lived in your body but what's in that vaccine are just the instructions or "the recipe" to make the spike protein which your bodies natural immune system can then make antibodies to."
Which vaccines are safe and affective?
Many remain skeptical of any vaccine out there right now, whether it's ones as affective as Moderna and Pfizer and ones not as affective and under investigation like Johnson and Johnson.
With all this information swirling, there is growing concern about getting the vaccine mixed with possible severe side affects from underlying conditions.
"We believe that all vaccines are good choices, we're not really trying to pit one against another or one that's inferior even with the J&J study, it wasn't apples to apples in terms of how that study was done and many people feel that that vaccine is just as affective. Most importantly, even with the J&J vaccine it prevented 100-percent of hospitalizations and deaths due to Covid," Dr. Sable said. "Even if you want to say it's less affective in terms of preventing you from getting Covid, it was still 100-percent affective in preventing you from being hospitalized or dying from Covid, which is really what we're trying to do with the vaccine."
While skeptical himself early on, knowing the science behind everything, makes him more comfortable and that's what he's encouraging you to do as well, trust the medicine and science behind the decisions.
"I was one of the ones initially that would say 'you know what, I don't know enough about the vaccines, I can't say that I want to be the first one in line', but then we started to get the science and understand how these vaccines work and understanding that is not a live virus, so nobody is injecting the virus into you, the actual material that goes in in terms of MRNA, for example, are short lived in your system," Dr. Sable said. "What we still don't know yet is how long the vaccines will last. Will we require a booster shot in the fall? We don't know that yet. We also don't know exactly how affective the vaccines will end up being against the new variants although preliminary data is saying that they are quite affective."
When will it be safe to open up the Jersey Shore and State again?
Governor Phil Murphy has a goal of vaccinating 70-percent of the adult population in New Jersey to reach that level of herd immunity to prevent spread of the coronavirus.
That herd immunity is needed of people who've had Covid already combined with people getting vaccinated, Dr. Sable explains, and that means getting to normal will get here sooner.
"We're really working hard with the State, with the department of health, New Jersey Hospital Association to ensure adequate supply of vaccine and I can tell you that sometimes on a week to week basis, we have good supply coming in this week or we don't have good supply coming in and so that's a little bit of a challenge. If we have the product, we can get it into arms efficiently, affectively and satisfactory to the communities," Dr. Sable said. "In New Jersey, we've done probably about 6-million or so vaccines and Hackensack Meridian Health has done almost half-a-million vaccines alone. We have the capacity to do it, we just need to be able to get the product."
As for reopening everything and lifting restrictions, it's going to take some time, don't expect it to happen tomorrow.
"I think that we will have to see how many people actually get vaccinated. There's a lot of models that say if we can achieve the desired vaccine levels as well as the number of people who've had Covid, that potentially by June or July, we could achieve close to herd immunity. Then and only then will we able to start even thinking about relaxing some of the protections that are in place today," Dr. Sable said. "But until we're really convinced of that, I don't think that we're ready to do that quite yet."
You can follow Vin Ebenau on Twitter and Instagram and email news tips to vin.ebenau@townsquaremedia.com.
12 Times Being High Cost NJ Residents & Towns
Have You Seen Them? Ocean County's Most Wanted
Have You Seen Them? Monmouth County's Most Wanted
NEXT: 10 Jersey Shore School Districts Losing Millions From S2 School Funding Formula
Ten times drunk driving changed New Jersey Lives Forever
Strange NJ Laws You've Never Heard Of
Marijuana legal in NJ: How do the laws work?
Answers to common questions about legalized recreational marijuana in New Jersey and rules about underage use of weed.
NEXT: INSIDE JOE PESCI'S HILARIOUSLY OVER-THE-TOP LAVALLETTE MANSION
LOOK: GO INSIDE JON BON JOVI'S $20 MILLION MIDDLETOWN MANSION
Go Inside Mike 'The Situation's' NJ Mansion
TAKE A TOUR OF JON BON JOVI'S NEW $43 MILLION PALM BEACH MANSION
Jersey Shore Nor'easter 2021 Listener Pictures
LOOK INSIDE: The Most Expensive House in Rumson
This is the most expensive house for sale in Rumson, NJ in 2021
Peek Inside Snooki's New Toms River Waterfront Home
LOOK: See the iconic cars that debuted the year you were born
NEXT: The 100 Best Places to Live on the East Coast