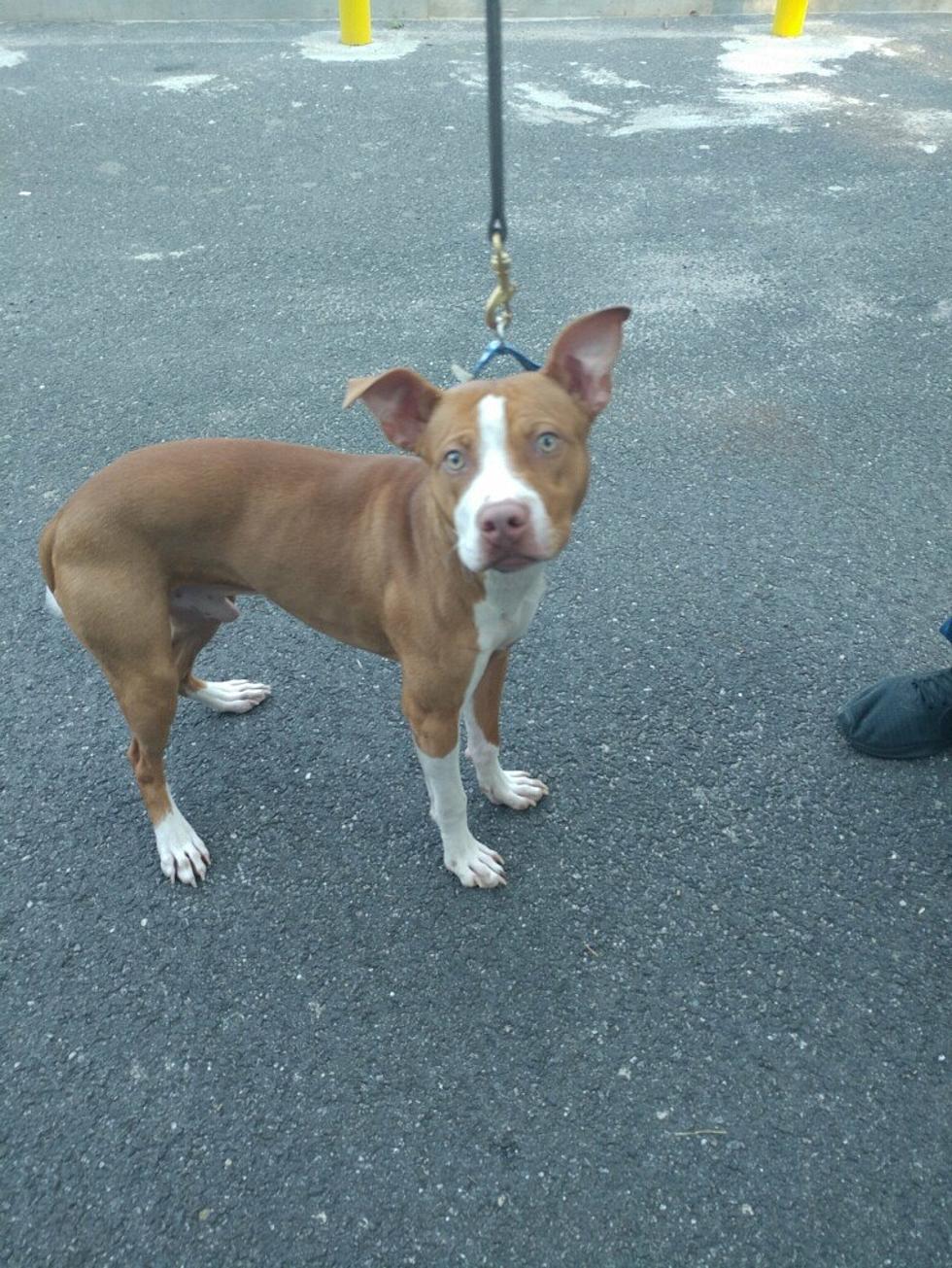 Brick Police Officers rescue pit bull from 110-degree balcony heat
Rescued Pit Bull from residence in Brick. (Brick Township Police Department)
Three Brick Police Officers are heroes for rescuing a pit bull who was left on a third story balcony for several hours in the direct sun and heat on Sunday, and the owner who left the dog there is facing charges.
Officers Scott Smith and Joe Lardieri as well as Sergeant Jason Shepherd responded to 252 Sawmill Road in reference to an animal complaint from someone who called police around 4:10 pm
Upon arrival the officers found the pit bull breed panting heavily and barking and appearing to be in distress.
Police tired to contact a resident at the front door but were unsuccessful.
Officer Smith used a laser temperature gauge to determine that the temperature on the surface of the balcony was in excess of 110 degrees.
Police then called in the Herbertsville Fire Company to have a ladder brought to the scene so officers could rescue the dog.
Several area residents, meanwhile, were gathered outside watching the scene unfold.
Officer Smith climbed the ladder when firefighter arrived and went up to the balcony and let the dog in through the sliding glass doors as the watching residents below clapped and cheered.
When Officer Smith let the dog in the residence he found a woman inside sleeping.
The woman was just a roommate and is not the owner of the dog.
The dog was brought to an emergency veterinarian for overnight treatment and observation while officers ascertained ownership information.
On Monday, the dog's owner, Jade Brown, was issued a summons for Failure to Provide Care for an Animal.
The dog has been removed from her possession.
Sgt. Shepherd was heard praising the cooperative effort to rescue the dog, "I'm just glad someone called it in in time for us to get to the dog. The fire department and the guys all did a great job."
The dog is currently safe and cared for in a local animal shelter.
This sadly is not the first case of a homeowner leaving a dog out in 100-degree heat.
You can follow Vin Ebenau on Twitter and Instagram and email news tips to vin.ebenau@townsquaremedia.com.
More From Townsquare Media Monmouth-Ocean:
Enter your number to get our free mobile app
"Signs