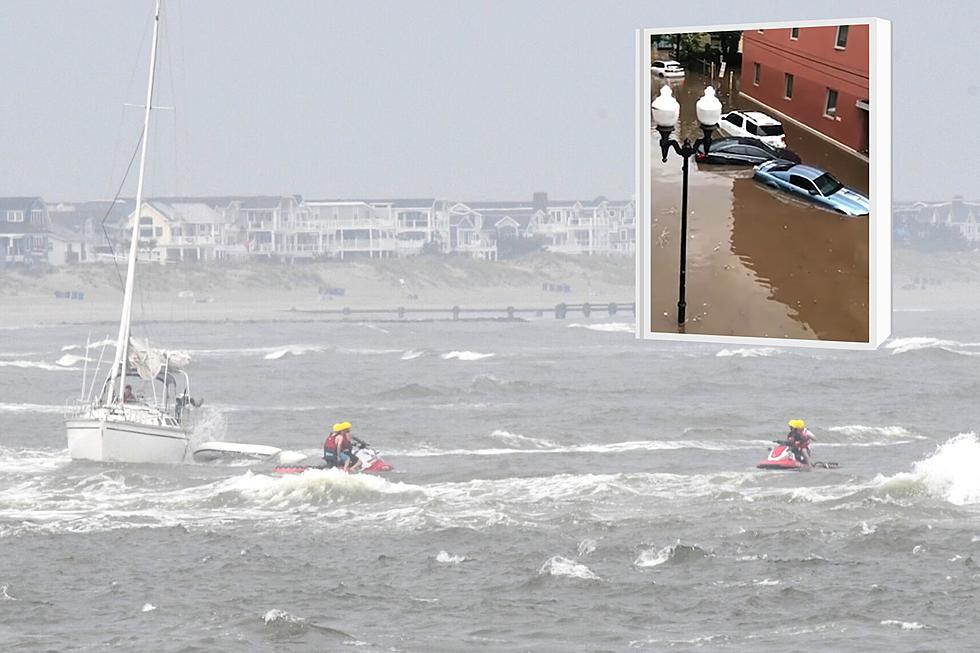 Baby rescued from water as torrential rains flood NJ city neighborhood
Rescue in Townsend Inlet in Avalon (Seven Mile Times), Flooded cars in New Brunswick (ABC 7 Eyewitness News),
🌧 Torrential rain in New Brunswick caused flash flooding in a low-lying airport
🌧 Another day of canceled flights at Newark Liberty International Airport
🌧 Wave runners led a rescue of boaters at the Jersey Shore
---
A line of thunderstorms on Tuesday morning caused flash flooding in New Brunswick, flight cancellations at Newark Liberty International Airport, and led to dramatic rescues of a baby that fell into flood water and of people trapped on a boat.
Flooding in a low-lying New Brunswick neighborhood on Drift Street led to the evacuation of eight residences with 30 people, according to the American Red Cross New Jersey.
A mom told ABC 7 Eyewitness News that in the rush to escape, her 3-month-old son slipped out of her arms. Family members pulled the child out of the water and got him to a hospital after he swallowed water.
Middlesex County Sheriff's Department officers rushed to help with the evacuation, Sheriff Mildred Scott told TAPinto New Brunswick.
"They didn't hesitate to respond quickly, and were able to use their training in the rescue," Scott told TAPinto New Brunswick.
The underground parking garage at the Middlesex County Family Court, where the sheriff's office is headquartered, was also flooded. The courthouse is closed until further notice, court spokeswoman MaryAnn Spotto told New Brunswick Today.
Flight cancellations and a funnel cloud
The storms created another day of travel havoc at Newark Liberty International Airport with 100 departures and 98 arrivals cancelled on Tuesday.
The National Weather Service confirmed through radar that it was a funnel cloud that was captured on video over Seaside Park during Tuesday's thunderstorms.
The NWS has not received any reports of damage and doesn't plan to send a survey team to investigate further. No tornado watches or warnings were issued on Tuesday.
Ten tornadoes have been reported in New Jersey this year.
Dramatic rescue in Avalon
First responders on wave runners rescued two people on board a 30-foot single-masted boat that ran aground in the Townsend Inlet Tuesday afternoon during a thunderstorm that made the water especially rough, according to Fire Chief Ed Dean.
An Avalon fire boat, a small vessel from U.S. Coast Guard Cape May and a boat from Sea Tow responded to the scene. It was the fire department wave runners that successfully reach the boat. No injuries were reported.
"Avalon continues to be blessed to have brave men and women who respond to life-threatening incidents even when conditions are not ideal," Dean said.
New Jersey 101.5 Chief Meteorologist Dan Zarrow said the threat of isolated showers and thunderstorms continues all day Wednesday. Locally heavy downpours could again cause flash flooding.
A New Jersey woman was among five victims killed in a deadly flash flood Saturday evening in Pennsylvania. The search, meanwhile, continues for two children swept away by the sudden flood waters as high as 5 feet in Washington Crossing, Pennsylvania.
At least eight people were taken by the waters. Two young children remain missing.
Report a correction 👈 | 👉 Contact our newsroom
Pictures of a $16.5M private island home being sold by NJ doctor
Pictures of a $16.5M private island home being sold by NJ doctor
LOOK: Do you know these 50 famous acronyms?
This list from
Stacker
features a collection of the most common acronyms and their meanings. Popular abbreviations include establishments like ACLU, YMCA, ad the AARP.
LOOK: Famous actresses from New Jersey
Stacker
compiled a list of famous actresses from New Jersey from IMDb.