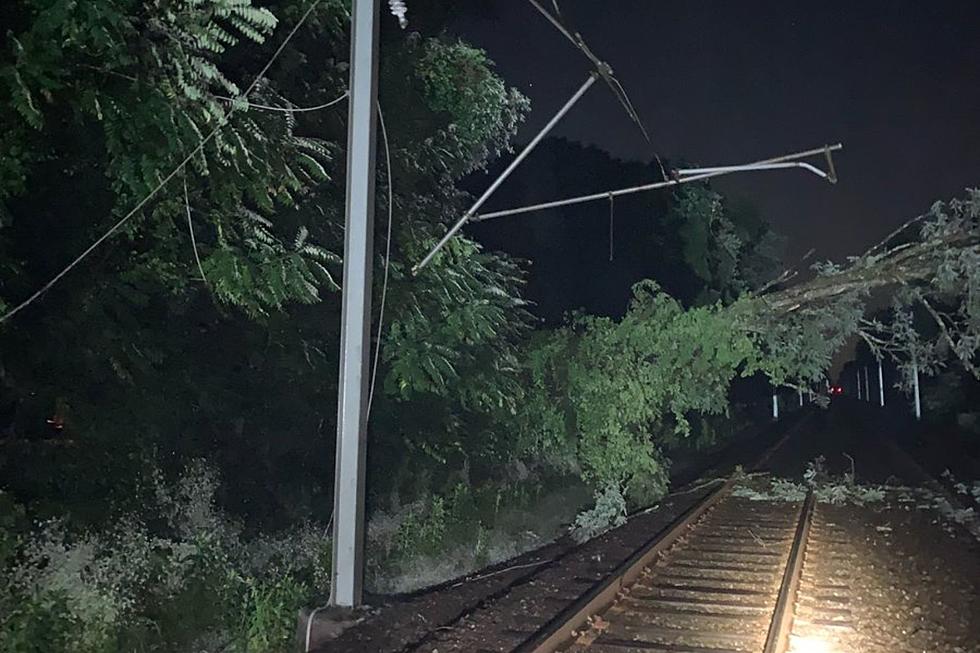 Why was service suspended on NJ Transit's North Jersey Coast Line?
Fallen tree on the catenary wire along NJ Transit's North Jersey Coast Line in Middletown 8/11/23 (NJ Transit)
🚄 A tree fell on the catenary wire in Middletown after midnight Friday
🚄 The fall sparked a small fire
🚄 Repairs were ongoing to remove the tree and reinstall the wire
---
Service on a portion of NJ Transit's North Jersey Coast Line was suspended early Friday morning after a tree fell on a catenary wire.
NJ Transit spokesperson Kyalo Mulumba told New Jersey 101.5 that a tree fell on the wire along the tracks between the Middletown and Red Bank stations sometime after midnight taking the catenary line down with it. The fall also sparked a small fire.
The catenary line is above the track and supplies electricity to the trains traveling on the tracks below.
Service in both directions between Long Branch and Matawan was suspended for much of the morning. Service was restored by 11:45 a.m. in both directions.
NJ Transit rail tickets and passes are still being cross honored by NJ Transit buses.
Bus service was provided during the morning commute between Long Branch and Matawan but ended at 9:15 a.m.
The website for NJ Transit's Alternate Back-up Contingency (ABC) campaign, which encourages riders to have a "plan B" for their travels linked to bus alternatives from each station on the North Jersey Coast Line.
Report a correction 👈 | 👉 Contact our newsroom
Wow! Aaron Rodgers new home in New Jersey: Inside and out
Here's a look at New York Jets Aaron Rodgers' new Montclair home with 8 bedrooms and 9 baths — and sweeping views of the rest of New Jersey and the Manhattan skyline.
A shopper's paradise in a quaint NJ town
33 Early 2000's 'TRL' Moments That Feel Like a Fever Dream
MTV's Total Request Live was known for hijinks, hedonism, and giving VJs and Carson Daly unfettered access to artists like Britney Spears and Destiny's Child. Let's take a look back at these crazy TRL moments.