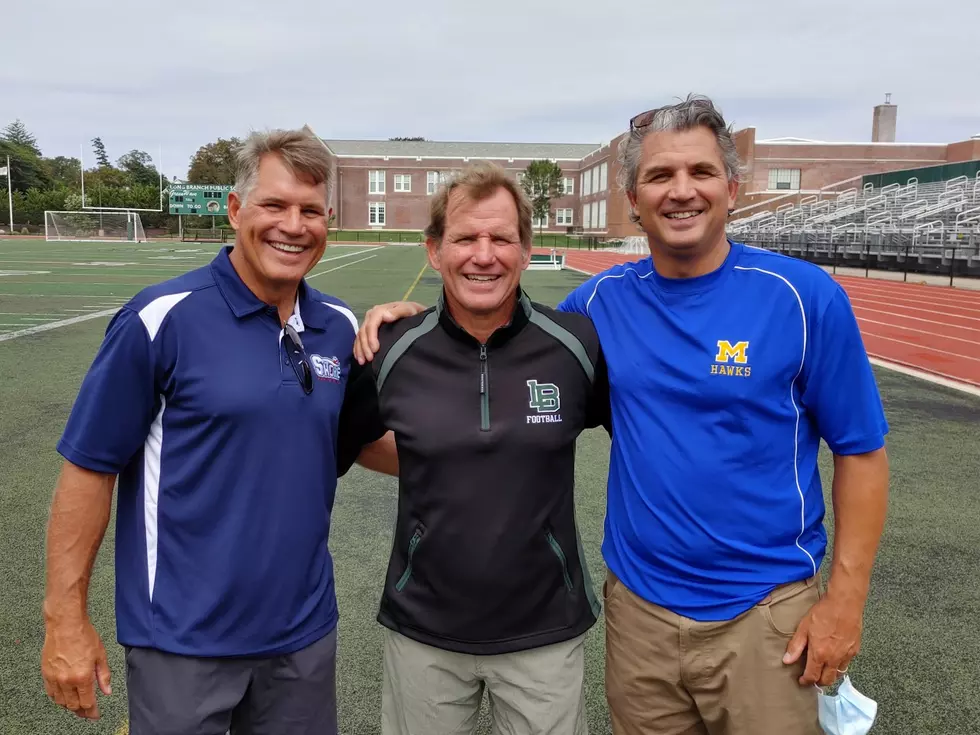 The Top-10 most read, watched Jersey Shore News stories of 2020: #7
From Left to Right: Bill, Dan and Alex George. (Vin Ebenau, Shore Sports Network)
Enter your number to get our free mobile app
We are continuing our simultaneous countdowns of the Top-10 Most Read Jersey Shore News Stories and Most Watched Jersey Shore News Stories of 2020.
Here is the 7th most read article followed by the 7th most watched video on our social media platforms of Facebook and YouTube across 92.7 WOBM, 94.3ThePoint, 105.7TheHawk, the new Beach 104.1 FM and the Shore Sports Network.
Do you remember that project you did in school growing up where you had to put together a family tree?
It was a poster board filled with the names of each of your family members and what they did as well as listing what you wanted to do with your life.
The tree was made using markers, crayons, stickers and so forth to make it shine that much more and get some extra credit.
Well the George family tree didn't need that extra sparkle to be colored in, it was there naturally as a family of athletes who played and starred at Long Branch High School for decades and have since played at other schools across Monmouth County.
Some went onto to other coach football or wrestling which a couple of them also played and even became educators and there's a beach manager in the family as well.
On the 4th episode of Townsquare Media Jersey Shore's 'Ask The Chief' Stafford Township Police Chief Tom Dellane discussed a number of topics including the 'On Point' mental health program that has brought in social workers to the department twice a week since 2016 to help police deescalate situations and the program was on the cusp of becoming a National program under former 3rd District Congressman Tom MacArthur prior to losing to Andy Kim in the 2018 election. The program has not been picked back up in Congress by Andy Kim.
Our 'Ask The Chief' show is special digital video series you can watch on our website, Facebook page and FREE Mobile App and it's where Police Chiefs from Monmouth and Ocean Counties join me for a discussion on current events, safety procedures, community programs, the state of police in today's society and much more.
Check back here on our website and app for #6 in our countdown of the Top-10 Most Read Jersey Shore News Articles and Most Watched Jersey Shore News Videos of 2020.
You can follow Vin Ebenau on Twitter and Instagram and email news tips to vin.ebenau@townsquaremedia.com.
The Nine Best Baseball Players From New Jersey
Enter your number to get our free mobile app