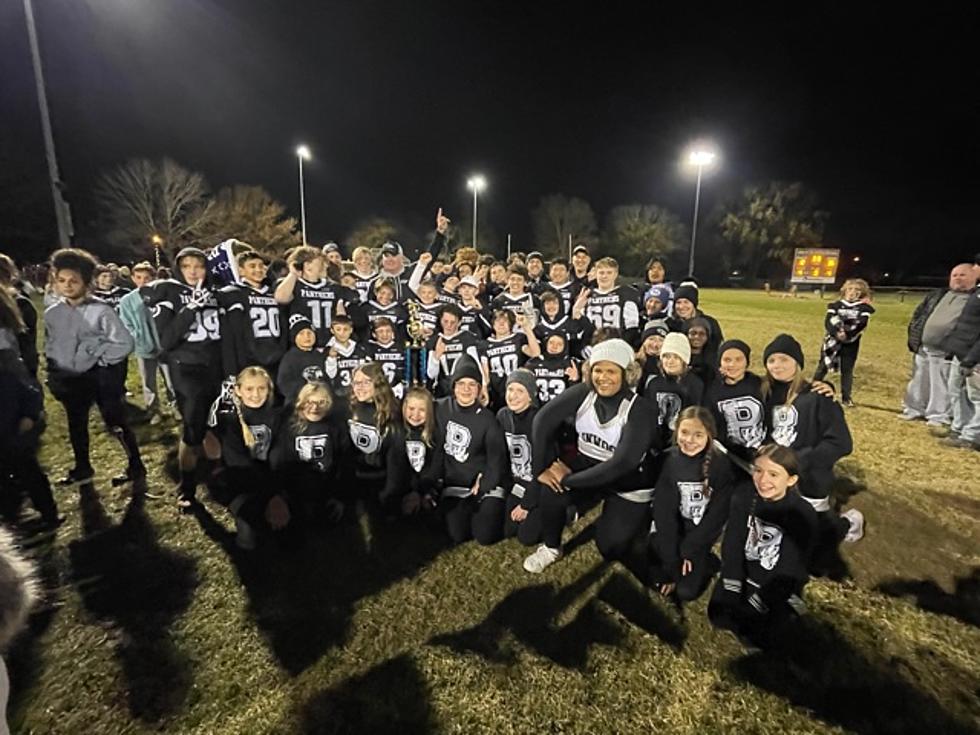 Super Bowl Champion has Message for Linwood Panthers
Photo Submitted
The Linwood Panrhers football program won their first varsity football title in 50 years during the 2021 Jersey Shore Youth Football League season.
Linwood completed its first ever undefeated season with a 36-12 win over the Hammonton Hawks.
Two NFL seasons ago, it was the Kansas City Chiefs, who won their first Lombardi Trophy in 50 years.
One of the Chiefs captains, Tyrann Mathieu, addressed the Panthers and congratulated them on winning the prestigious football title.
The 'Honey Badger' pointed out to the young Panthers how football takes dedication,  grit and attention to details to make a Championship team.
Mathieu, who was named the Walter Payton Man of the Year for the Chiefs, which recognizes a player's volunteer and charity work, as well as his excellence on the field, congratulated the team, coaches and the community and urged the program to keep the same drive in 2022.
"Let's do it again," Mathieu said. "Go Panthers and Go Chiefs."
The Panthers went a perfect 10-0, averaging over 30 points a game.
"Our community - Panther Nation as we call it - did this," said Panthers league President John Franchini. "Our Mayor Darrin Mattick, and our city leaders, Erid Ford, Matt Levinson, and Tim Donovan, and city council are supportive, we have a great cheer coordinator and our cheerleaders are simply amazing. They come rain or shine and bring an energy that we feed off of. We have a great football coordinator and some amazing coaches who give of their time, many of whom do not have a child on the team. Our parents, volunteers and alumni bring the passion."
The Varsity team is made up of the following players:
Mike Brestle, Mykai Campbell, Angelo Caucci, Vincent Caucci, Elizer Ceballos, Jasper Coville, Lucas DeBiaso, Ford DeSalle, Trevor Dill, Logan Dreaper, Joey Eyde, Finn Fiore, Dante Franchini, Johnny Franchini, Andrew Gebhard, Dylan Grant, Jack Gregory, Reese Gurwicz, Damon Herschel, Will Hickman, Chase Hoag, Nigel Hucey, Justin Mazur, Joey Niceta, Jeremy Polanco, Dallas Rowell, TJ Santarpio, Sean Sharky, David Simpson
Coaches: Jim Barrett (head coach), Mike Blee, Mike Brestle, Tony DeSalle, John Franchini, Kevin LaMonaca
Linwood Panthers Win 2021 JSYFL Championship