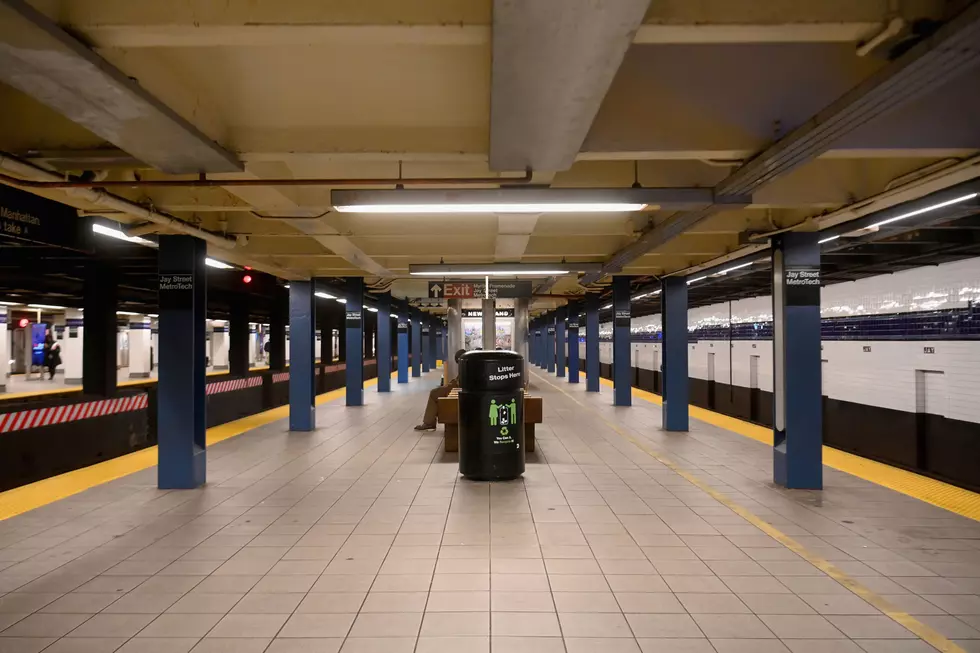 24 Social Distancing Songs: Don't Stand So Close to Me
Angela Weiss, Getty Images
The coronavirus pandemic has left much of society sequestered in their homes, a tactic that's being referred to as "social distancing."
The concept is simple: The less time spent in public, the less chance of spreading the virus, and better the odds of slowing the spread of COVID-19.
As a result, many people are finding themselves working from home, limiting their activities and generally having a lot more time on their hands.
We've assembled two dozen songs to accompany your social distancing experience. Whether they echo the advice of health experts, reflect the feeling of solitary seclusion or simply resonate with this strange moment in history, these tracks should make your quarantined lifestyle a little more enjoyable.
The Police, "Don't Stand So Close to Me"

In an effort to stifle the spread of coronavirus, experts are recommending people maintain six feet of personal space when in public areas. The Police's "Don't Stand So Close to Me" works as the perfect reminder to maintain such a distance. Released in 1980 as the lead single from their third album, Zenyatta Mondatta, the song hit No. 1 in the U.K. and peaked at No. 10 in the U.S. The band also won a Grammy Award for the track, which has since become one of its most recognizable songs.

This classic Heart power ballad will hopefully provide a measure of comfort as people limit their interactions and spend extended times alone. The song existed for more than four years before it became famous, appearing on a 1983 album by songwriters Billy Steinberg and Tom Kelly, before later being recorded by actor John Stamos and the cast of the TV sitcom Dreams. In 1987, Heart finally got a hold of the track and made "Alone" a global chart-topping hit.

Alice in Chains, "I Stay Away"

In a discussion with The Atlantic, Carolyn Cannuscio, the director of research at the Center for Public Health Initiatives at the University of Pennsylvania, insisted that anyone waiting out a 14-day quarantine should "stay away from other people." Those individuals would be wise to heed the refrain of this 1994 grunge classic, released on Alice in Chain's triple-platinum selling acoustic EP Jar of Flies. The song's music was penned by Mike Inez, who had joined as the band's bassist in 1993, replacing Mike Starr. It features expansive arrangements not heard on most of the band's other tracks, including the use of strings and a horn section.

Tom Petty and the Heartbreakers, "Don't Come Around Here No More"

While practicing social distancing, it's important — though difficult — to tell people not to "come around." The story behind this Tom Petty hit is much more salacious. Dave Stewart of Eurythmics wrote the song after a night with Stevie Nicks. The Fleetwood Mac songstress had just broken up with Eagles guitarist Joe Walsh and wanted to celebrate her freedom by partying with Stewart at her Los Angeles home. When Walsh stopped by to see his now-former girlfriend, she told him, "Don't come around here no more." The track would later be given to Petty, who turned it into a hit in 1985. The song's music video also earned heavy rotation on MTV, becoming one of the most popular clips of the era.

Hall & Oates, "Out of Touch"

The less touching, the better. That's the refrain we keep hearing from experts trying to contain the coronavirus. Staying "Out of Touch" worked for Hall & Oates back in 1984. The duo hit No. 1 on the Billboard Hot 100 with this song, the first single from their 12th studio album Big Bam Boom. Like Tom Petty's "Don't Come Around Here No More," "Out of Touch" received broad exposure on MTV. Both music videos were helmed by director Jeff Stein.

Perhaps no song has perfectly captured the feelings of loneliness and solitude more than this 1970 track by John Lennon. Released on Plastic Ono Band, his first solo album following the breakup of the Beatles, "Isolation" is Lennon at his most vulnerable as he struggles for acceptance in the world despite his fame and fortune.

From Kurt Cobain's angsty vocals to Dave Grohl's zealous drum beats, this album cut from Nirvana's legendary 1991 LP Nevermind is brimming with the kind of frenetic energy that helped launch the grunge icons to superstardom. Its tone - and chorus - is perfect for anyone trying to remain isolated while also going stir crazy under self-quarantine.

Fleetwood Mac, "Behind the Mask"

"Don't you come too close to me / You're dangerous, can't you see," begins this Fleetwood Mac song, its words resonating louder today in a hyper-aware coronavirus society. Though the lyrics, penned by keyboardist Christine McVie, have more to do with a former lover than a pandemic, the imagery of fearing what's "Behind the Mask" rings true.

In case you forget exactly why you're under self-quarantine, this song from Iron Maiden will serve as a reminder. Released in 1996, the track was the only official single from the band's career-spanning compilation album Best of the Beast.

Whitesnake, "Here I Go Again"

If there's such a thing as an isolation party song, this is it. Whitesnake's 1987 chart-topping hit is one of the most recognizable tunes of its era. While the track is still regularly played in bars and clubs across America (when they're open), its lyrics remain the anthem of a loner: "Here I go again on my own / Goin' down the only road I've ever known / Like a drifter, I was born to walk alone."

"It's hard to live ... under those circumstances. … It's hard enough to live with yourself." Those comments from Neil Young were not about social distancing but rather his experience as a member of Buffalo Springfield. The rocker left the band in May 1968, releasing his self-titled debut solo album in November that year. "The Loner" would be his lead single, a track that's since become a mainstay of his live performances.

The Rolling Stones, "Get Off My Cloud"

Social distancing around the coronavirus has left normally busy streets empty. A similar scene is described at the beginning of this 1965 Rolling Stones chart-topper, as Mick Jagger sings, "I live in an apartment on the 99th floor of my block / And I sit at home looking out the window / Imagining the world has stopped." Described by guitarist Keith Richards as a "post-teenage-alienation song," the tune quickly became one of the Stones' most recognizable hits.

George Thorogood & the Destroyers, "I Drink Alone"

You're stuck inside your home. You're bored. You're looking for a way to pass the time. We won't judge you if you decide to drink alone - and neither will George Thorogood.

Joy Division, "Isolation"

While under self-quarantine, many people will find themselves embracing isolation. So, this song from Joy Division will take on added meaning. Found on the band's final album, 1980's Closer, the track is anchored by an infectious post-punk beat.

Billy Idol, "Dancing With Myself"

Over the years, fans have misinterpreted this 1981 Billy Idol hit, claiming its titular phrase is a euphemism for self-pleasure. In actuality, Idol was inspired by young adults inside a mirrored Tokyo dance club who were dancing alongside their own reflections. "I think a lot of people think it's about masturbation, but it really was about these disenfranchised youth dancing, and that was their world, really," Idol explained in a 2014 conversation with Rolling Stone. "For the time being, they danced with themselves. And that was their answer for that moment."

Motley Crue, "Don't Go Away Mad (Just Go Away)"

Social distancing requires discipline. If friends and family members want to come over, you have to send them away - for their own good as well as your own. Motley Crue strike a similar tone in this 1990 single, its lyrics focusing on a broken-up couple that needs to remain apart for the sake of both parties. The track was part of the six-times platinum selling LP Dr. Feelgood, which remains the most commercially successful album of Crue's career.

Styx, "Too Much Time on My Hands"

After weeks of social distancing, it's likely people will find themselves feeling restless. That anxious feeling is captured in this 1981 hit from Styx. "I've got too much time on my hands / It's ticking away with my sanity / I've got too much time on my hands / It's hard to believe such a calamity," sings Tommy Shaw. Released on the band's triple-platinum selling LP Paradise Theater, "Too Much Time on My Hands" peaked at No. 9 on the Billboard Hot 100 chart.

With gathering places such as bars, restaurants and entertainment venues shutting their doors due to the coronavirus, it's fair to say that the population will become antisocial (at least temporarily). While that's bad for society in 2020, "Antisocial" was good for Anthrax back in 1988. The track - an English-language cover of the song originally released by French hard rock band Trust - became a minor hit and helped Anthrax's album State of Euphoria sell more than 500,000 copies in the U.S.

Simon & Garfunkel, "I Am A Rock"

"I am alone / Gazing from my window to the streets below," sings Paul Simon on this 1966 hit. The song - which tells the story of a shut-in who has detached from the outside world - was originally recorded a year prior as a solo Simon effort but failed to garner attention. It wasn't until the song was rerecorded (with Art Garfunkel in tow) and included on the Sounds of Silence album that it found success, peaking at No. 3 on the Billboard Hot 100 chart.

"Go ahead with your own life leave me alone," Billy Joel sings in this 1978 hit song. His words are fitting during the COVID-19 pandemic, as people need to go on with their lives while also maintaining separation. The song was also the theme to Bosom Buddies, an early '80s TV show known for introducing audiences to Tom Hanks. The sitcom is not available on any of the popular streaming services, though several episodes can be found on YouTube - just in case you're looking for some nostalgia to binge-watch while social distancing.

The Georgia Satellites, "Keep Your Hands to Yourself"

The best-known song from southern-rockers the Georgia Satellites is also sound advice as the world battles COVID-19. "Keep Your Hands to Yourself" reached No. 2 in February 1987, kept out of the top spot by Bon Jovi's "Livin' on a Prayer." Despite going platinum with the self-titled debut album, the Georgia Satellites were never able to replicate the success of their first single.

Roy Orbison, "Only the Lonely (Know the Way I Feel)"

This 1961 classic was Roy Orbison's first huge hit and helped launch the future Rock & Roll Hall of Famer's career. The song was featured on the equally isolated-titled LP Lonely and Blue. Despite these somber tones, Orbison insisted he wasn't a lonely individual while writing. "I've always been very content when I wrote all those songs," the rocker explained in a 1980 interview with NME. "I remember the times that I was unhappy or discontent, and I couldn't eat, I couldn't sleep, I couldn't communicate, and I certainly couldn't write a song, no way. All the songs I wrote that were successful were written when I was in a contented state of mind."

Bob Dylan, "Shelter From the Storm"

The ongoing media coverage of coronavirus continues raining in from all places. While it's important that everyone remains up to date on current events, the flood of information can at times feel overwhelming. Take shelter with this Bob Dylan classic from his iconic 1975 album Blood on the Tracks. The song's tone also speaks the potential for kindness in humanity, a reminder all of us need during these trying times.