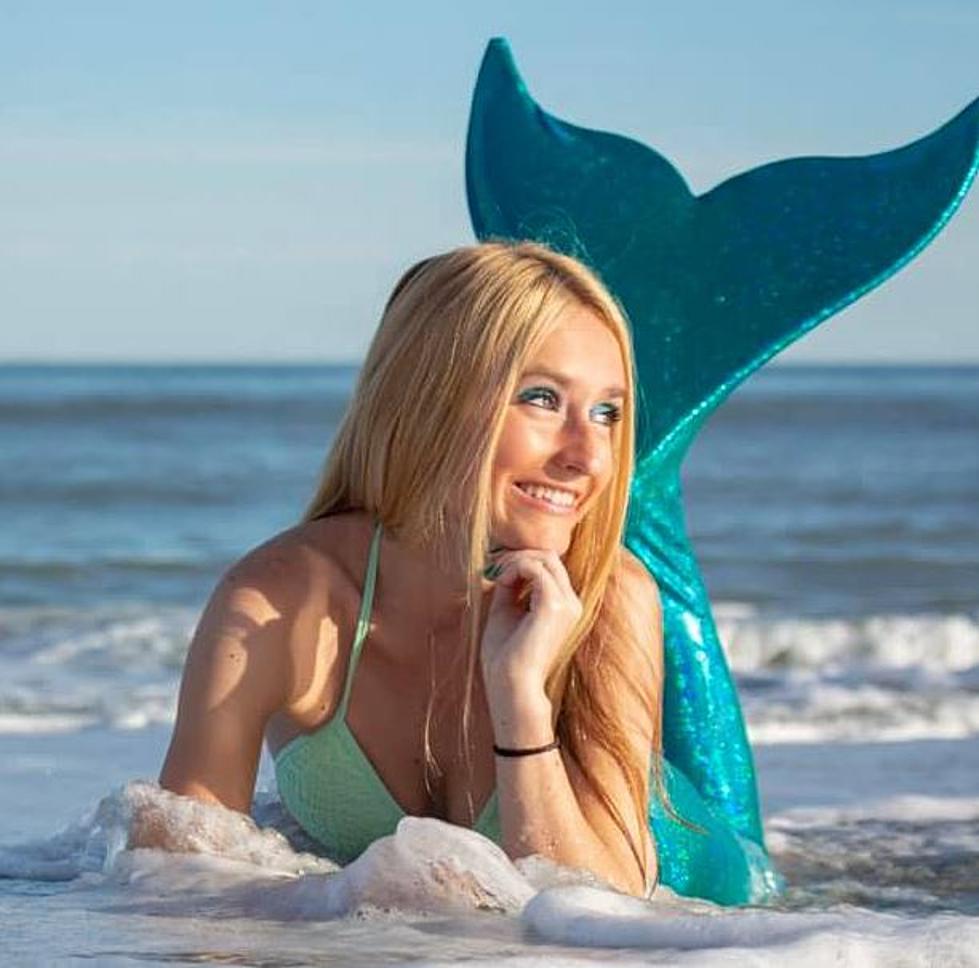 The Jersey Shore's Ariel! Sandy The Mermaid Is A Perfect Addition For Your Daughters Summer Party
Sandy's Mermaid Business
Young New Jersey entrepreneurs deserve to be recognized. I was recently scrolling through Facebook and I saw something that many of you would not only appreciate but also you can possibly invite this special someone to your daughter/granddaughter's summer party. Just make sure you don't invite Ursula! With that, I am excited to get the word out about Sandy The Mermaid, she is the Jersey Shore's Ariel!
Listen to Jimmy G nights on 94.3 The Point and download our free 94.3 The Point app.
Sandy is a professional mermaid for parties, events, and private mermaid lessons. She is able to work events in lakes, pools, or any body of water. She is also able to do land events. It's important to note, Sandy arrives at parties 20 minutes early to set up so that kids don't see her "transformation". Once the party starts, she swims with the kids, performs singalongs, underwater tricks, and plays games like "sharks and mermaids". When asked to prove that she is a "real mermaid" at pool parties, she swims to the bottom of the pool, does multiple backflips, bubble hearts, and bubble rings. For dry parties, she brings sea creature puppets and uses them to put on a show. All in all, Sandy will bring a tremendous personality to your party or event. (KEEP SCROLLING FOR MORE ON SANDY & A VIDEO)
FROM SANDY THE MERMAID:
I received my training at my previous job as a mermaid for Ripley's Aquarium in Myrtle Beach as well as having my NAUI Master Diver Certification. In addition, I also have my American Heart Association Heartsaver First Aid and CPR Certification and my National Health & Safety Association Bloodborne Pathogens Certification. I have lots of experience teaching about the ocean and it's inhabitants and love to incorporate underwater education into my performances! I can't wait to make a splash at your next event!!
WATCH SANDY BELOW:
RATES & CONTACT INFO:
- Mermaid parties -$200 for the first hour and $50 for each additional. *parties 3 hours+ come with free craft*
- Private mermaid lessons-$45 for a half-hour lesson or $60 for an hour (each additional child adds $10)
- FaceTime calls/personalized videos- $20
***Follow Sandy The Mermaid on Facebook Or call to book at (518) 791-1555***
More Great Things To Invite To A Party... The Tastiest Jersey Shore Food Trucks You Should Try This Summer
Take a Dip In The Most Breathtaking Backyard Pools in New Jersey