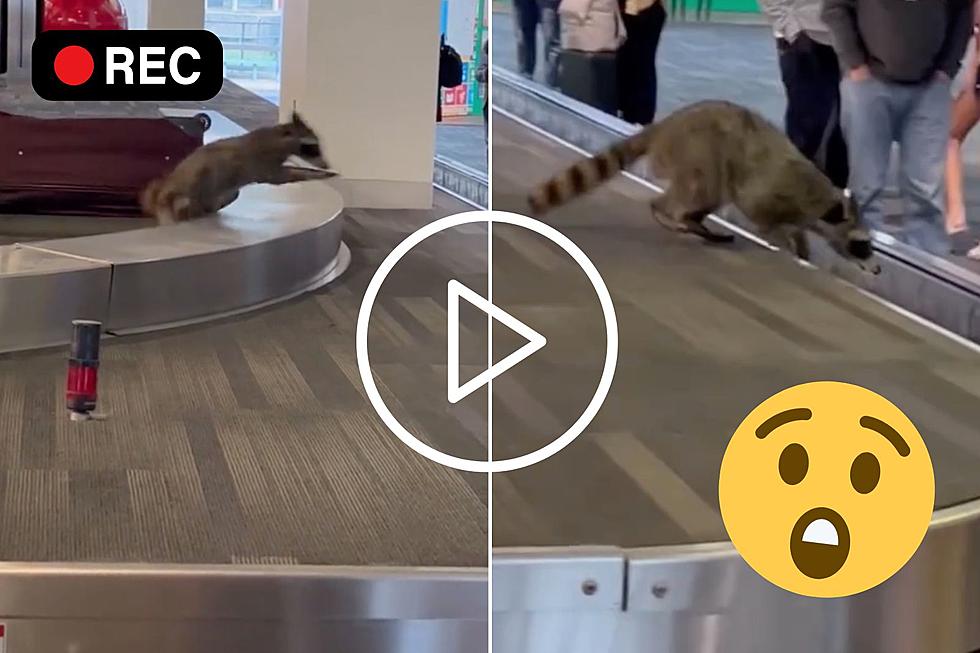 Rampant Raccoon! Watch This Raccoon Shock Travelers at the Philadelphia Airport
Credit: Sara Higgins
We've all been impatient to get our bags from baggage claim, but this is ridiculous!
A raccoon was filmed giving travelers quite a shock at a baggage claim belt at the Philadelphia International Airport on Tuesday night!.
He looks like he's frantically searching for his bag before he catches an Uber to his very important raccoon business meeting in the city.
The little rascal made the news!
Airport employees say that raccoons do hang out around the airport, likely for all the food/garbage, but they usually stay in stealth mode out of public areas. There's also a huge wildlife refuge nearby the airport, so it's not an improbable occurrence. This little guy looked even a bit frantic trying to find his way back outside!
Check out the raw footage down below!
This actually isn't the first time raccoons have popped into the Philadelphia Airport in a populated area. THIS raccoon footage from last year is even funnier. This guy pushed his way past aa metal plate in the wall to grab a full size pack of Twizzlers. You know, typical raccoon things. If there's one thing raccoons have, it's the audacity!
The little guy scurried away and hopefully got back outside and back home. No one waas harmed, including the raccoon. But still, if you see a raccoon in the airport, you shouldn't approach it. Instead let an employee know so they can safely catch and release it back in the wild.
Hopefully the little guy got his bag to make his meeting on time!
---
Best Last Minute Getaways in NJ to Book Now
There's no shortage of great getaways in New Jersey. If you get some spare time and need an idea, take a look at these.
Where Are They Now? Looking Back at New York City TV's Most Famous Anchors & Reporters
From Sue Simmons and Roz Abrams to Ernie Anastos and Jim Rosenfield, New York City's media landscape has been shaped by some of the most iconic anchors (and reporters) ever. But where are they now? We take a look back: