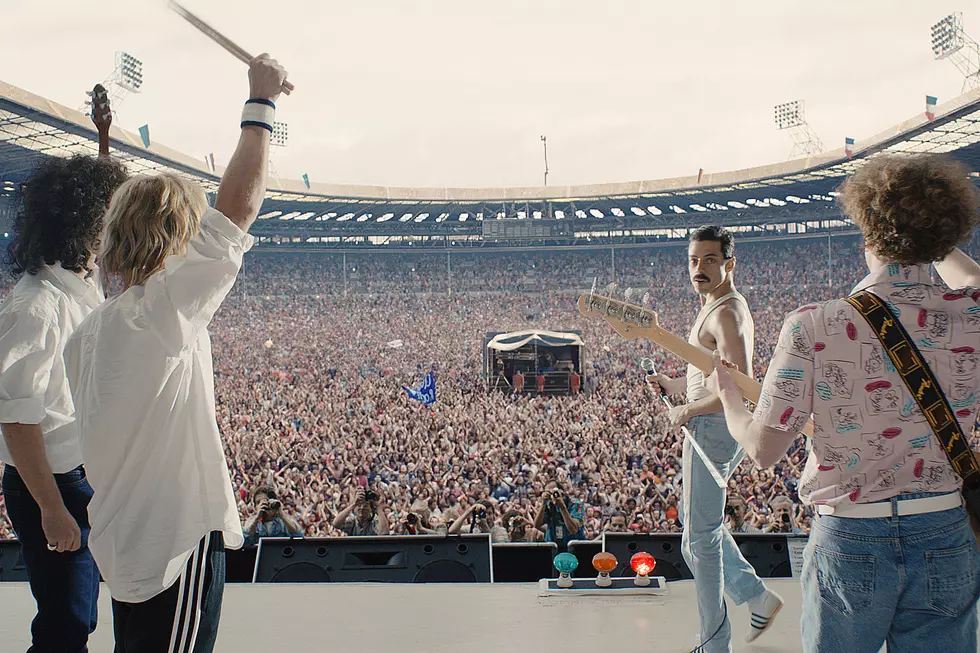 Rami Malek Gives Over-the-Top Performance in Queen's 'Bohemian Rhapsody' Biopic: Review
20th Century Fox
That line, from a romantic scene when the band was still emerging, is important because it sums up what Mercury had always believed he was from the very beginning: a star. It was this blend of bravado and utter confidence within Mercury that propelled him and the other members of Queen to huge popularity -- which still lasts to this day, long after the frontman died from AIDS-related complications at the age of 45 in 1991.
The story of Queen always seemed destined to become a movie because it has the elements of a typical melodrama: interesting characters with differing personalities, moments of highs and lows, ongoing conflict, a devastating tragedy and sometimes a happy conclusion. And that's what Bohemian Rhapsody -- named after the band's epic signature song and directed by Bryan Singer with Queen members Brian May and Roger Taylor serving as producers -- for the most part delivers. It is further enhanced by a career-defining performance by Malek (star of TV's Mr. Robot) as Mercury.
Bohemian Rhapsody begins with Mercury and his bandmates about to get ready to hit the Wembley Arena stage in London at Live Aid on July 13, 1985. That 20-minute appearance in front of a worldwide television audience of 1.9 billion people is generally regarded as the triumphant moment of the band's career. But before the band plays a single note, the film flashes backs to 1970, when a young Farrokh "Freddie" Bulsara works as a baggage handler at Heathrow Airport and writes lyrics and poetry on the side.
One night, he checks out a band called Smile that includes guitarist Brian May (Gwilym Lee) and drummer Roger Taylor (Ben Hardy). Queen are born here and they begin their gradual climb, as Mercury basks in his celebrity and wealth while coming to grips with his bisexuality.
As with most biopics, Bohemian Rhapsody sometimes plays loose with the story, changing sequence of events and certain details -- some of which are omitted -- for the sake of time, continuity and dramatic effect, which is likely to turn off devoted fans who've already devoured the band's history. Still, you have to remember this movie is intended for a general audience that knows Queen and Mercury from a handful of songs, if at all. And even though there were early accusations of "hetwashing" levied toward Bohemian Rhapsody, the movie addresses Mercury's sexuality, including his relationships with men and the moment he discovers he's HIV-positive. How much of that is sufficient or not depicted is left up to the viewer to decide.
That said, Bohemian Rhapsody, from a screenplay by Anthony McCarten, does serve up two hours' worth of adequate entertainment drawing from a compelling story. It convincingly captures the band's internal dynamic and their studio perfectionism, especially during the recording of "Bohemian Rhapsody" and aspects of Mercury's personal life and Persian heritage. The amount of detail put into the production -- from the singer's stage costumes to May's Red Special guitar to the recreation of Live Aid at Wembley -- shows how much care was involved in getting the look of the film right.
The performances are great too, especially the supporting cast. Lee captures May's soft-spoken manner and playing style, while Hardy evokes Taylor's brash, mischievous rock 'n' roll personality and Joe Mazzello as John Deacon nails the quiet and reclusive bass player's sensible, matter-of-fact attitude. Boynton provides an emotional center as the faithful Mary, while Aiden Leech, as band manager Paul Prenter, effectively serves as the antagonist who divides Mercury and his bandmates. Plus, Mike Myers' portrayal of a record-company executive is a clever bit of casting, given that his movie Wayne's World propelled "Bohemian Rhapsody" to the charts again in 1992.
But it's Malek who delivers the movie's showstopping, multi-dimensional performance, summing up Mercury's essence both physically and emotionally. His dance moves and mannerisms onstage are perfectly matched, especially during the Live Aid scenes. But most importantly, he convincingly portrays Mercury's dual personality: the outrageous, cocky and arrogant entertainer audiences knew and the shy, insecure and vulnerable person he was away from the spotlight. The movie is buoyed by all the hit songs presented throughout, including "Killer Queen," "We Will Rock You," "We Are the Champions," "Another One Bites the Dust" and, of course "Bohemian Rhapsody."
Bohemian Rhapsody isn't perfect. Certain details and parts of the timeline have been dramatically altered (and, as our friends at Screencrush point out, sometimes ludicrously condensed) to make Queen's history less complex. But it's an entertaining movie, and one ultimately driven by Malek's inspired performance, great music and Mercury's larger-than-life story.
Everything You Need to Know About the Queen Movie 'Bohemian Rhapsody'