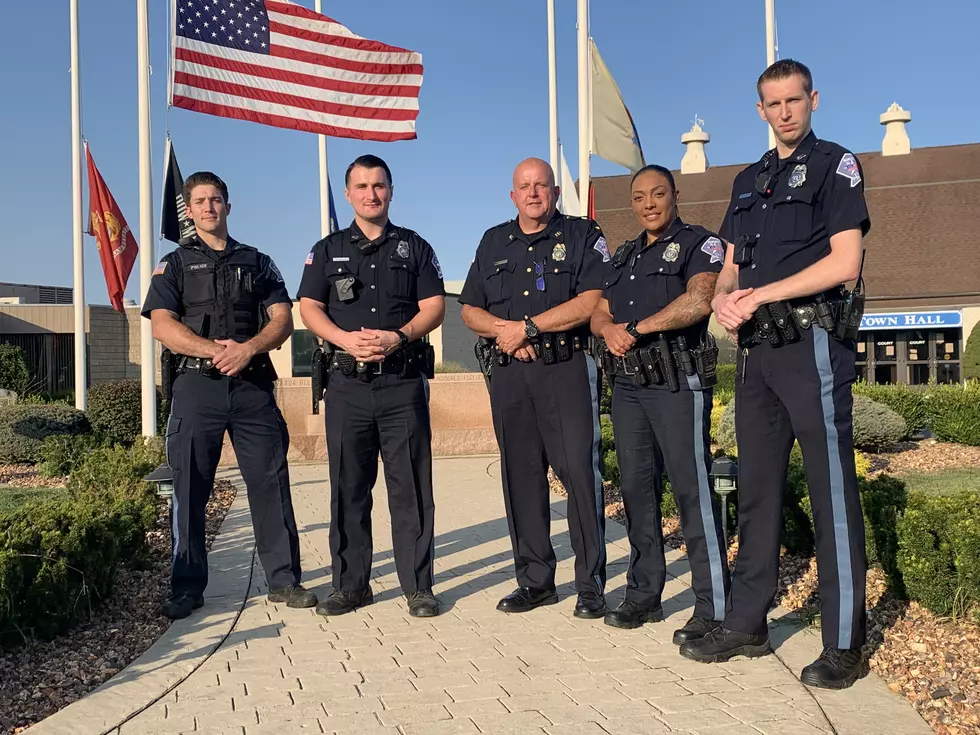 Police, Firefighters will be able to retire earlier due to Covid burnout, under Ocean County Assemblyman's bill
(The 200 Club of Monmouth County)
It's been a draining, stressful year for so many people on a variety of different levels due to the Covid-19 pandemic and then all the restrictions in place.
Police and Firefighters were among those on the front lines performing their jobs under extraordinary sets of circumstances.
A new law signed by Governor Phil Murphy on Monday will allow police and firefighters who've been working for 20-years and now face burnout from service during the pandemic, to retire, regardless of their age, according to a statement by Ocean County Assemblyman Ron Dancer (R) who introduced the measure.
Under A2562/S1017, members of the Police and Firemen's Retirement System will no longer have to meet an age requirement to be eligible to retire, as long as they retire within two years of the law being enacted.
These police officers and firefighters if they retire within the next couple years will receive a pension equal to 50 percent of their final salaries, a benefit, Dancer explains, was previously only available for those who retire at 55 or older with 20 years of service.
"The stress that comes with serving on the front lines night and day in law enforcement or fighting fires can be overwhelming. This past year, we have asked our first responders to step up like never before as the coronavirus took more than 25,000 lives in our state," Dancer said in a statement. "New Jersey allowed police and firefighters of any age to retire with 20 years of service before, and that benefit should be extended to our brave men and women in uniform who experienced incredible risk, stress and difficulty over the past year."
Dancer explains that a law enacted in 2000 allowed PFRS members who were already enrolled to retire at any age with 50 percent of their final compensation upon attaining 20 years of service but any member who enrolled in the retirement system after January 18, 2000, is not eligible for this benefit.
"From past experience, we know that no more than 2 percent of members eligible to retire with 20 years of service will likely choose to do so. It's more than just a job for those who go above and beyond the call of duty to protect and serve, but we must recognize that they can and do suffer from burnout," Dancer said. "If they believe that it is in their best interest to retire with two decades of service, knowingly giving up valuable health benefits, we should permit them to do so."
Even with this law in place, if you retire at 20 years of service you would not be eligible for health benefits, "so those costs would not be imposed on the state and local governments," Dancer explained. "PFRS provides pension coverage to full-time county, municipal, and state police officers and firefighters. State police officers who are covered by the State Police Retirement System are not covered by this law. Local governments and the state both pay employer contributions."
You can follow Vin Ebenau on Twitter and Instagram and email news tips to vin.ebenau@townsquaremedia.com.
Have You Seen Them? Ocean County's Most Wanted
Have You Seen Them? Monmouth County's Most Wanted
NEXT: 10 Jersey Shore School Districts Losing Millions From S2 School Funding Formula
Ten times drunk driving changed New Jersey Lives Forever
12 Times Being High Cost NJ Residents & Towns
Strange NJ Laws You've Never Heard Of
Marijuana legal in NJ: How do the laws work?
Answers to common questions about legalized recreational marijuana in New Jersey and rules about underage use of weed.
NEXT: INSIDE JOE PESCI'S HILARIOUSLY OVER-THE-TOP LAVALLETTE MANSION
LOOK: GO INSIDE JON BON JOVI'S $20 MILLION MIDDLETOWN MANSION
Go Inside Mike 'The Situation's' NJ Mansion
TAKE A TOUR OF JON BON JOVI'S NEW $43 MILLION PALM BEACH MANSION
Jersey Shore Nor'easter 2021 Listener Pictures
LOOK INSIDE: The Most Expensive House in Rumson
This is the most expensive house for sale in Rumson, NJ in 2021
Peek Inside Snooki's New Toms River Waterfront Home
LOOK: See the iconic cars that debuted the year you were born
NEXT: The 100 Best Places to Live on the East Coast