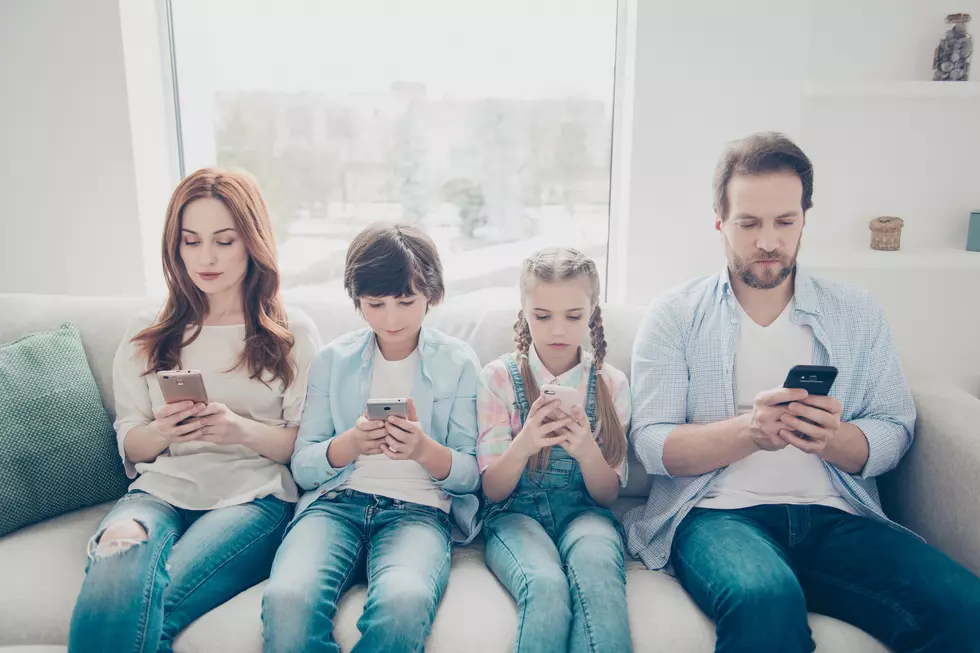 Ocean County Prosecutor Warns Parents, Beware of These 6 Apps
ortrait of family with two kids holding smart phones having electronic devices in hands texting sms using wi-fi 3G internet checking email searching contact. Apps concept (Portrait of family with two kids holding smart phones having electronic device. Photo by Deagreez (Getty Images)
I'm very protective of my family.  As a parent of 2 small children,  I want to keep them out of harm's way, which means that I need to be aware of what they're doing and who they are doing it with.  That doesn't just mean in person, but also online.  Between multi-player video games, tablets, computers, and phones there are many ways kids are able to be exposed to bad people, inappropriate content, or violence.   I have a Microsoft Family Safety app that helps me keep track of my children's internet usage and look out for their safety.  I can see the apps they use, how long they spend on their screens, etc.
When I saw a Facebook message about apps to be aware of coming from the Ocean County Prosecutor's Office, I immediately started investigating.  If your child has any of these apps on their phone or tablet, I'd recommend having a conversation with your child about them.
" The internet allows for easy and anonymous access to children by strangers who hide behind a computer screen." Facebook Post by Ocean County Prosecutor's Office
In a post (full post below) on January 4th, Ocean County Prosecutor Bradley D. Billhimer shared some insight on these 6 apps.
Chatrulteka:  It's an app for chatting via a camera that connects you with random strangers throughout the world.
Whisper:  "Whisper is the best place to discover secrets around you" touts their site.  This app allows people to share videos and photos anonymously, meaning people are free to share anything without concern about accountability.
Tellonym:  This app also allows anonymous messaging, but in this case it's text and the company's site calls it "anonymous and honest feedback."  The prosecutor warns that it's an app known for cyberbullying.
Calculator - Photo Vault:  It looks like a calculator but it's really an app that allows people to hide photos, videos, and their browsing history.
Houseparty:  This app allows people to interact via video in real-time, without recording or screen captures.
DuckDuckGo:  People can check out sites on the internet without any of their information being kept.  Your children could use this to browse adult sites or violent sites without anyone having the ability to check.
Now that I know about these apps, I'll be vigilant in protecting my children.
10 Old Fisher Price Toys That Are a Blast From The Past