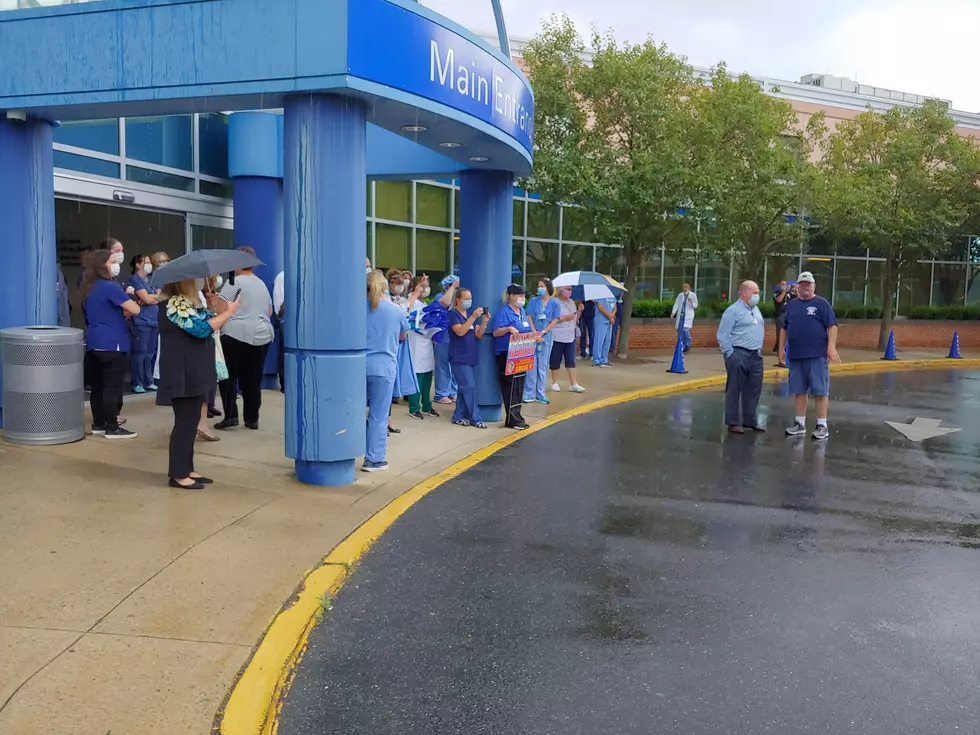 Ocean County Police and Firemen say thank you to healthcare workers
Police and Firefighters say thank you to doctors and nurses and Southern Ocean Medical Center in Manahawkin. (Photo Courtesy of Kevin Schaal).
The Covid-19 Coronavirus pandemic has presented us with heroes from all walks of life and all first responders.
Saying thank you just once doesn't feel like enough, there's no limit on the thanks we owe to doctors, nurses, police officers, firefighters, EMS workers, scientists, researchers in labs looking for a vaccine and cure and so many more people.
On Wednesday afternoon, members of the Ocean County Retired Police and Firemen's Association Local 8 led by Tom Ernst said thank you to first responders and healthcare professionals, doctors and nurses at Southern Ocean Medical Center in Manahawkin and provided lunch to between 50-75 employees at the Hackensack Meridian Health hospital in Southern Ocean County.
"We are retired police and firefighters. We know what it's like to be in a stressful situation but you folks have endured more stress in the last three months than we could imagine," Ernst said on Wednesday to the medical care workers at SOMC. "We hope that things are relaxing. We thank you for what you've done and....you guys are our heroes."
The group then presented signs of gratefulness to the health care workers.
The Ocean County Emerald Society Pipers and Drummers, Newark Fire Department Pipers and Drummers, Ocean County Sheriff's Department Honor Guard, Stafford Fire Department and Stafford EMS were also on hand to say thanks, according to Kevin Schaal who said that some of the food for lunch was donated by Joey's Pizza Route 72 and Fusaro's Pizza on Route 9 both in Manahawkin.
Stafford Township Police were also at SOMC to say thank you to the medical heroes.
"Thank you to the Ocean County Retired Policemen and Firemen's Association, Local 8, for inviting us to be a part of the beautiful tribute today for the hard working healthcare workers at Southern Ocean Medical Center," Stafford Police said on Facebook. "We will forever be grateful for our frontline heroes and all the sacrifices they continue to make for us."
You can follow Vin Ebenau on Twitter and Instagram and email news tips to vin.ebenau@townsquaremedia.com.
More From Townsquare Monmouth-Ocean:
Enter your number to get our free mobile app
Things We Miss At The Shore