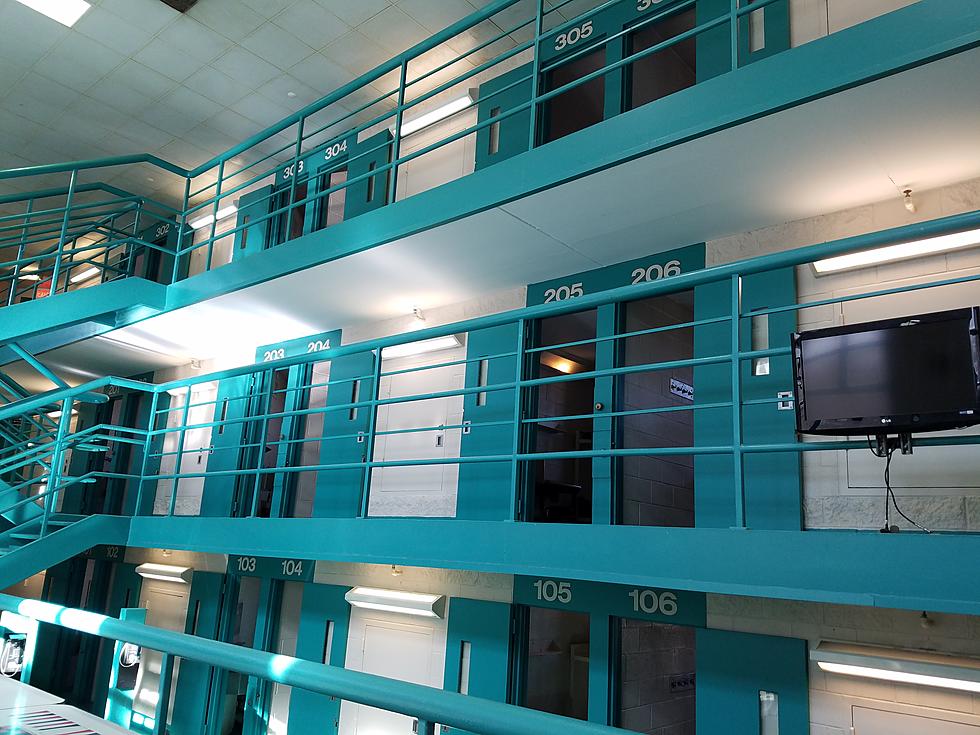 Ocean County Lawmakers raise concerns over Governor's decision to vaccinate inmates first
Prison cells at the Monmouth County Correctional Institute. (Vin Ebenau, Townsquare Media New Jersey)
In Ocean County, the decision is being met with concern and opposition by lawmakers in the 10th District.
Ocean County State Senator Jim Holzapfel (R) and Assemblymen Greg McGuckin (R) and John Catalano (R) put out a statement on Tuesday criticizing the Governor over this decision and drew attention to to the thousands of senior citizens who they said should be prioritized over convicted criminals by using the example of cases in nursing homes going up of late.
"Unlike other states that put their senior population first, our Governor is choosing to vaccinate prison inmates before our most vulnerable citizens," Senator Holzapfel said. "We are seeing a substantial increase in cases at assisted living facilities and this will only get worse if the vaccine isn't distributed properly to those most in need. The senior population and health care providers in our district have been patiently waiting for the rollout of the vaccine and to see the Governor alter the distribution and immunize inmates first is disgraceful."
The amount of positive cases has shot up in the second wave of the pandemic and with Ocean County having nearly 200,000 senior citizens, the most in the state, the 10th District lawmakers are very concerned that prison inmates are being prioritized to receive vaccinations.
The 10th District Lawmakers cite COVID-19 related deaths in Ocean County nursing homes being the highest in the state, with a 1020% increase over the last 45 days.
"Nursing homes are seeing a surge in cases and deaths, most dramatically in Ocean County. The only way to stop this is outbreak is to ensure that all patients and staff within these facilities are administered the vaccine as soon as possible," Assemblyman McGuckin said. "The idea that the Governor has prioritized inmates over the elderly is yet another example of how this Administration has failed our seniors."
"It's not a secret that the largest percentages of COVID-19 deaths have occurred in nursing homes, yet the Murphy Administration continues to fail our long term care facilities and those who provide necessary care to patients," Assemblyman Catalano said. "He (Governor Phil Murphy) seems to care more about photo ops, fanfare and prisoners than overseeing the proper protocols to ensure that our most vulnerable residents are put first."
Governor Murphy danced around a question asked at a press conference last week, by a reporter at the Bergen Record, about inmates being vaccinated.
"Let's just say the following. No 1, other vulnerable communities are not in 1A. We know that our prison population is a very vulnerable community and it's why I think we've done this responsibly and safely, but we have dramatically reduced our prison population for a number of reasons, by the way, and I want to do that more as it relates to non-violent crimes, for instance, with minimum mandatory sentences as an example," Murphy said.
Earlier in the pandemic, Governor Murphy allowed the release of prison inmates as Covid cases were rising.
Monmouth County Sheriff Shaun Golden threw the red challenge flag saying that 21 inmates at the MC Correctional Facility in Freehold charged with resisting arrest, assaulting a police officer, domestic violence and child endangerment offenses were being released and they shouldn't have been.
"I think it's absurd and I do not believe that they should be released due to those underlying factors, offenses and victims," Sheriff Golden told 92.7 WOBM News on March 25.
Sheriff Golden said that Monmouth County Prosecutor Chris Gramiccioni had, at that time, filed a contest which was heard in front of a judge.
"We identified 64 inmates in the consent order that would be "eligible" however 21 of those are under this contest before the judge and rightfully so," Sheriff Golden said. "Those cases should not be let out and we hope that the Prosecutor (Gramiccioni) wins those contests."
Another thing to understand with the consent order was that there stood a chance that some of these inmates may not be coming back to the correctional facility.
"There will be some type of hearing or meeting on whether to send them to parole, commute their sentence all together or bring them back in to continue their sentence," Sheriff Golden said. "Those determinations per inmate were not made prior to their release so that's something that's still being questioned."
It'll be determined on a case by case basis on what happens to the remainder of the inmates sentence.
Previous reporting by Erin Vogt was used in this article.
You can follow Vin Ebenau on Twitter and Instagram and email news tips to vin.ebenau@townsquaremedia.com.
More From Townsquare Monmouth-Ocean:
Enter your number to get our free mobile app
These Pictures Show IBEW Local 400 Donating $25,000 PPE Supplies to Ocean and Monmouth County Hospitals