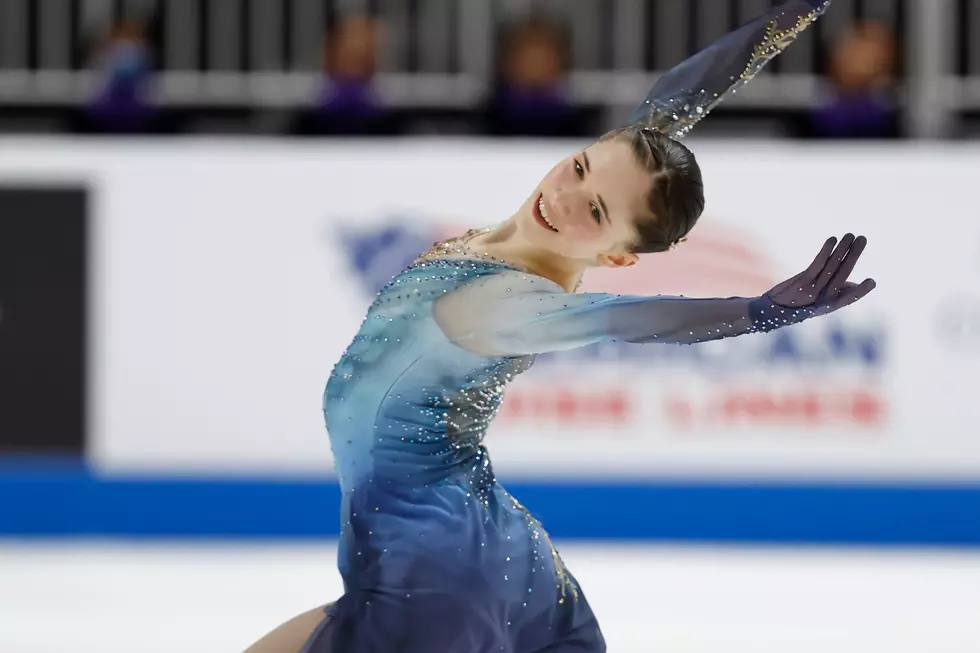 NJ teen Isabeau Levito wins U.S. women's figure skating title
AP
Graceful, gutsy and seemingly unfazed by the bright lights, 15-year-old Isabeau Levito decided to go for it in her free skate while reminding herself once more to just stay calm.
The teen star from Mount Holly needed a near-flawless free skate to capture gold at the U.S. Figure Skating Championships after Bradie Tennell's beautiful performance minutes earlier.
Levito accomplished just that, delivering a dazzling 149.55 score for a 223.33 total to win her first women's national title Friday night.
"I was just very proud of myself for having collected myself and done the program that I needed to do," Levito said. "Going into this event my entire goal truly for almost even both programs was to stay composed and really try to suppress my nerves as much as possible, to really not let little, minor, silly mistakes happen."
The Jersey skater drew a rousing standing ovation from an audience wowed by her poise under pressure on the big nationals stage. Afterward, she clasped the medal in her gloved right hand and made the rounds of congratulatory hellos, hugs and photos.
"I actually can't even find the word to describe it right now," Levito said.
Then, she smiled, scratched her chin and requested, "just give me a minute."
Two-time U.S. champion Tennell scored a 139.36 in the free skate and finished second with a 213.12 total. She missed the entire 2021-22 season with foot and ankle injuries, so the comeback meant so much to her.
"I didn't think I was going to be able to do this again," Tennell said, calling this her most special nationals yet and noting she absolutely plans to go for it this next Olympic cycle.
"Skating at nationals again, I was giving myself a pep talk earlier in the mirror 'cause that's what I do," she said. "I said to myself, 'You dreamed of this for an entire year and now you're here' and I told myself I wanted to go out there and I wanted to soak up every moment and be present, and I did that."
Levito elegantly landed her triple lutz-half loop-triple salchow sequence and other most difficult jumps while captivating the crowd as the final skater of the evening. She came into the free skate leading Tennell by just two-hundredths of a point following Thursday's short program.
Amber Glenn finished third at 207.44. She delivered an impressive 138.48 free skate that moved her into the lead with the top three skaters from the short program remaining.
Starr Andrews, a fan favorite after she made her nationals debut on this San Jose ice five years ago at age 16, finished fourth at 188.24. She missed on her planned triple flip early in her routine and was visibly disappointed after a free skate that scored 119.27.
Her jaw dropped when the final score was announced.
"I'm honestly so happy that I got a medal today. After I finished the program I thought I messed it up because I popped twice and I never pop," Andrews said. "In practice I rotate and fall. At least you'll get the points. It's better to rotate and fall than to pop it. ... They said 188, I was like, 'Uh, I'm second, there's only two people left so that means I'm going to be fourth.'"
There's certainly some nostalgia here for Andrews, who dazzled with a free skate set to her cover of Whitney Houston's "One Moment in Time" in her senior nationals debut in 2018 at SAP Center. She was in third place entering Friday — just a hundredth of a point ahead of Glenn.
Glenn came into Friday fourth after her 68.96 in the short program. The 2021 U.S. silver medalist was forced to withdraw from last year's event following a positive COVID-19 test.
Josephine Lee, making her senior nationals debut and sitting 11th after the short program, skated beautifully in the free skate event for a 132.08 and total score of 187.68. She beamed afterward when hearing her score on a night she delivered a triple flip-double axel-double toe loop sequence that certainly impressed the judges.
And reigning junior champion Clare Seo showed poise and promise at 16 as one of the young skaters to watch this quad.
Levito, the reigning junior world champion who took third place in her senior nationals debut last year, entered as the favorite to win her first U.S. title. She earned silver at both Grand Prix assignments and the Grand Prix Final last month.
It was a disappointing night for two-time national champion Gracie Gold. She delivered one of her best short programs of late to come into Friday's free skate in fifth place only to miss out on attempting a couple of her planned triples. She won U.S. titles in 2014 and '16.
Earlier Friday, another rising star teen shined. It was 18-year-old Ilia Malinin scoring a personal-best 110.36 in the men's short program as he chases his first national title, leading second-place veteran Jason Brown by more than 10 points heading into Sunday's free skate.
Malinin finished second to Olympic champion Nathan Chen — now a mentor offering support of the teen star — in his senior nationals debut last year but was passed over for the Olympic team in favor of the more experienced Brown.
This time, Brown appreciated skating after the youngster and feeling the crowd's energy.
"I'm very surprised how I was able to pull that off, especially with the whole beginning of the season with all the short programs didn't go as well," Malinin said. "I think we took the time and effort to see all the bad things that I'd done, just to take it all in to sort of see what works best. We did a little bit of changing a bit of the program and I think that also helped with getting the performance."
U.S. Figure Skating announced Nationwide Arena in Columbus, Ohio, as the host for the 2024 nationals.
The Worst Marvel Moments of 2022
We picked the low points of a year of Marvel Cinematic Universe films and series.
Former Child Stars Who Turn 30 in 2022
Below, you'll find out which major child stars turn in 2022. These celebs were a huge part of our childhoods, and now they're moving into the next decade of their lives. Who knows what awesome things we'll see from these actors, singers and triple-threats in their 30s!