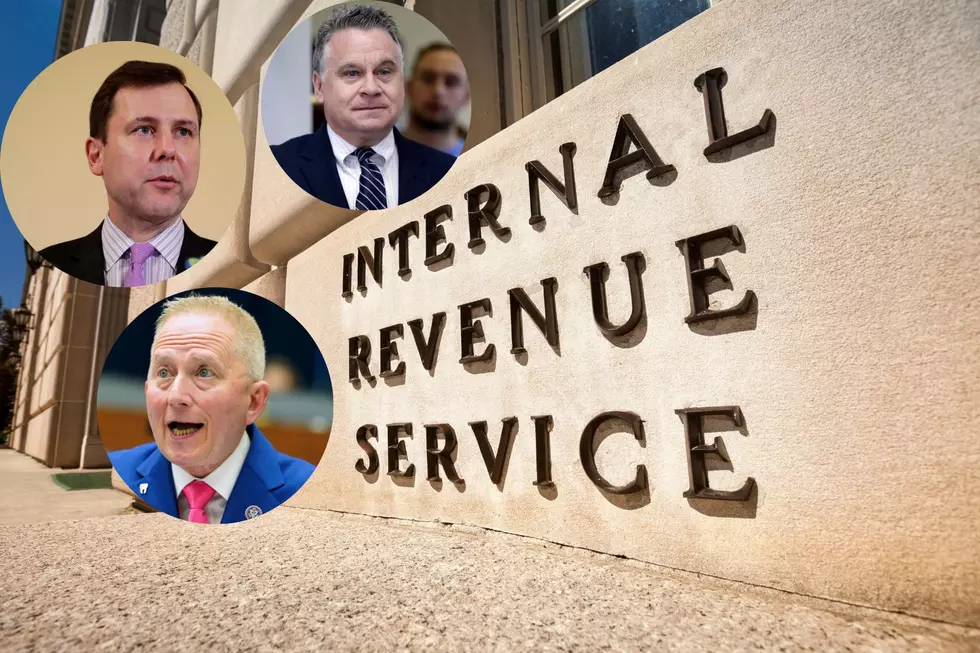 NJ Republicans vote to defund the IRS
Associated Press/Townsquare Media illustration
Republicans from New Jersey joined with their U.S. House counterparts in an effort to defund the IRS.
Newly elected Tom Kean, Jr, (R-7) joined with fellow New Jersey Republicans Chris Smith (R-4) and Jeff Van Drew (R-2) in voting for the "Family and Small Business Taxpayer Protection Act."
The measure seeks to halt funding from President Joe Biden's Inflation Reduction Act that would have hired 87,000 new IRS employees.
"Unleashing a MetLife Stadium full of new tax collectors on low and middle-income families is just a sneaky form of a tax hike," Kean said in a statement, "This is no way to tackle the affordability crisis we are facing in this country and will only hurt the New Jersey families and small businesses."
This was the first legislation put up by new House Speaker Kevin McCarthy and fulfills a campaign promise made by Republicans campaigning nationwide. "The government should be here to help you, not go after you," McCarthy said.
The bill passed without a single Democratic vote, as the new minority party hammered the GOP vote.
"In their very first legislative act in power, Republicans voted today to aid and abet a new flood of tax cheating," said Democratic New Jersey Congressman Bill Pascrell (D-9). Pascrell predicted the bill would be "dead on arrival" in the Democrat controlled U.S. Senate.
Blocking the hiring of new IRS agents was a central theme in GOP campaigns. Republicans frequently warned of "an army of IRS agents" being hired by the Biden administration to target middle- and lower-class taxpayers. There were some claims that the agents would be armed.
The IRS pushed back fiercely on those claims, saying much of the funding from the IRA would go toward updating antiquated technology. New hires would not all be IRS agents, but would also include support staff, customer service and call center representatives.
While some new agents would be hired, they would not be tasked with increasing the audit rate on anyone making less than $400,000 per year.
In general, IRS agents are not armed. There is a small contingent of field agents in the Criminal Investigation division, however, that are authorized to carry a firearm.
Eric Scott is the senior political director and anchor for New Jersey 101.5. You can reach him at eric.scott@townsquaremedia.com
Click here to contact an editor about feedback or a correction for this story.
The 99 top paying jobs in New Jersey
How much do you make? These are the occupations in New Jersey with the highest median annual compensation. Source: Federal Bureau of Labor Statistics, 2022
LOOK: Here's where people in every state are moving to most
How much does the average NJ home cost? Median prices by county
Everything is costing more these days — and housing is certainly no exception in New Jersey.
Data for 2022 from January through August, compiled by New Jersey Realtors, shows that South Jersey has been seeing homes hit the market and sell in less than a month, on average.
Median prices for single-family homes have reached $500,000 and above in nine counties in North and Central Jersey.
All but two counties have seen houses go for more than the list price, on average, this year.