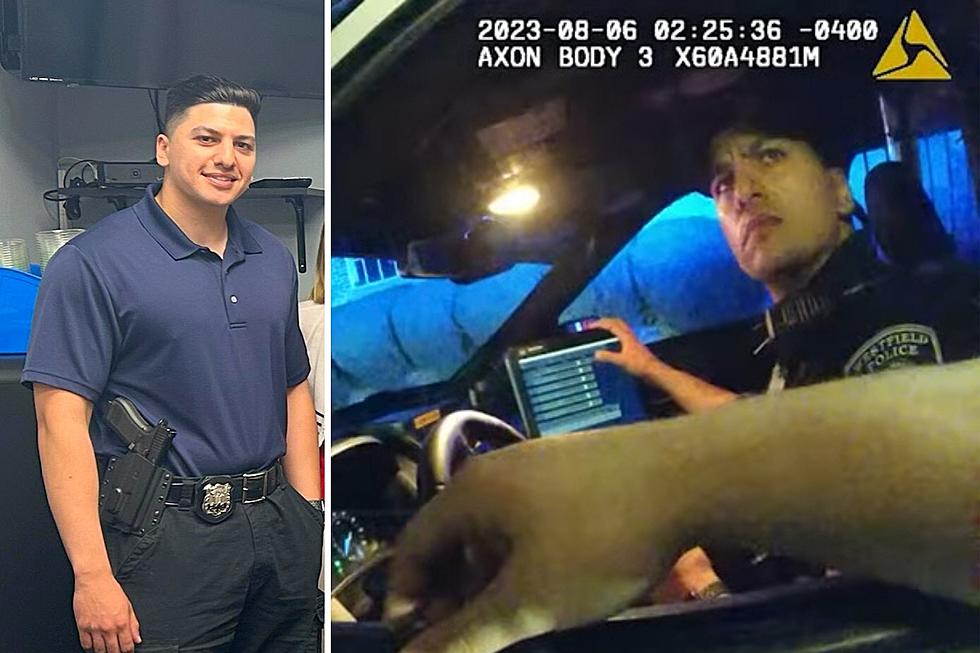 NJ cop caught lying after driver flips him the bird, video claims
Westfield Officer Ayad Taha (Westfield police via Facebook/LackLuster via Youtube)
👮‍♂️ A video accuses a Union County cop of writing a retaliatory speeding ticket
👮‍♂️ The motorist did not appear to be speeding
👮‍♂️ An investigation has been launched into the officer's conduct
---
WESTFIELD — A rookie cop is facing an Internal Affairs investigation after a video posted to YouTube claims that he lied about a driver speeding in response to getting flipped off.
Westfield Officer Ayad Taha is accused in a YouTube video of giving a speeding ticket to a motorist who was not speeding. On Aug. 6 around 2:20 a.m., Taha pulled over the driver, only identified as Nate, and told him that he was going 48 mph in a 35 mph zone.
The 12-minute video contains clips of civilian dashcam footage, police bodyworn camera footage, and court documents that have been edited together by a channel called LackLuster. The video has garnered over 330,000 views as of Sunday afternoon.
The Westfield police department has taken notice. Chief Christopher Battiloro released a statement Wednesday, the same day that the video was uploaded. He said an Internal Affairs investigation had been opened to determine if Officer Taha had acted improperly or unlawfully.
"We hold our officers to the highest of standards and nothing less than that shall ever be accepted. If any mistakes were made and/or any violations of our standard operating procedures occurred, please rest assured that appropriate action will be taken," Battiloro said.
🚓 Cop frames driver?
In the narrated video, Officer Taha stops the driver, Nate, and tells him that he was driving 13 mph over the posted limit.
However, the video includes dashcam footage from Nate's car. The narrator says the camera also tracks his accurate GPS position and speed. From the video, it appears the motorist never goes far over the 35 mph limit.
The narrator then speculates that the officer may have seen Nate giving the cop the middle finger as he drove past. Nate can be seen on video flipping the bird at Taha's police vehicle, but it's unknown whether the officer could see it in the night.
After Nate tells the officer that there is a dashcam recording their interactions, Taha gives him a ticket for careless driving instead of speeding.
The video is available below.
The 30 best rated schools in New Jersey
Here are the top 30 schools statewide, based on their 2021-2022 New Jersey School Performance Reports — involving scores for language arts, math and attendance. (For an explanation of how the state calculates the "accountability indicator scores" and overall rating for each school,
see page 90 of this reference guide.
)
LOOK: Cities with the most expensive homes in New Jersey
Stacker
compiled a list of cities with the most expensive homes in New Jersey using data from Zillow.
NFL pros from New Jersey
There are more than 60 active pros with NJ roots.
More than 10 players who made it to the NFL conference championship games this year have NJ ties — and four active NFL quarterbacks were born in the Garden State.
Some of them may even be on your fantasy football team.