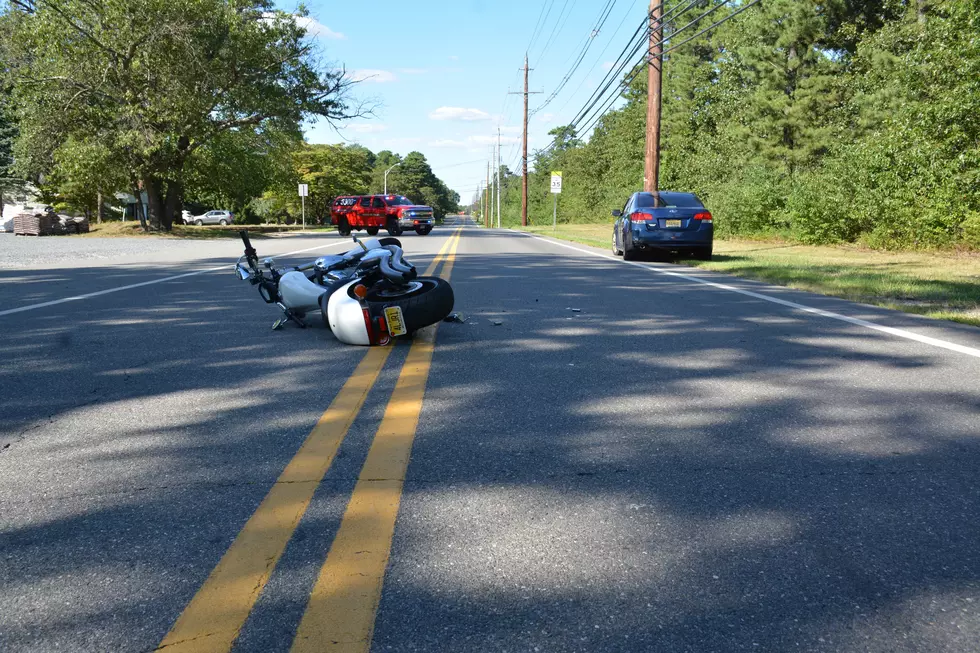 Manchester, NJ man suffers serious leg injury after Subaru cuts him off
(Photo Courtesy: Manchester Township Police Department)
The circumstances surrounding a weekend crash that sent a Manchester man to the hospital with a leg injury remain under investigation.
We know the preliminary investigation findings of the weekend crash involving a motorcycle and a motor vehicle, courtesy of the Manchester Township Police Department.
The collision took place on Saturday afternoon around 2:44 pm along Manchester Boulevard and Lakewood Avenue in the Whiting section of Manchester.
Police said that the driver of the motorcycle, 32-year-old Mark Britt of Manchester, was heading eastbound on Manchester Avenue when a Subaru jumped out in front of him causing him to swerve around the vehicle.
As he was getting back into the lane though, Britt had to hit the brakes again and ended up skidding into the Subaru which stopped on Manchester Avenue as the driver was looking to make a left turn onto Lakewood Avenue.
Britt, who police said was wearing an NJ-DOT approved helmet, was brought to Jersey Shore University Medical Center in Neptune City following the crash and is currently in stable condition and is being tended to after suffering an undisclosed leg injury.
Police said that the driver of the Subaru, 25-year-old Jordan Quigley of Whiting, was uninjured in the crash and was wearing a seatbelt.
The Saturday motorcycle and Subaru crash remains under investigation by Manchester Township Sergeant Ian Bole of the Department's Traffic Safety Unit.
There have been no summonses or charges issued as of yet, pending the outcome of the investigation.
Manchester Police said that they were assisted at the scene by "members of the Whiting Volunteer Fire Department, Paramedics from Robert Wood Johnson, and EMTs with the Manchester Emergency Medical Services."
The 25 Most Dangerous Roads in New Jersey
The 25 Most Dangerous Cities in New Jersey
Help Find These 62 Missing New Jersey Children