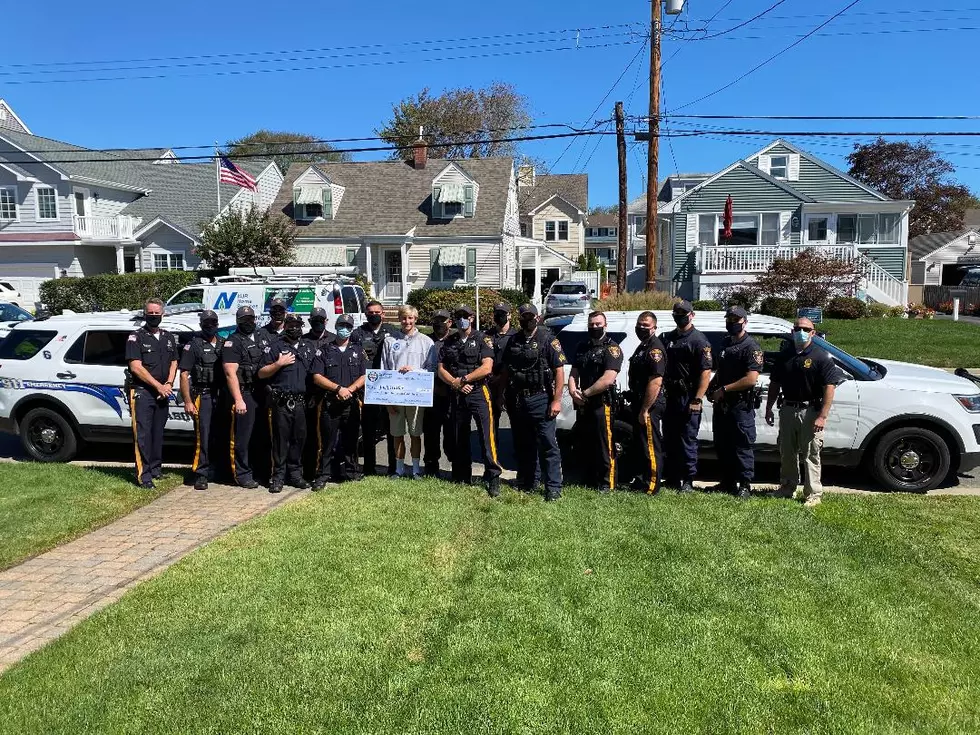 Manasquan teen awarded with college scholarship for support of police
Manasquan teen Jack awarded with college scholarship. (Manasquan Police PBA #284)
A high school sophomore in Manasquan who has been showing and spreading his show of appreciate for police in the borough has been rewarded with a $4,000 college scholarship.
Manasquan Police and PBA #284 met with the resident named Jack on Saturday to thank him for his support and award him with the scholarship.
Jack approached Manasquan Police over the summer and came up with "We Support Manasquan Police" signs that have been posted by the beachfront and in neighborhoods across the borough.
"Jack reached out a few months back and told us about his idea for supporting our Police Department. While speaking with him about the current events he continued to say, "something has to be done"," Manasquan PBA #284 said on Facebook. "He has sold over 350 signs throughout our local and surrounding communities to support the "Blue Line" all while delivering signs on his bicycle. He did this while preparing for his Sophomore year in high school, training for the swim team, moving residences, all while being a teenager in our small beach town."
Jack's cousin has picked up the torch is now spreading the support for law enforcement while selling "We Support Lacey PD" signs in the Ocean County town.
You can follow Vin Ebenau on Twitter and Instagram and email news tips to vin.ebenau@townsquaremedia.com.
More From Townsquare Monmouth-Ocean:
Enter your number to get our free mobile app
These Pictures Show IBEW Local 400 Donating $25,000 PPE Supplies to Ocean and Monmouth County Hospitals