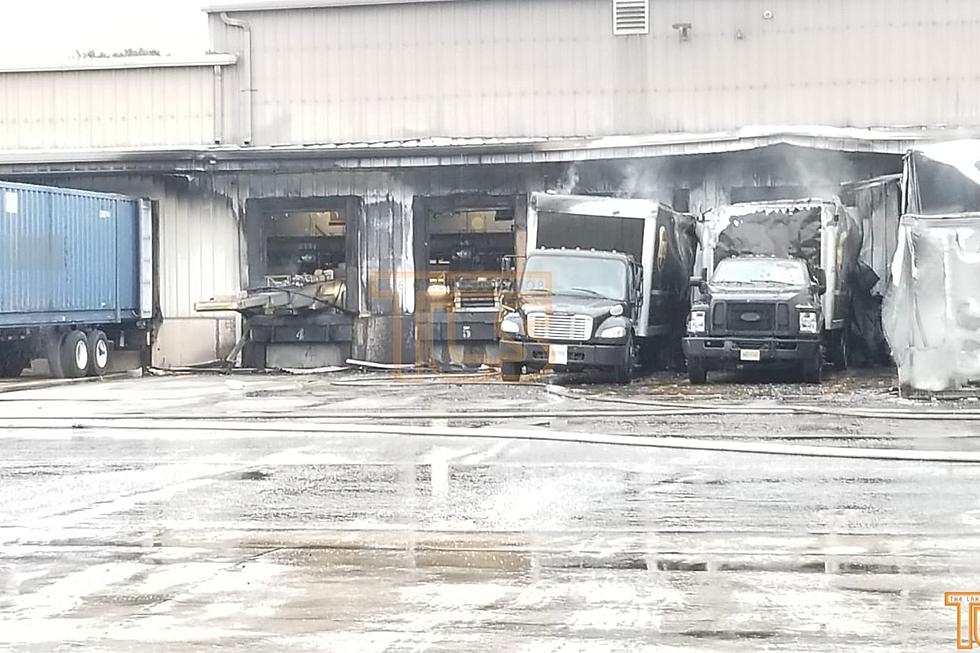 Lithium batteries sparked fire that burned UPS packages in NJ, report says
Fire at the UPS facility in Lakewood (The Lakewood Scoop)
🔴 7 trailers and trucks were damaged by the fire Wednesday afternoon
🔴 The facility was closed until workers can "safely resume their activities"
🔴 Ion lithium batteries were the cause of the fire, according to officials
---
LAKEWOOD — Lithium ion batteries are being blamed for the fire that destroyed several trailers at a UPS facility on Wednesday.
The Ocean County Office of the Fire Marshal said that investigators determined "numerous" lithium-ion batteries were inside a 53-foot shipping trailer at the building's dock #8 and ignited around 6:50 p.m. The batteries were the only potential source of ignition on the trailer and in he area where the fire started.
The batteries were packaged for shipping to a battery recycling facility located out-of-state and had been in the trailer for less than an hour, according to the Fire Marshal office.  The batteries were too damages to determine what caused them to ignite.
The fire spread to four trailers, three straight trucks and the facility itself before being extinguished five hours later, the Lakewood Fire Department told The Lakewood Scoop
It took seven minutes to put water on the fire because of the complex system of conveyor belts and machinery in the building.
UPS spokesman Mitch Polikoff told New Jersey 101.5 Friday the facility is "online and fully operational." Customers with questions about their packages can call 1-800-PICK-UPS.
Lithium batteries hard to extinguish
Lithium batteries, especially large ones used by vehicles, can be extremely difficult for firefighters to extinguish using normal means.
New Jersey State Fire Marshal Richard Mikutsky, who is also the director of the New Jersey Division of Fire Safety, says there is concern about electric vehicle fires "mostly because of the way these cars burn, the lithium battery packs, they burn extremely hot."
Mikutsky said a regular gasoline-powered car fire can be extinguished with 600 to 700 gallons of water, but in some situations, an EV car fire will require as much as 30,000 gallons of water.
 was first to report on the cause of the fire.
Previous reporting by David Matthau was used in this report
Report a correction 👈 | 👉 Contact our newsroom
Simple ways to help your pets cope during fireworks
Some easy, but important tips that can help keep your pets from getting too anxious during fireworks.
LOOK: Longest-living dog breeds
NJ county fairs are back! Check out the 2023 summer schedule
A current list of county fairs happening across the Garden State for 2023. From rides, food, animals, and hot air balloons, each county fair has something unique to offer.
(Fairs are listed in geographical order from South NJ to North NJ)