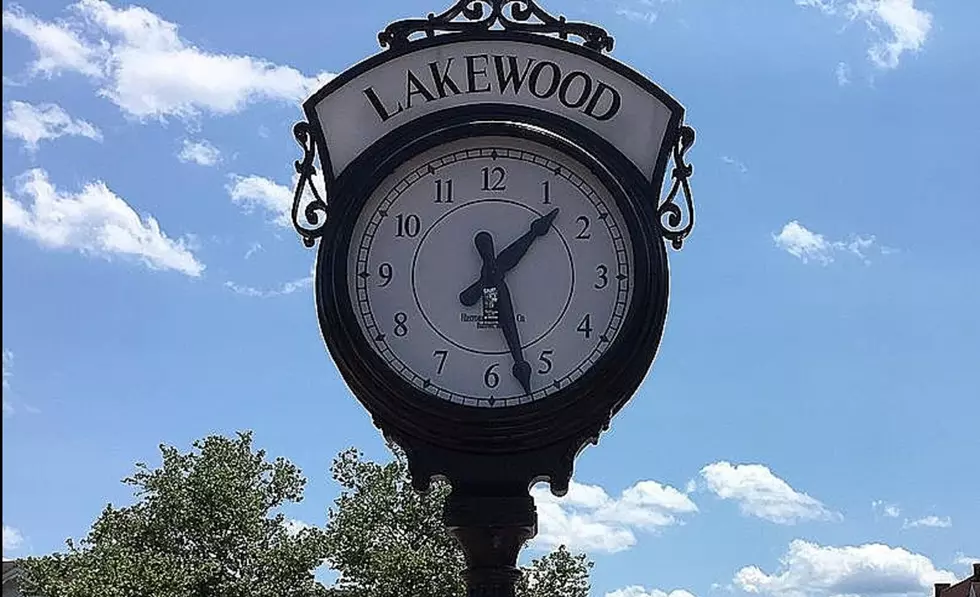 Lakewood, New Jersey Zoning Board to vote on plan to build 33 two-story townhouses
Lakewood clock (David Matthau, Townsquare, Media NJ)
One of Ocean County's and New Jersey's largest growing towns may soon be getting a little bit bigger and the plan is being met with environmental opposition.
The Lakewood Township Zoning Board Committee is set to hear the proposal for a variance plan to allow County Line Development LLC to construct 33 two-story townhouses between East County Line Road and Kennedy Boulevard East.
There was a board meeting on Monday night but they voted to table the discussion which includes Real Estate Attorney Adam Pfeffer who is set to speak on the proposal at the next Lakewood Township Planning Board meeting on April 12.
The discussion was tabled Monday because it was 10:30 pm and the Board felt they needed more time to more fairly discuss the topic.
Lakewood Township Zoning Board of Adjustment Committee:
Meir Gelley
Moshe Lankry
Mordy Gross
Obed Gonzalez
Moshe Ingber
Judah Ribiat
Hal Halvorsen
Avraham Naftali
Abe Halberstam
It will be Appeal # 4171 that will be heard at the next Township Planning/Zoning Board meeting where County Line Development is looking to build 33 two-story townhouses on Block 104.02 with various lots along Kennedy Boulevard East.
The New Jersey Sierra Club issued a statement on Monday saying that the current zone doesn't allow for this type of residential housing and it's an environmental concern.
"Lakewood is once again playing games with overdevelopment. They are considering a use variance tonight for 33 townhouses on a lot that shouldn't have this kind of residential housing. This whole town is getting paved over with sprawl and overdevelopment. The Lakewood Zoning Board has approved similar variances in the past, which set a dangerous precedent for more destructive development like this one," Jeff Tittel, Director of the New Jersey Sierra Club, said in a statement. "This development will mean more impervious cover and more stormwater pollution. It will also mean more traffic as hundreds more cars are going in and out of the complex."
Tittel said that the application from County Line Development LLC proposes 69 parking spaces but the Variance Plan says that there has to be 79 parking spaces for the proposed number of townhouses, per RSIS requirements.
"Lakewood is turning into a New York City by the sea. This project will increase sprawl and overdevelopment without building any affordable housing. Lakewood already has a huge population and it keeps going up. Building 33 townhouses here will mean more traffic and more pollution. It will increase impervious cover, which means more stormwater runoff impacting the Metedeconk River and Barnegat Bay. What's worse is that the Zoning Board recently approved a 99-unit apartment building on Ocean Avenue with a similar variance. Cramming more and more housing into this already busy area will mean more traffic on Ocean Avenue, East County Line Road, and Kennedy Boulevard. This will also impact Route 9 and the Garden State Parkway."
Tittel uses a previous rejection by the Lakewood Township Zoning Board as a reason why the current proposal shouldn't be approved either explaining that the denied variance approval for the property at 525 East County Line Road in July 2016 would have been for a six-story, 145-unit apartment building.
"According to Resolution No. 3965, The Zoning Board believes that this proposed use would be substantially adverse to the public good. It would greatly and unnecessarily increase traffic in the area. It will result in a loss of privacy and a deterioration of quality of life in the neighborhood. Lakewood already has too much overdevelopment, sprawl, and traffic. This project will only make things worse. More impervious cover means more stormwater runoff and pollution," Tittel said. "It will impact the Metedeconk River and everything downstream. It will also mean more traffic, which will cost the town money to build traffic lights and improve the roads. This project needs to be stopped because it will change the character of the area. The Lakewood Zoning Board needs to deny this project tonight. This project will affect the health and safety of the people of Lakewood and the environment."
Ocean County Attorney Jerry Dasti, who was on the Lakewood Township Zoning Board meeting Monday, has not returned a request for comment on the project by Townsquare Media News nor has the Lakewood Township Zoning Board.
You can follow Vin Ebenau on Twitter and Instagram and email news tips to vin.ebenau@townsquaremedia.com.
Gone for years: NJ's longest-missing people
Marijuana legal in NJ: How do the laws work?
Answers to common questions about legalized recreational marijuana in New Jersey and rules about underage use of weed.
NEXT: INSIDE JOE PESCI'S HILARIOUSLY OVER-THE-TOP LAVALLETTE MANSION
LOOK: GO INSIDE JON BON JOVI'S $20 MILLION MIDDLETOWN MANSION
Go Inside Mike 'The Situation's' NJ Mansion
TAKE A TOUR OF JON BON JOVI'S NEW $43 MILLION PALM BEACH MANSION
Jersey Shore Nor'easter 2021 Listener Pictures
9 REASONS NOT TO LIVE AT THE JERSEY SHORE
Peek Inside Snooki's New Toms River Waterfront Home
LOOK: See the iconic cars that debuted the year you were born
NEXT: The 100 Best Places to Live on the East Coast
KEEP READING: Here are the best places to retire in America