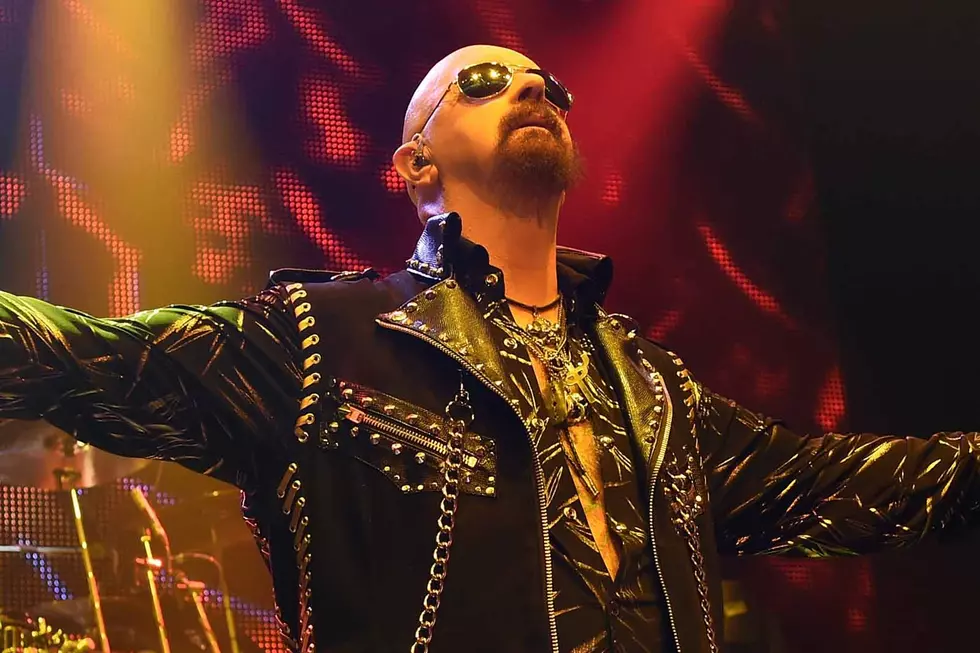 Judas Priest Pack Rarities, Debuts Into Opening Night: Set List + Videos
Ethan Miller, Getty Images
Judas Priest returned to North America in support last year's Firepower last night (May 3). They began a two-month tour at the Seminole Hard Rock Hotel & Casino in Hollywood, Fla., four songs for the first time and breaking out some rarities.
According to setlist.fm, the show offered the live debuts of three songs from Firepower -- "Necromancer," "Spectre" and "Traitors Gate" -- and the Screaming for Vengeance track "(Take These) Chains." Plus, they broke out "Out in the Cold" for the first time since Dec. 16, 1986 and "All Guns Blazing," which they hadn't performed since Aug. 19, 1991. Glenn Tipton, whose battle with Parkinson's disease has prevented him from playing with the group on a full-time basis, joined the group for the encores, "Breaking the Law" and "Living After Midnight." You can check out the set list and watch video from the show, including both of Tipton's songs, below.
It's the third trip in 14 months to these shores for the British metal legends, having headlined last spring and embarked on a co-headlining jaunt with Deep Purple in the late summer. Once again, they're using producer Andy Sneap as a guitarist in place of Tipton, although his status in the band following this tour is uncertain.
The more obscure material should have been expected following the previous legs. The press release announcing the tour promised that they would deliver "fresh classic cuts across the decades from the Priest world metalsphere." In addition, lfrontman Rob Halford said last month that they enjoyed playing deeper cuts like "Killing Machine," "Tyrant," "Bloodstone," and "Saints in Hell" -- the latter for the first time in their history -- that they were going to keep "bringing out some real beautiful old classics that we haven't played before or we haven't in a long time. So it's gonna be a real treat."
Judas Priest will play tonight at the Welcome to Rockville Festival in Jacksonville, Fla., and they'll remain on the road until the trek winds up at the Joint at the Hard Rock Hotel and Casino in Las Vegas. You can see all the entire tour calendar here.
Judas Priest, Hollywood, Fla., May 3, 2019 Set List
1. "Necromancer"
2. "The Sentinel"
3. "Heading Out to the Highway"
4. "Spectre"
5. "(Take These) Chains"
6. "Judas Rising"
7. "Out in the Cold"
8. "Traitors Gate"
9. "Starbreaker"
10. "Steeler"
11. "Halls of Valhalla"
12. "Killing Machine"
13. "No Surrender"
14. "Victim of Changes"
15. "All Guns Blazing"
16. "Hell Bent For Leather"
Encore
17. "Breaking the Law"
18. "Living After Midnight"
Judas Priest Albums Ranked