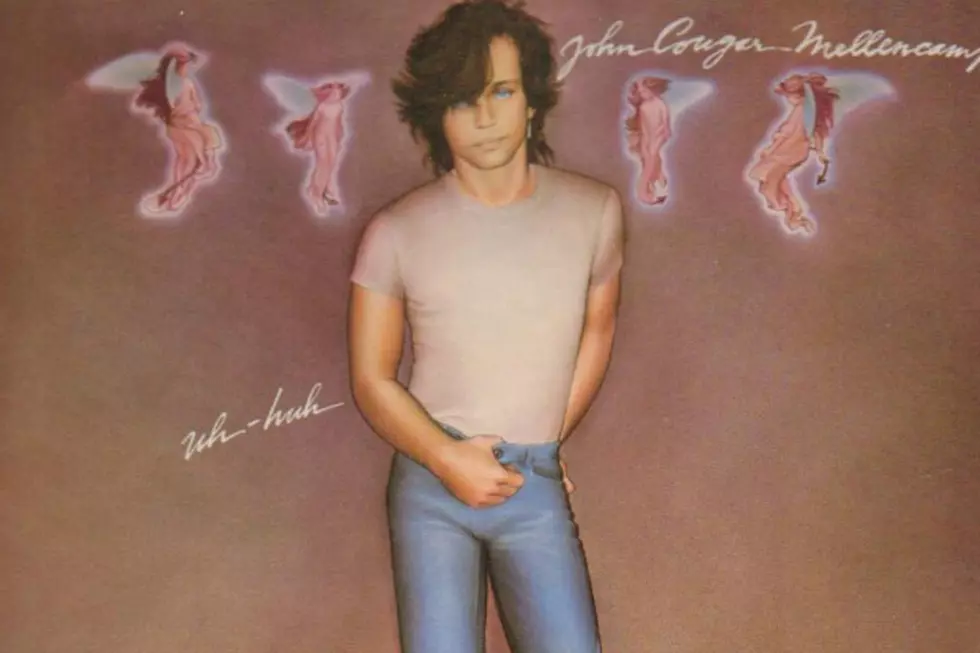 Why John Cougar Mellencamp Got Defiant on 'Uh-Huh'
Riva
The first five records of John Mellencamp's career were recorded under heavy meddling. But after hitting it big with 1982's American Fool, he finally had enough clout to ignore his label and management. The result was an album that cemented his rock-star status while flashing the fierce populist streak that would come to define his music.
Released on Nov. 8, 1983, Uh-Huh announced Mellencamp's break with the past right away, by adding his real-life surname to the "Johnny Cougar" stage moniker under which he'd long labored. It served as the first of many signs that he'd no longer be coerced into doing anything that wasn't true to his own vision for who he needed to be as an artist. He'd certainly already made his newly determined nature known to his label, Riva Records, during a series of intense disagreements during the sessions for American Fool.
In fact, Mellencamp nearly lost his deal before Fool was finished – partly because the label didn't believe in the music, and partly because, as Mellencamp's longtime bandleader Mike Wanchic recalls in an exclusive conversation with Ultimate Classic Rock, there was no small amount of personal bad blood between the artist and his corporate benefactors. "John literally threw the record-company president out of the studio, pushed him out into the street," explains Wanchic. "That pretty much cemented things, but then the success of American Fool forced them to let us do what we wanted with Uh-Huh."
What they wanted turned out to be fairly unorthodox. "We had a friend with a house that was halfway built, and we offered to finish it if we could use it," Wanchic recalls. "So we threw up some drywall and then blew a hole in it, so we could have some glass between the living room and kitchen for the control room. We turned one corner into an [isolation] booth for the vocal, we put up a little stage for the drums. We got everything set up, and we just started from scratch – John would come in and go, "[sings melody from "Pink Houses'"]," play it on acoustic guitar, and as soon as we had it built up, we'd record it. There was a level of spontaneity on that record – you couldn't get much looser or more immediate."
It was a pretty idyllic way to work, especially after enduring years of what Wanchic called "hard, trying times." And while Mellencamp's decision to forgo rehearsal might have cost him with a less adaptable band, he'd assembled a powerful lineup during the 'American Fool' sessions with Kenny Aronoff on drums and percussion, Larry Crane and Wanchic on guitars, Toby Myers on bass and John Cascella on keyboards. Young and flush with success, the band bonded heavily during the few weeks it took to record Uh-Huh.
"When we had success with American Fool, it was just validation that we weren't crazy," says Wanchic. "We were actually doing what we set out to do: We were finally the best we could be. And that's why we tried so hard not to second-guess ourselves on Uh-Huh, and recorded the songs as soon as we got them down. I mean, there were a lot of times when I knew I could have gotten a part down better, but John would always say, 'Fuck you, that's good enough. Let's roll.' Like he's always said: 'Paint fast, make mistakes.' What we ended up with was something we felt was a very clean, clear representation of who we are – which is, in my opinion, the only way you can really sustain a long career."
While the idea of a young heartland rocker on the MTV airwaves might seem like an unlikely prospect in 2013, the nascent video network welcomed Mellencamp with open arms in the early '80s, and helped turn the singles from Uh-Huh ("Pink Houses," "Crumblin' Down" and "Authority Song") into even bigger hits. And unlike a lot of artists who resented the music video's growing popularity during the decade, Mellencamp and his crew took it all in stride.
"We never did one of those million-dollar videos," Wanchic recalls. "They're all pretty low-tech, they were all filmed out here within a two-county area, and they were also usually done all in a row. It wasn't like we were sitting around with producers coming up with great concepts. It was always more like, 'Well, here's a cornfield. Let's make a video.'
"They were just extensions of the music, and fortunately, our core audience was big enough that they really got their point across. It wasn't like a Def Leppard video, where it's us with girls or something. We never went that route. It was fun, actually."
Watch John Cougar Mellencamp's 'Crumblin' Down' Video
Although American Fool was certainly a hit in its own right, it was with Uh-Huh that Mellencamp really started asserting his grip on the musical zeitgeist. He may never have been the biggest-selling or best-reviewed artist, but he boasted a strong core audience whose reliable passion helped keep him near the upper reaches of the charts throughout the decade – something Wanchic attributes to Mellencamp's steadfast unwillingness to settle.
"What did people have in the '70s? Disco. Overproduced nonsense," Wanchic says. "We were a reaction to that kind of music, and obviously, there was audience that was also tired of that nonsense – that just wanted straight music, no bullshit. We weren't smart or talented enough to pull off any kind of scam. We just did what we did, and thank God people eventually responded, because our early records really weren't that great. It's really nice that people stuck by us, and when we eventually became a popular band, we held onto those people by not presuming their stupidity – by continuing to grow. That's the single greatest divide, between bands that can do that, and bands that try to live off their laurels. That's when the clock starts ticking, and the end grows nigh. We never made the same record twice."
Of course, as anyone in a creative field could tell you, hanging onto one's integrity can be incredibly difficult once the money starts coming in; it can become very easy to blur the line between what's best for you as an artist and what's going to push your career forward in the short term. Fortunately for Wanchic and the other members of Mellencamp's band, they had a boss that – in Wanchic's words – "bends to no one."
Admitting that there have been a number of times when he's questioned Mellencamp's dogged approach, Wanchic laughingly relates an incident on the American Fool tour, when the band was opening for Heart and they'd committed to roughly 100 low-paying dates, not knowing their popularity would grow to the point where they were drawing more fans than the headliners.
"I remember one night we pulled into some town; it might have been Mobile, Ala.," recalls Wanchic. "We showed up at the arena, and it didn't have our name on the marquee. Sold-out house, 15,000 people. John looked at the sign and said to someone in charge, 'You go in there and tell them we're going back to the airport, and we're not playing until they fix that sign. If our name isn't on the marquee in the next 20 minutes, we're taking off.'"
Although they were reluctant to make what could have been a very costly decision, the band followed Mellencamp back to the airport, where Wanchic says "we got our pilots out, they got our planes out, we got on the plane, and we were waiting there with the engines going. We were gonna leave."
In the end, cooler heads prevailed, and Mellencamp's name was added to the marquee – just one of many times his resolve was tested and prevailed over a career that spans four decades and counting. "That's just the kind of guy he is: It doesn't matter who you are, or what you have to offer, if it isn't the right thing, he isn't going to do it," Wanchic says with a shrug. "If you're going to stay in this business, you've gotta have balls."
John Mellencamp Albums Ranked