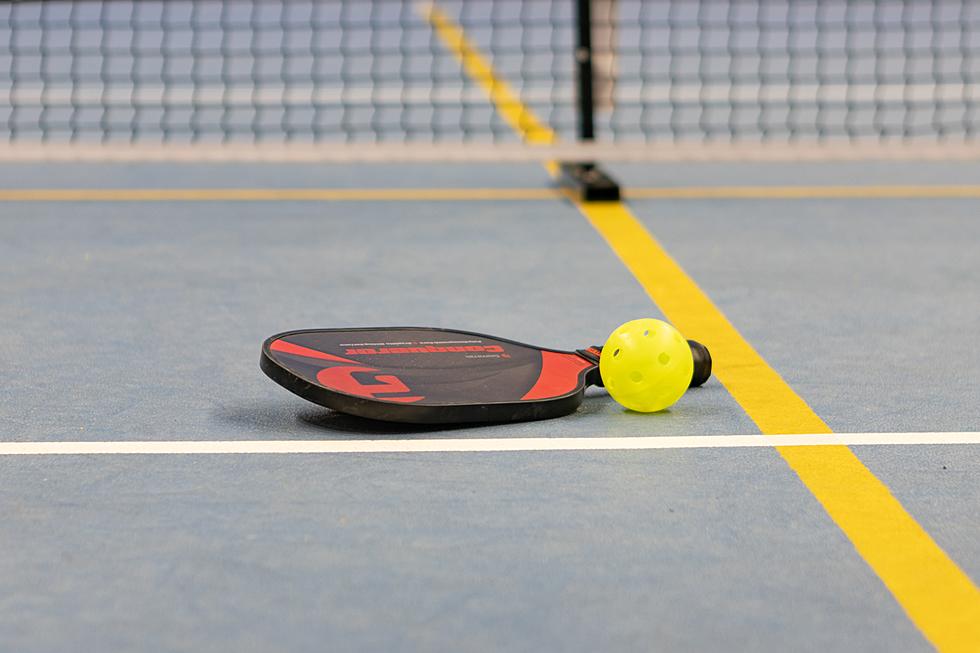 Ready to Play? Here's Where You Can Play Pickleball at the Jersey Shore
unsplash
Pickleball has been making waves in New Jersey, and if you're a pickleball enthusiast, I've got just the right solution for your pickleball cravings: newjerseypickleball.com. This exceptional website serves as your ultimate guide to all things pickleball in the Garden State. Whether you're on the hunt for court locations or seeking the latest tournament updates, consider this your go-to hub for pickleball fans.
If you are new to the game, allow me to introduce you to the exhilarating world of pickleball! Imagine a game that seamlessly blends the finest aspects of tennis, badminton, and ping-pong – that's the essence of pickleball! Whether indoors or outdoors, you can engage in pickleball on a court similar in size to a badminton court, featuring a slightly modified tennis net. Here, your trusty paddle replaces the traditional racket, while the ball, complete with holes, is crafted from plastic.
Ready to play in Monmouth or Ocean counties? Good news, we've got plenty of courts to choose from! How about a match at Beaver Dam Creek County Park, Gille Park, or Sands Point Park? The abundant opportunities guarantee that we will have enough places to enjoy this sport.
Here's the list of pickleball court locations in Ocean County:
Beaver Dam Creek County Park -- 3430 Bridge Ave, Point Pleasant

Gille Park -- Gille Park, Lanoka Harbor

Sands Point Park --  49 Dock Ave, Waretown

Stanley H. "Tip" Seaman County Park -- 120 Lakeside Dr, Tuckerton

Bey Lea Park -- Bay Lea Park, Toms River

Angela Hibbard Park --  616 Drum Point Rd #600, Brick Township

Beach Haven Pickleball Courts -- Beach Haven

MK Betterment Park -- 4050 Alder Ave, Egg Harbor Township

Village Grande At English Mill -- 1 Village Grande Rd, Egg Harbor Township

Sea Breeze At Lacey -- 35 Ambermist Way, Forked River

William Hebrew Park Pickleball -- 324 Cedar Ave, Lanoka Harbor 

Lavallette Pickleball Courts -- Lavallette

LBI Township Bldg, Brandt Beach -- Brant Beach, Long Beach

Toms River Township Park --  Toms River
Here's the list of pickleball court locations in Monmouth County:
Marlin Estates Park --

 E Francis Ave, Morganville

Manalapan Recreation Center -- County Rd 522, Manalapan Township

Fair Haven Fields -- Fair Haven Fields Natural Area, Fair Haven

Manhasset Creek Park --  500 Long Branch Ave, Long Branch

Dorbrook Recreation Center -- 353 County Rd 537, Colts Neck

Nolan Road Park -- 34 Nolan Rd, Morganville

Wardell Park --  230 Wardell Rd, Tinton Falls

Wolcott Park --  1-99 Willow Ave, Eatontown

Thompson Park -- 805 Newman Springs Rd, Lincroft

Maclearie Park -- 905 NJ-35, Belmar

Brielle Park --  658 Union Ln, Brielle

Normandy Park -- 900 Nutswamp Rd, Middletown

Tindall Park -- Tindall Rd, Middletown Township
Grab your paddle, find a court nearby, and dive into the exciting world of pickleball! Get ready for a game filled with joy, excitement, and lots of smiles. Explore New Jersey Pickleball's dynamic map showcasing both indoor and outdoor courts across the state.
See you on the court!
The 15 Best Sports Bars In Monmouth County For 2022 Games
The 15 Best Sports Bars In Ocean County For 2022 Games