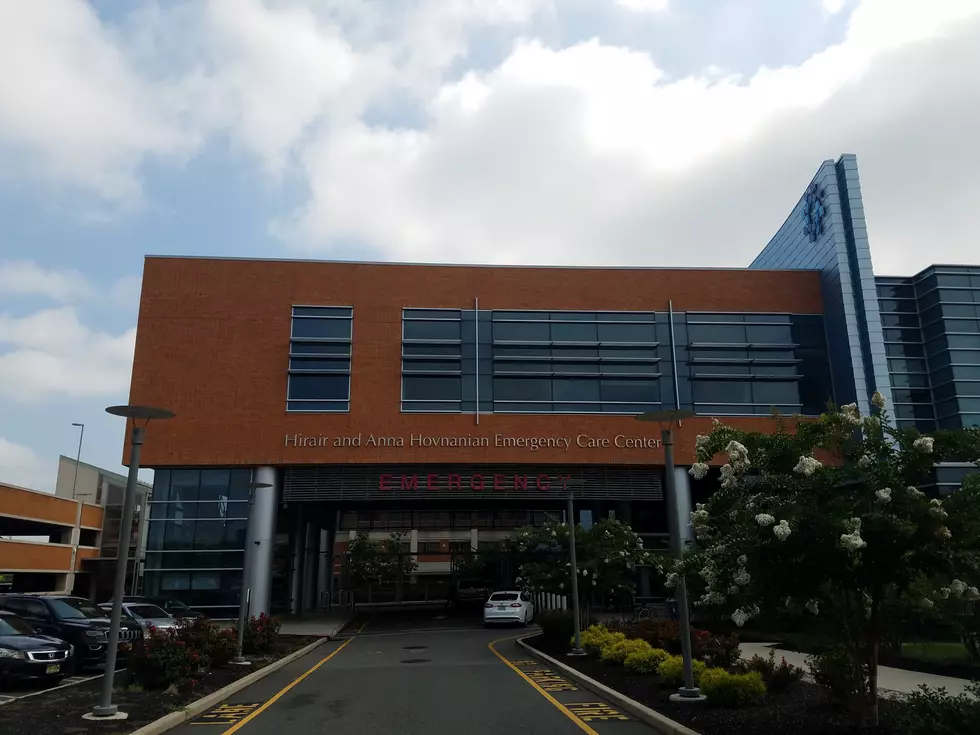 Life saving cardiovascular care expands at Ocean University Medical Center in Brick, NJ
Emergency Department at Ocean Medical Center in Brick. (Vin Ebenau, Townsquare Media NJ)
It's important to do everything that you can to take care of your heart, whatever's happened, whatever shape you're in, taking care of the ticker is literally life changing.
The hospital tag-team efforts across the Southern Market of Hackensack Meridian Health have made it a part of their mission to continue to find ways to expand care, access to care, and ensuring that patients can feel comfortable coming to any facility in Ocean County and Monmouth County, and in this case, as it relates to cardiovascular procedures.
Recently, Ocean University Medical Center in Brick Township was able to take a new step forward upon being licensed by the New Jersey Department of Health to now provide elective angioplasty and stenting as part of a continued HMH effort at OUMC to expand cardiovascular care and procedures.
"This is one of the most exciting developments that we've had in quite some time," Dr. Ken Sable, M.D., MBA, FACEP, regional president, Southern Market, Hackensack Meridian Health, tells Townsquare Media News.
It didn't happen overnight, there was a lot of planning to flesh out, approvals to get, and much more in order to add this lifesaving procedure to Ocean University Medical Center.
"Historically, in New Jersey and throughout the country, in order to provide for elective angioplasty -- for many, many years, the only way to do that was to do it at a hospital that had back up cardiac surgery in house, so, obviously hospitals like Jersey Shore University Medical Center which has a cardiac surgery program, have always been able to do elective angioplasty," Sable said.
"About 10 or 12 years ago, there was a demonstration pilot that occurred in New Jersey -- New Jersey actually was one of the last states in the entire country to approve doing elective angioplasty in places that did not have a cardiac surgery program," Sable continued. "They demonstrated through this program -- that it was actually safe and effective to perform elective angioplasty in non-cardiac surgery settings."
While this became accepted in other states, Dr. Sable said it wasn't until 2022 that New Jersey hopped on board in allowing elective angioplasty in these settings.
Now, hospitals such as OUMC can pursue adding this procedure to their facility.
"What's really interesting about it is Ocean University Medical Center and many others in New Jersey were able to perform what's called primary -- (PCI/PES) -- but, they weren't allowed to do elective stenting, so, in an emergency, which is great, you can save a life if somebody came in with a heart attack and a blocked artery and you can put that stent in, but, in a much more controlled environment which is like an elective setting, you were not allowed to do that," Sable said. "We finally have caught up with the rest of the country."
This is just the latest initiative by HMH to expand OUMC after they set forth on building a $19.5 million dollar Heart and Vascular center in 2019 and soon set to open up this year.
"The center will provide patients as well as our cardiovascular experts with a convenient and state of the art environment for optimal care and experience during an emergency or a scheduled intervention," Sable said.
You can learn more about the angioplasty and other cardiovascular procedures with HMH at Ocean University Medical Center by going to www.hackensackmeridianhealth.org/services/cardiovascular/.
And, you can listen to Dr. Ken Sable discuss the procedures and new cardiovascular care, right here.
Answers to 25 common COVID-19 vaccine questions
Vaccinations for COVID-19 began being administered in the U.S. on Dec. 14, 2020. The quick rollout came a little more than a year after the virus was first identified in November 2019. The impressive speed with which vaccines were developed has also left a lot of people with a lot of questions. The questions range from the practical—how will I get vaccinated?—to the scientific—how do these vaccines even work?
Keep reading to discover answers to 25 common COVID-19 vaccine questions.
The Jersey Shore Businesses We've Lost During COVID