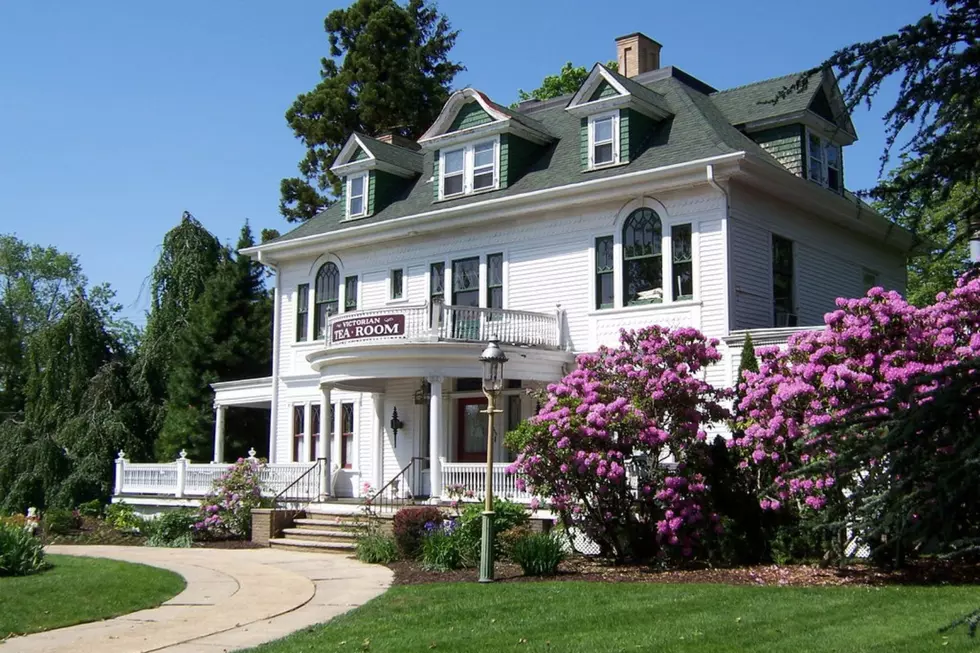 Celebrate Valentine's Day in a historical Victorian NJ tea room
The Mathis House (Photo Credit: Facebook)
💘 One of the most historical Victorian mansions in NJ is hosting Valentine's Day every day in February
💘 Enjoy a five-course afternoon tea or four-course Valentine's dinner
💘 Spend the night in one of the five luxurious suites loaded with antiques and history
---
TOMS RIVER — One of the most elegant and historical tea houses in New Jersey wants to make Valentine's Day extra special for you and your significant other.
What are the Valentine's specials at The Mathis House?
A hidden gem in the heart of downtown Toms River, The Mathis House at 600 Main, a Bed and Breakfast and Victorian Tea Room will host a Valentine's Victorian Afternoon Tea every day in February.
Celebrate this romantic occasion with the house's famous five-course meal of soup, salad, warm scones, a variety of tea sandwiches, a plate of desserts, and a pot of gourmet tea.
The cost is $50 on weekends, $40 midweek, $20 for kids 12 and under, and free for kids five and under.
The historical home is also hosting a special Valentine's Day dinner and bed and breakfast packages.
The Valentine's four-course dinner served on Friday, Feb. 10 at 7 p.m., Sunday, Feb. 12 at 7 p.m., and Tuesday, Feb. 14 at 7 p.m. includes soup, salad, prime rib or salmon, garlic mashed potatoes, and grilled vegetables, desserts, and chocolate covered strawberries.
The cost is $75 per person and reservations are required.
Don't have a significant other? No worries. The Victorian mansion will have a special Galentine's Day Tea on Saturday, Feb. 11 and Sunday, Feb. 12 at 11 a.m. and 3 p.m.
The full afternoon tea includes a five course meal of soup, salad, scones with clotted cream, variety of tea sandwiches, plate full of desserts, and a choice of a pot of tea.
The cost is $50 per person and there is a $10 discount for seniors.
The Inn will be decorated with lovely Valentine's decorations all month long and there will be live music every weekend tours of the inn are also available.
What is the history of the Mathis House?
The house, a stunning example of Dutch Revival architecture, was built in 1898 and became known as the Mathis-Berry House, named after the owner, Thomas Mathis, who was a mariner and sailed around the world. He was also a prominent political leader in Ocean County.
He purchased the house for his wife and son. Mathis, or "Captain Tom" as he was nicknamed, was born in 1869 in New Jersey. He resided in The Mathis House throughout his political career which spanned about 50 years.
Mathis served in the New Jersey Senate and was the Secretary of State of New Jersey from 1931 to 1941.
The three-story, 8,500 square foot mansion has a grand porch, portico, beautifully manicured lawns, a parlor room, a formal dining room, library, butterfly room, sea glass room, an exquisite wooden oak staircase near the baby grand piano that leads to the second floor, and the originally preserved carriage house. On the third floor are the innkeeper's quarters and a North Pole year-round Christmas Tree Shoppe.
What are the bed and breakfast and tea room?
While the mansion includes a rich history that dates back to the 1800s, the five-star bed and breakfast includes Ocean County's largest Victorian tea room.
A full-service tea served daily (except Mondays and Tuesdays) includes soup, salad, tea sandwiches, scones, sweets, and a choice of over 80 teas. The tea room is decorated with vintage hats. Ladies may also learn the proper etiquette of attending a formal tea party.
The Bed and Breakfast includes five luxurious suites (Lady Samantha, Lade Genevieve, Countess Stephanie, Princess Victoria, and Queen Alexa) with private baths. Each room is decorated with priceless antiques and fine linens. Those who choose to stay over will wake up to a hot, delicious breakfast and homemade refreshments served in the afternoon.
Enjoy wine and cheese on the front porch, play board games, or just sit and relax.
Need an extra punch of sweetness? Ask the innkeeper to have chocolate-covered strawberries waiting in your room.
Reservations for the Valentine's Tea, dinner, or overnight stays must be made here.
Enjoy romance and New Jersey history all in one place.
Jen Ursillo is a reporter and anchor for New Jersey 101.5. You can reach her at jennifer.ursillo@townsquaremedia.com
Click here to contact an editor about feedback or a correction for this story.
Each State in America and Their Favorite Type of Cereal...