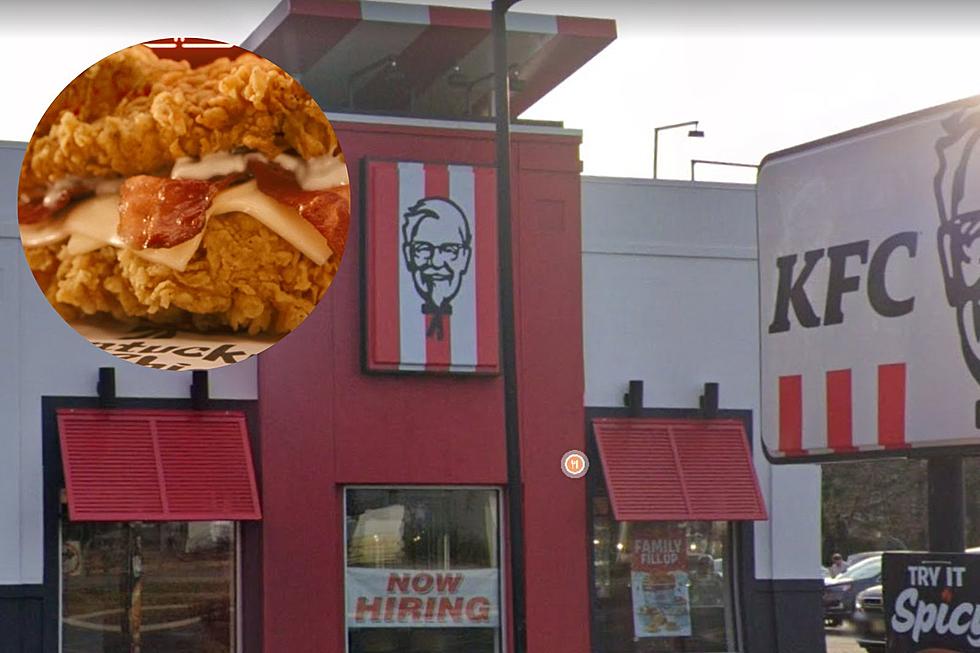 Legendary sandwich returns to NJ – for a limited time
Google maps/KFC/Townsquare Media illustration
🐔 Kentucky Fried Chicken is bringing back the Double Down for a limited time
🐔 It is bunless, but not calorie conscious
🐔 NJ residents have a chance to get one early
---
A fast food sandwich that has achieved legendary status will be returning to New Jersey for a limited time.
Garden State KFC restaurants will begin selling the Double Down on Monday.
The bun is swapped out for two deep fried chicken fillets. Two cheese slices, bacon and mayo or spicy sauce are sandwiched in between.
KFC took a poll on Twitter, and the results were overwhelmingly in favor of bringing the Double Down back.
To call it a bunless sandwich is technically true, but it's certainly not for a calorie conscious. USA today reported the Double Down comes in at 950 calories.
It first debuted in 2010. KFC says they sold more than 10 million Double Downs.
The double down was removed from the menu in 2014, and fans have been asking for it's return for a decade.
If you don't want to wait until Monday, KFC is giving you a chance to get one on Sunday with their double down drop sweepstakes. If you sign up at www.kfcdoubledowndrop.com, KFC says they will allow 2,014 fans to buy a sandwich a day early.
Eric Scott is the senior political director and anchor for New Jersey 101.5. You can reach him at eric.scott@townsquaremedia.com
Click here to contact an editor about feedback or a correction for this story.
Weird things NJ taxes - and some they don't
In general, New Jersey assesses a 6.625% Sales Tax on sales of most tangible personal property, specified digital products, and certain services unless specifically exempt under New Jersey law.
However, the way the sales tax is applied in New Jersey sometimes just doesn't make sense.
New Jersey puts out an itemized list for retailers that spells out what is, and what is not, taxed.
Perhaps because this is New Jersey, there are some bizarre and seemingly contradictory listings.