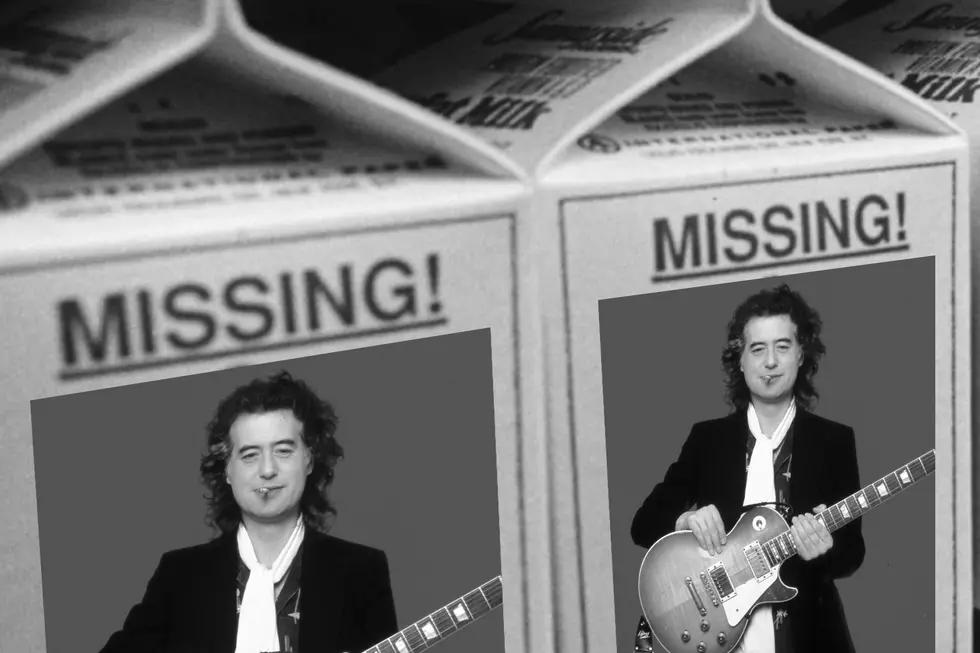 Where the Hell Is Jimmy Page?
Michael Macor / Michael Ochs Archives, Getty Images
Some years back, while working on Led Zeppelin's 2014-15 deluxe album reissue campaign, Jimmy Page told this writer that we'd be hearing more from him. But, he added with a laugh, "I can't tell you much about it."
"One of the things that's awful," Page explained, "is when you tell people you're gonna do this, that and the other is they've already worked out in their minds what exactly you're going to do, and then people present you with this whole package of, 'Oh, are you working on this thing? Are you doing this? Are you doing that?' Let's just say that I know what I'm going to do, without a shadow of a doubt. I'm going to be playing guitar -- that's absolutely, definitely."
Page, 79, might be doing just that, but we haven't heard that guitar for quite some time, which has led many fans to ask where the hell is he? And what's he been up to?
The question is even more out front as we approach the 35th anniversary of Outrider, Page's only proper solo album. The nine-song set included three instrumentals and vocal contributions by John Miles and Chris Farlowe, and Zeppelin bandmate Robert Plant handling "The Only One" just four months after Page appeared on the singer's Now & Zen album. Outrider - the first album Page released on a label other than Atlantic in nearly 20 years - also featured contributions from the Firm's Tony Franklin on bass and drummers Jason Bonham and former Jethro Tull member Barriemore Barlow.
Listen to Jimmy Page's 'The Only One'
"I decided to touch back to my roots rather than trying to pioneer something new at this time," Page told this writer during the tour to promote Outrider. "I think that's the first step down the road to a strong solo career. I said, 'I'm going to be as reckless as possible ... and do what I really believe in - making spontaneous music on the spot.' [Led Zeppelin] used to work like that in, to be honest." Page also sounded confident there would be more to come in the form of a follow-up.
"On the second album, the approach will be totally different," Page promised. "I won't be making stuff up in the studio there. That will be really, really planned. I'll really work to shape a sound."
We have yet to see that album.
This is not to say Page - notably absent from the May tribute concerts Eric Clapton hosted for their late Yardbirds bandmate Jeff Beck - has been dormant during the past 35 years.
He went from Outrider to the short-lived Coverdale-Page project in 1993 and the following year began a five-year re-association with Plant that included No Quarter: Jimmy Page and Robert Plant Unledded for MTV and the 1998 studio album Walking Into Clarksdale, along with tours to support both. He played on Puff Daddy's "Kashmir" -sampling "Come With Me" on the 1998 Godzilla soundtrack, then joined forces with the Black Crowes for a tour that resulted in the Live at the Greek album in 2000, followed by the Zeppelin live collection How the West Was Won in 2003.
Page also accumulated a series of honors during the early 2000s - an Officer of the Order of the British Empire (OBE) for himself and, for Led Zeppelin, a Grammy Lifetime Achievement Award and an induction into the U.K. Music Hall of Fame, leading up to the band's Grammy Award-winning Celebration Day reunion concert during December 2007 in tribute to late Atlantic Records co-founder Ahmet Ertegun. There were also solo appearances at the 2008 Summer Olympics in London and with Foo Fighters, an honorary doctorate from the University of Surrey and an appearance in the 2008 documentary It Might Get Loud, joining Jack White and U2's The Edge.
Listen to Puff Daddy's 'Come With Me' 
The 2010s found Page engaged in the curating of Zeppelin's catalog, an acclaimed series of multidisc editions loaded with outtakes and rarities, as well as an expanded edition of the band's BBC Sessions and the 2017 compilation Yardbirds '68. He also wrote a pair of books - the limited edition Jimmy Page by Jimmy Page in 2014 and Jimmy Page: The Anthology in 2020 - and collaborated on Sundragon, a custom brand that recreated the amplifier Page used on Led Zeppelin's 1969 debut album.
"I think the problem with Jimmy is he's always doing things, it's just not what people want him to do - make a new record, go on tour," says Brad Tolinski, who's often interviewed Page and wrote Light & Shade: Conversations With Jimmy Page. "More than any other rock musician I can think of, Jimmy's always been careful to maintain this mystique. He doesn't want to do anything to sort of jeopardize that, and that also makes him wary of putting stuff out that doesn't add to it or he doesn't want to put out anything substandard." And, Tolinski adds, that bar has been set pretty high.
"I think with him, once you've written the bible it's hard to come up with a sequel. Led Zeppelin was as strong a distillation of his vision as I think he could ever have conceived, and he's just not ever able to top that. Maybe at some point, he just decided maybe it's enough and just concentrate on making sure all the material he made at his creative height is preserved and presented properly."
During the time of the Zep reissues Page spoke about "archiving material from when I was at my parents' house, doing multitrack recording when I was a kid," but we haven't heard any of that. "None of it's any good, of course," Page said with a laugh. "Maybe some of the songs that I wrote were OK, but the lyrics weren't so cool." He's also spoken in recent years of collaborating with Brazilian musicians on another project that has never surfaced.
Similarly, David Coverdale told UCR that when he regained the rights to the Coverdale-Page album a few years ago he presented Page with the idea of a deluxe reissue featuring new remixes as well as additional tracks such as the outtake "Saccharine."
Listen to Coverdale/Page's 'Shake My Tree' 
"He was ready to rock, then COVID," Coverdale noted. "Jimmy didn't have a studio at home and it was a serious lockdown in the U.K., so, of course, there was no way. Then my dance card got full with [Whitesnake box sets] and I went, 'Oh, my God, I've lost that window,' heartbreakingly. I'm still hoping he's gonna do something with it because it's a great record."
During recent years, Page has been most visibly locked in an eight-year (and counting) fight with British pop singer Robbie Williams, feuding over their neighboring mansions in West London. The former Take That member has submitted plans to renovate his home with a "super basement" and a high trellis fence between the properties that Page feels would encroach on and devalue his Tower House, which was built during the late 19th century. The battle has been played out in front of governing bodies and in the media, with Williams largely prevailing but having to honor conditions imposed to protect Page's interests.
So while we do know where Jimmy Page is these days, we don't know what he's up to or even what he'd like to be doing. And we probably shouldn't hold our breath waiting.
"We'd all love to hear Jimmy play some new music or tour," Tolinski acknowledges, "but maybe at this point he pretty much has said what he's had to say, and all the evidence would be that's the case. People like to say he's completely disappeared, but he never really does. He's always working on some project so you never know what might happen."
Led Zeppelin Solo Albums Ranked
There have been vanity projects, weird detours and huge disappointments – but also some of the best LPs of the succeeding eras.