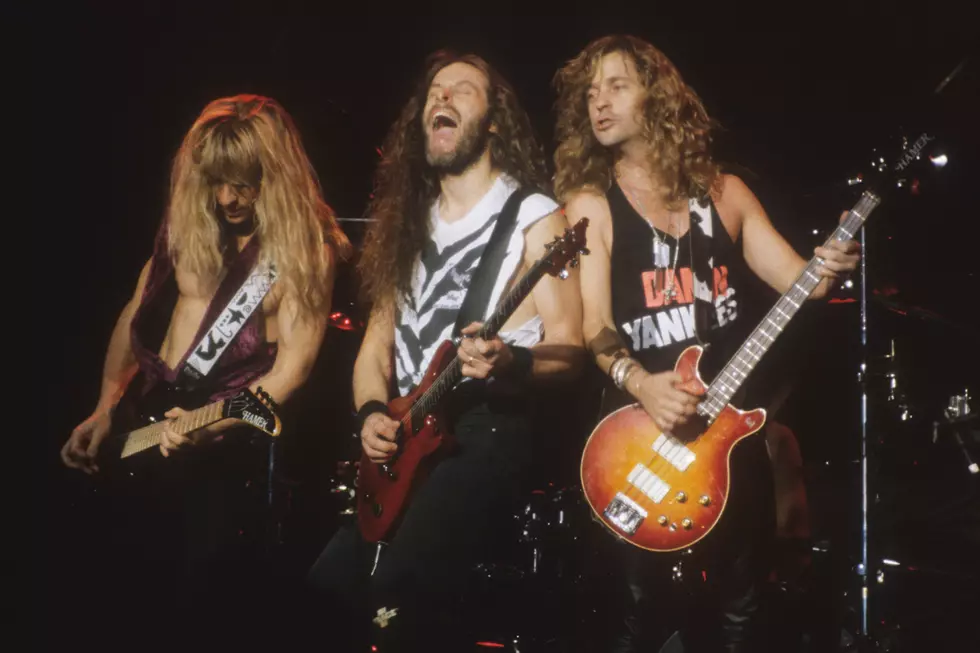 Tommy Shaw Says Damn Yankees Reunion Unlikely: 'We Had Our Day'
Jim Steinfeldt/Michael Ochs Archives, Getty Images
Tommy Shaw squashed the prospect of a Damn Yankees reunion, saying he's too busy with Styx to reassemble the former supergroup.
"I think we kind of ran that thing until the wheels fell off of it, and I'd like to just keep it like that," Shaw told Eddie Trunk last week on SiriusXM's Trunk Nation. "It was a fantastic run. It was just wild and wooly. We made those two records. The first record, that was the shit. The second record, it just started to lose the thing that it had on the first album – and I think everybody else knew that it was probably time to go back to your regular job."
Shaw formed Damn Yankees in 1989 with Ted Nugent, Night Ranger singer/bassist Jack Blades and drummer Michael Cartellone, who went on to join Lynyrd Skynyrd. The band's self-titled 1990 debut went double platinum and spawned the No. 3 hit "High Enough." Its successor, 1992's Don't Tread, went gold and featured the power ballad "Where You Goin' Now," which reached No. 20 on the Billboard Hot 100. Damn Yankees briefly regrouped in 1999 to work on a third album that never saw the light of day, though they still got paid $1 million to shelve it.
Asked whether he would be open to even a one-off show with his former bandmates, Shaw said: "Michael is a permanent fixture in Lynyrd Skynyrd, and Damn Yankees without Michael Cartellone just wouldn't be right. And we [in Styx] do 90 to 120 shows a year, and you have to go home sometime. It's like having two wives, your two families."
Shaw said he's happy with the success Damn Yankees experienced during their brief tenure and doesn't feel the need to revisit it at the expense of Styx. "As far as I'm concerned, we had our day," he added. "We had big records; we sold a lot of records. We got a lot of airplay, and I just don't know how we would be able to fit all that in. I wouldn't want to tell the guys in my band, 'Sorry, guys. We can't play any shows for a few months.' 'Cause that's what everybody wants to do."
Shaw said playing in Styx these days feels "almost like a rebirth with the way we're going back and retooling the songs to where they all sound more like we haven't played them 2,000 times. They sound fresh again, 'cause we're putting them up on the racks and going, 'Oh, wow, we really changed this. We didn't mean to change it, but after playing it 2,000 times, let's go back to how it sounds on the records' – because people listen to those records, and they can tell the difference."
Fans yearning for Damn Yankees classics can scratch the itch by seeing Night Ranger, who still cover the debut cuts "High Enough" and "Coming of Age." If Styx and Night Ranger were to share a bill in the future, Shaw said he wouldn't be opposed to staging a Damn Yankees half-reunion: "Any time we've played with Night Ranger, I've always gotten up and sung that with them."
Rock's Forgotten Supergroups
Here's a rundown of would-be supergroups that the world at large has forgotten over the years.
Real-Life 'Spinal Tap' Stories: Styx