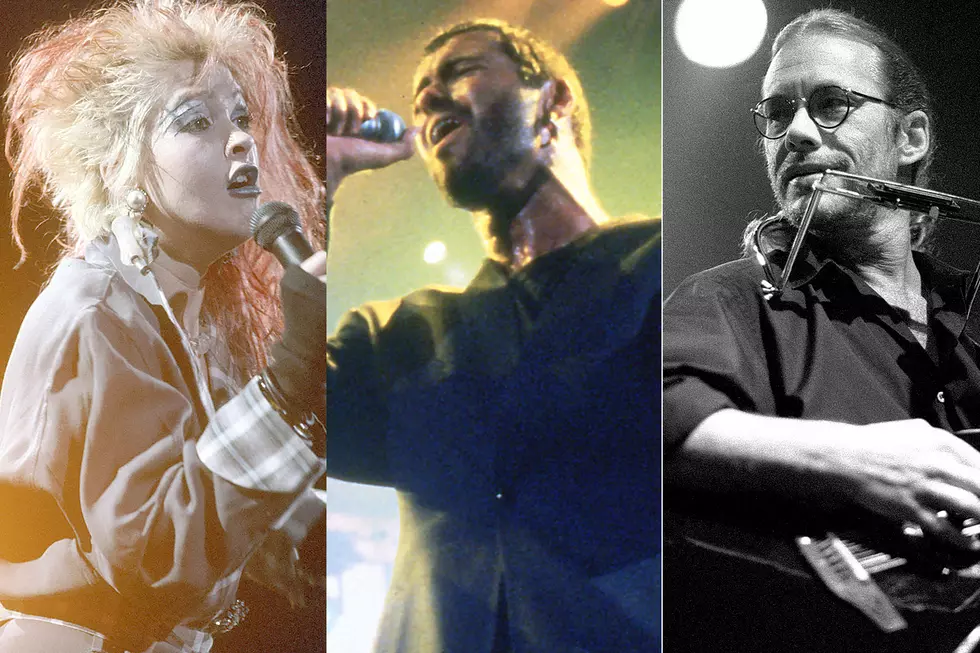 Cyndi Lauper, George Michael and Warren Zevon Lead Rock Hall Vote
Michael Ochs Archives / Hulton Archives / Clayton Call, Getty Images
The number of public votes cast for this year's Rock & Roll Hall of Fame induction passed 1.25 million as solo artists dominated the list of 10 nominees.
Cyndi Lauper currently comes in at the top in the figures released most recently, with more than 147,000 votes. George Michael followed with over 137,000 and Warren Zevon was third with 112,935.
Soundgarden, Willie Nelson and Iron Maiden were next, followed by Joy Division/New Order, Rage Against the Machine and Sheryl Crow failing to pass the 100,000 mark. Kate Bush landed at the bottom of the top 10 with less than 76,000 votes. The complete chart of 14 entries can be seen below; the regularly updated numbers are available on the Rock Hall website.
Rock Hall CEO Greg Harris recently enthused over the "exciting" and "fun" class of 2023, saying, "Eight of them, it's their first time ever nominated and a few of them are back for a second, third or fourth, maybe even a fifth, nomination. … It's just a great group. It underscores the diversity of what we think of as rock 'n' roll -- and really it's not just one sound, it's many sounds – it's an attitude and a spirit."
The figures broadly match the same time last year, when Eminem led with 142,000 and a slightly lower number of total votes had been received. Polling remains open until April 28; fans are allowed to choose up to five artists to vote for each day. The five artists with the highest number of votes will each receive a vote that counts alongside the hundreds of industry professionals who make up the majority of the decision-making panel. It's not a guarantee that the winners of the fan vote will be inducted.
Rock & Roll Hall of Fame 2023 Fan Vote (As of Feb. 10, 2023)
1. Cyndi Lauper: 147,240
2. George Michael: 865
3. Warren Zevon: 116,594
4. Soundgarden: 108,850
5. Willie Nelson: 105,911
6. Iron Maiden: 103,628
7. Joy Division / New Order: 87,245
8. Rage Against the Machine: 80,530
9. Sheryl Crow: 76,595
10. Kate Bush: 75,979
11. The Spinners: 68,757
12. White Stripes: 55,000
13. Missy Elliott: 45,734
14. A Tribe Called Quest: 39,222
137 Artists Not in the Rock and Roll Hall of Fame
Many have shared their thoughts on possible induction.