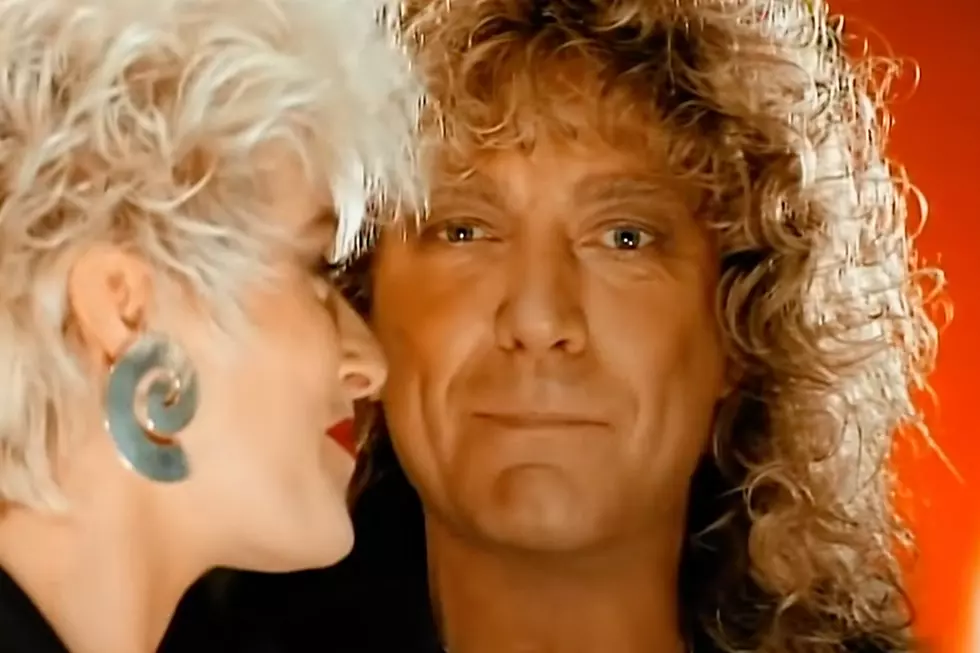 35 Years Ago: The Beastie Boys Inspire Robert Plant's 'Tall Cool One'
YouTube
Anything the Beastie Boys can do, Robert Plant can do better. That was more or less Plant's thought process in 1988 when he was putting together the pieces of "Tall Cool One."
Two years earlier, Beastie Boys sampled three Led Zeppelin songs on their debut album, Licensed to Ill: "When the Levee Breaks," "The Ocean" and "Custard Pie." Plant took those same three songs, plus guitar parts from "Black Dog," "Whole Lotta Love" and "Dazed and Confused," and incorporated them into "Tall Cool One," which appeared on his fourth solo album, Now and Zen.
"I just didn't think the samples that had been used on other people's records had been EQ'ed properly," he said in an interview at the time. "So I figured if you get the CD and you actually do EQ them — and stick them in an AMS [digital delay unit] and just tune them up a bit, or down a bit, to give them even more sharpness, or more effect and intensity — then if I can't do it, I'm fucked if I know anybody who can."
Plant wasn't shy about naming the group he thought didn't properly EQ the samples and saw room for improvement. "I thought the bit of 'The Ocean' on 'She's Crafty' could have been a bit more sparkly," he said. "But you know, you're leaving it in the hands of amateurs, really, so that's what you get. It wasn't supposed to be high-tech."
"Tall Cool One" was composed by Plant with Phil Johnstone, a young songwriter who had sent Plant's office some tapes of his work. "He'd put the word out that he wanted to hear some new music because he thought that everything coming out on record at the time was just average. I think he listened to about 500 tapes," Johnstone explained in 1988. "And he and I, once we got together, carried on listening because we couldn't resist the thought that in there somewhere might be the greatest song ever written.
"But there wasn't, so he decided we'd write them ourselves."
Watch Robert Plant's 'Tall Cool One' Video
Plant was at a point where he didn't want to be a "rock singer" anymore, he said in an episode of his Digging Deep podcast. Instead, he'd pursue something between the lines, something more "camp rock" – "somewhere between Iggy Pop and maybe Talking Heads."
He and Johnstone hit it off right away, writing "Tall Cool One" within an afternoon. "It was bang!" Plant told Rolling Stone at the time. "The guy had been a Zeppelin fan, and I suddenly remembered that, yeah, so had I."
Plant may not have loved how the Beastie Boys' samples sounded, but he did like the concept. "I thought 'Well, that's a good idea,'" he said in 2020. "You can't get a better drum sound. You know, if you think about the drums on 'When the Levee Breaks.' ... So, why not use it again, and again and again and again and again?" Using the samples was no trouble either: Plant was still signed to Atlantic Records, the same label that distributed all of Led Zeppelin's albums. "There was no point in suing me because I was already on their label anyway," he explained.
He dug even deeper into his past, inviting Jimmy Page to perform on the song. At that point, only a bit of the guitar riff from "Whole Lotta Love" had been added, which Plant said Page didn't even recognize at first.
"He thought it was just something we'd written in. Then he played the solo on it, and we put all the Zeppelin-record bits on at the end. We played it for him, and I wish I'd had a camera to catch the expression on his face," Plant told Rolling Stone. "Like 'What is he doing, and why is this essential for him? Is he taking the piss out of it?' I'm not taking the piss. I'm showing that his riffs are the mightiest the world has ever heard."
Listen to Robert Plant Perform 'Tall Cool One' in Concert
Page was certainly perplexed. "I didn't realize how serious he was at that point," Page told The Bryan Times in 1988. "I thought it was tongue-in-cheek, I didn't think it was quite so desperate. Then I was amazed when I saw what he'd done with it, putting the samples on the end. It's funny that he seems to need me that badly."
Plant seemed to recognize that asking Page to come in and play on a song full of Led Zeppelin riffs was a bold move. "To get Jimmy to come into my world, rather than me go into his, and to bring his bits and pieces, it's quite traumatic in a way," he said in 1988. "Because we were so close at one time, absolutely musically inseparable. And now we're miles apart, to ask him to step in and join me."
Released in March 1988, the single reached No. 25 on the Hot 100, while topping the mainstream rock charts. An accompanying music video which got heavy rotation on MTV found Plant "going into character" in a sleeveless leather jacket surrounded by his leather-clad band.
"Tall Cool One" allowed Plant to feel more comfortable confronting his past work in the studio, he later explained. "It inspired me to start thinking about doing Zeppelin stuff onstage," he said, "which got me through that kind of sanctimonious 'don't touch the tabernacle' crap. It's not out the window."
Plant was asked in 2020 if the "tall cool one" was supposed to be him: "Well, it was, earlier on, but I don't know if there's been any shrinkage," he joked. "But yeah, I can be if I try. Just might have to work me hair in a bit more."
The Best Song From Every Led Zeppelin Album
Choosing the best song isn't easy, since many of their LPs come together as a piece – and they include so many classic tracks.
See Robert Plant Among Rock's Most Expensive Out-of-Print LPs