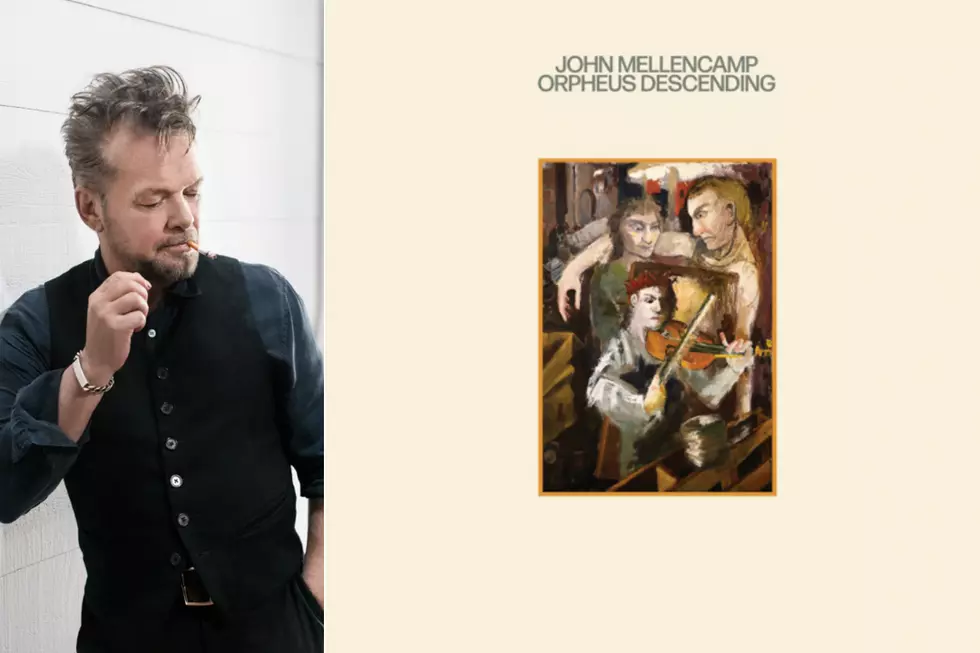 John Mellencamp Condemns Gun Violence in New Single 'Hey God'
UMusic / Republic
John Mellencamp will release his 25th album, Orpheus Descending, on June 2.
The singer and songwriter is previewing the 11-song set with album opener "Hey God." The nervy, slide guitar-driven song finds Mellencamp asking for deliverance from rampant gun violence.
"Weapons and guns, are they really my rights? / Laws written a long time ago / No one could imagine the sight of so many dead on the floor," he laments, before beseeching: "Hey, God, if you're still there, would you please come down? We can't take it anymore."
You can watch the lyric video for "Hey God" and see the full Orpheus Descending track listing below. The album is available to preorder now on CD, vinyl and digital.
Orpheus Descending follows Strictly a One-Eyed Jack, which Mellencamp released in January 2022. The LP featured three collaborations with Bruce Springsteen, who also joined Mellencamp in a rousing tribute to the late Jerry Lee Lewis at the 2022 Rock & Roll Hall of Fame induction ceremony.
Mellencamp also took to the podium at the Rock Hall inductions to celebrate entertainment lawyer Allen Grubman and explicitly condemn antisemitism. "I cannot tell you how fuckin' important it is to speak out if you're an artist, against antisemitism, against all forms of hate speech," he said. "We're all human beings. I don't give a fuck if you're Jewish, Black, white, tutti frutti, I don't care. Here's the trick: Silence is complicity. ... Fuck antisemitism and fuck anybody who says anything in that manner."
John Mellencamp, 'Orpheus Descending' Track Listing
1. "Hey God"
2. "The Eyes of Portland"
3. "Land of the So Called Free"
4. "The Kindness of Lovers"
5. "Amen"
6. "Orpheus Descending"
7. "Understated Reverence"
8. "One More Trick"
9. "Lightning and Luck"
10. "Perfect World"
11. "Backbone"
John Mellencamp Albums Ranked
A pre-fab pop singer turned heartland rocker turned rootsy moralist, John Mellencamp has had almost as many career turns as names.