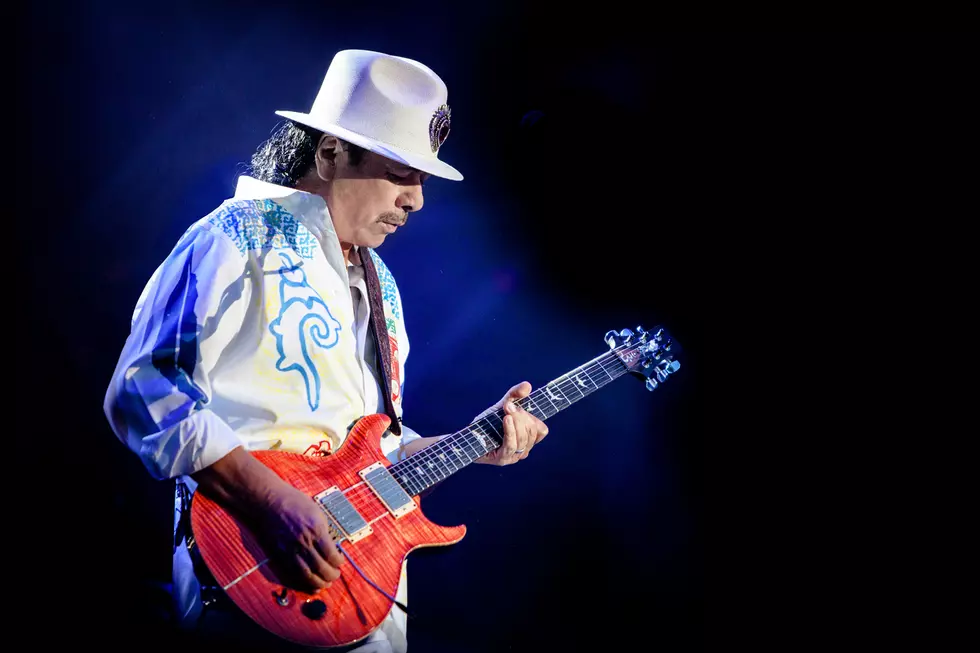 The Two Things Carlos Santana Demanded for a New Documentary
Sony Pictures Classics
Carlos Santana says he's been approached at least a dozen times for a documentary about his life and career. He finally said yes to Carlos, which premiered at this year's Tribeca Festival, after Imagine Documentaries agreed to his conditions for participation.
"I said, 'I want to own my own movie; I don't want to have to ask your permission, later on, to show my movie in some other kind of form,'" Santana tells UCR. "'And I want to have a say-so on the beginning, middle and end, how I'm being presented.' And Imagine came back, I guess they talked amongst themselves, and said, 'OK, we decided we want to do this.' I said, 'OK, then. Let's do it.'"
The 87-minute documentary was directed by Emmy Award recipient Rudy Valdez (The Sentence, We Are: The Brooklyn Saints) and executive produced by Academy Award-winning producers Brian Grazer and Ron Howard for Imagine Documentaries. Carlos will be opening wide this fall through Sony Pictures Classics.
Santana is pleased that it indeed tells his story the way he wants. "I didn't want it to be this poor little thing and another victim mentality and this predictable, pathetic human being who people can hardly wait for him to die so he doesn't suffer anymore," said Santana, who documented his hard times growing up in his 2015 memoir The Universal Tone: My Life. "I think we have enough of that."
Instead, he wanted Carlos "to be the opposite – triumph, glory and victory to God. I want this to be about all the ingredients, components and elements and especially the discipline, the education my mother instilled in my head and in my heart so I wouldn't disappoint myself, my family or the people."
That was a film Valdez, a Santana fan himself, was happy to tell. "This film is called Carlos, not Santana," Valdez explains. "It's about Carlos. I want it to feel like you're hearing the story from him. You're experiencing this amazing life and journey and career, both musical and spiritual, through his eyes, through his voice, through his music, through his guitar. I wanted it to feel that way."
Valdez was assisted in that mission by a find early in his dive into the Santana archives, a trove of footage featuring Santana in a bare room, playing his guitar "and looking in the camera and singing some stuff and talking to the lens. That reminded us you're with a man. He's not just playing a guitar on a stage in front of 80,000 people at night; sometimes he's sitting and playing the guitar by himself. That's what he does. It was so intimate. ... It became in a lot of ways the backbone of the film."
The director also conducted new interviews with Santana around a desert campfire. His goal was to capture his essence in conversation, sometimes hopping free-form between topics and rich in allusions to his forebears and influences. "He talks about metaphors and spirits and all these things that sound out there to some people, but he's absolutely sincere about it," Valdez says. "He's lived such a phenomenal life as a musician and as a person, constantly chasing this sort of spirituality and elevated consciousness. Those things aren't compartmentalized in his life; they all ebb and flow with everything he does."
Santana is quick to note that Carlos is "not Hollywood," and he's all the happier for that. "In Hollywood, they spend so much money on special effects, and they always forget what people remember is the script," he says. "I think the best thing I can think about it is once [Valdez] realized the frequency and the standards that I wanted, it just sailed. I like that [Carlos] has a very, very uplifting and inspiring flow."
He did, however, decide against any kind of soundtrack or companion album as part of the project. "All you have to do is go get the [original] CDs or the records or the cassettes and put them on after you see the movie," he says.
Santana is currently in the midst of the 1001 Rainbows Tour, which has dates booked into August before returning to the House of Blues Las Vegas in September for the next run of his Intimate Evening with Santana: Greatest Hits residency. As for new projects, he's got "like, seven different pies in the oven," though he'll likely turn the heat up soonest on one with wife and drummer Cindy Blackman Santana.
"I don't want to call it jazz because that's the wrong terminology," he says. "Wayne Shorter called it 'I dare you music.' That's what we did with [1972's] Caravanserai and I've done it a couple times, where I know there's not a single within 1,000 miles from it – but that's not gonna stop us. Sometimes you just need to make a statement. Some people do Indiana Jones forever. ... I don't want to repeat Abraxas or Supernatural, 'cause you can't, anyway, even if you try.
"I want to explore and discover new ways to give people chills, make people smile and cry, new melodies," Santana added. "I've been listening a lot to Nina Simone, Etta James and Tina Turner because I want to get that essence that they have in their sound. That's where I'm headed next."
20 Greatest Comeback Albums
Becoming a successful artist is difficult. Remaining on top forever is downright impossible.
Check Out Carlos Santana's Guitar Hero Yearbook Picture