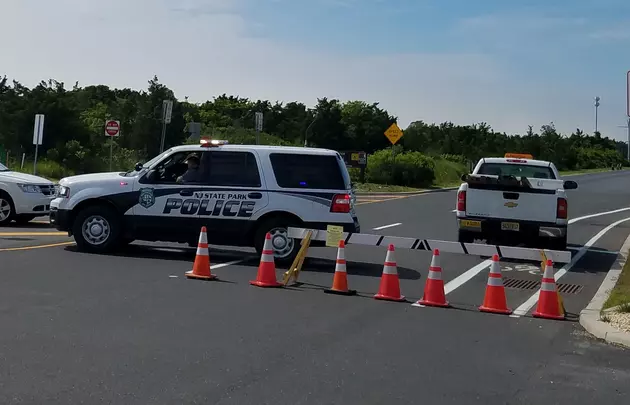 Island Beach State Park is closed to you — but still open to Christie's guests
Entrance to Island Beach State Park blocked on Saturday. (Vin Ebenau/Townsquare Media NJ)
BERKELEY — State Park Police are turning people away from Island Beach State Park on the Saturday of Fourth of July weekend.
But one family will have free access: Christie's.
Saturday's government shutdown following a budget impasse in the Assembly has left dozens of state parks closed to the public. And it couldn't have come at a worse time: On a holiday weekend when tens of thousands of people flock to the shore.
Christie said Friday that his family and their guests would continue to spend the weekend on the island regardless of the shutdown.
"I don't know if it's fair, Michael, but they are not asking for any services," Christie said in response to a reporter's question.
"The houses are the governor's houses and they are not asking for any services. Where down at the public part of the beach there are all types of services provided like lifeguarding services ... my family doesn't ask for any services while we are there."
During a news conference at noon Saturday in Trenton, Christie responded to a question about public criticism of his family's use of the park by saying: "Run for governor and you can have a residence there."
The six-bedroom house has views of the Atlantic Ocean. A guesthouse faces the Barnegat Bay. The homes are guarded by the State Police, which remain on duty for the shutdown.
Jersey Shore visitors react to the news on Saturday:
Article continues below video
The houses were built in 1927 and purchased by the state in 1953. Jim McGreevey, Christine Whitman and Christie have made use of the shore houses during their time in office, while Jon Corzine did not. Christie's family did not move into the other gubernatorial residence — Drumthwacket mansion in Princeton — when he took office.
Christie said Monday during "Ask the Governor" on New Jersey 101.5 that "the whole family" would be spending the weekend at the shore, with his oldest son, Andrew, "flying in from Milwaukee" and "inviting a bunch of his friends down."
"We will be fully loaded, Eric. I don't know how much sleep Mary Pat and I will be getting," he said.
The Legislature is back at work today.
"I'll probably be here, unfortunately," Christie said Friday while in Trenton.
Michael Symons and Vin Ebenau contributed to this report.
Christie's family going down the shore: