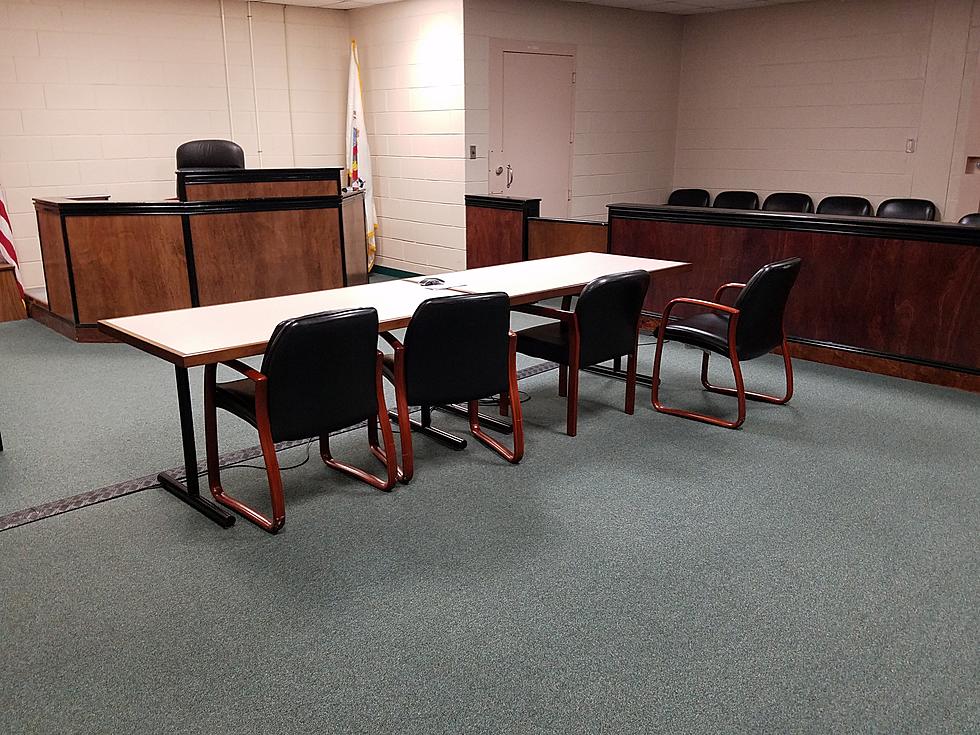 Holmdel arsonist with a knack for shooting found guilty by a jury
Court room at the Monmouth County Correctional Institute. (Vin Ebenau, Townsquare Media New Jersey)
A former resident of Holmdel who set multiple fires in 2017 and then shot a gun into a business has been found guilty by a jury in Monmouth County, Acting Monmouth County Prosecutor Lori Linskey announced on Friday.
Listen to Vin Ebenau mornings on Townsquare Media Jersey Shore Radio Stations, email him news tips here, and download our free app.
On August 19, 2017, Holmdel Police responded to possible arson at Neuhaus Realty Agency on Main Street where they found evidence that a fire, which damaged a part of the back of the building was set on purpose.
They then joined with the Monmouth County Prosecutors Office and both came to the same conclusion and video surveillance confirmed their investigative theory and evidence.
A few months later, on January 27, 2018, Holmdel Police responded to another fire at the same location late at night and on scene saw heavy smoke and fire emanating from the back of the building, this time sustaining extensive damage.
Holmdel firefighters put it out and as the investigation unfolded by township police, the MCPO and Monmouth County Fire Marshal's Office, they all determined it was yet another act of arson.
A few months later, on May 29, 2018, Holmdel Police responded to South Holmdel Road, the new location of the realty office, after a report came in someone fired a BB gun into the building.
Detectives combed through video surveillance and identified 32-year old Leonard J. Mazzarisi III as the suspect for shooting the BB gun and matched him to a man seen driving away from the arson in January of 2018.
He ventured south though, but was found May 30, 2018 in Fredericksburg, Virginia and was arrested on outstanding warrants.
Mazzarisi was detained at the Rappahannock Regional Jail in Stafford, Virginia and was later extradited back to New Jersey on June 12, 2018 to face charges.
On Friday July 30, 2021, Mazzarisi, III, was found guilty of second degree Aggravated Arson, second degree Possession of a Weapon for an Unlawful Purpose and third degree Unlawful Possession of a Weapon.
Mazzarisi is scheduled to return for sentencing before Superior Court Judge Lourdes Lucas on October 8, 2021.
He faces up to twenty years in New Jersey State Prison on the charges.
The case is assigned to Monmouth County Assistant Prosecutor Anthony Puglisi.
Mazzarisi was represented by John J. Perrone, Esq., of Long Branch.
Have You Seen Them? Monmouth County's Most Wanted
Have You Seen Them? Ocean County's Most Wanted