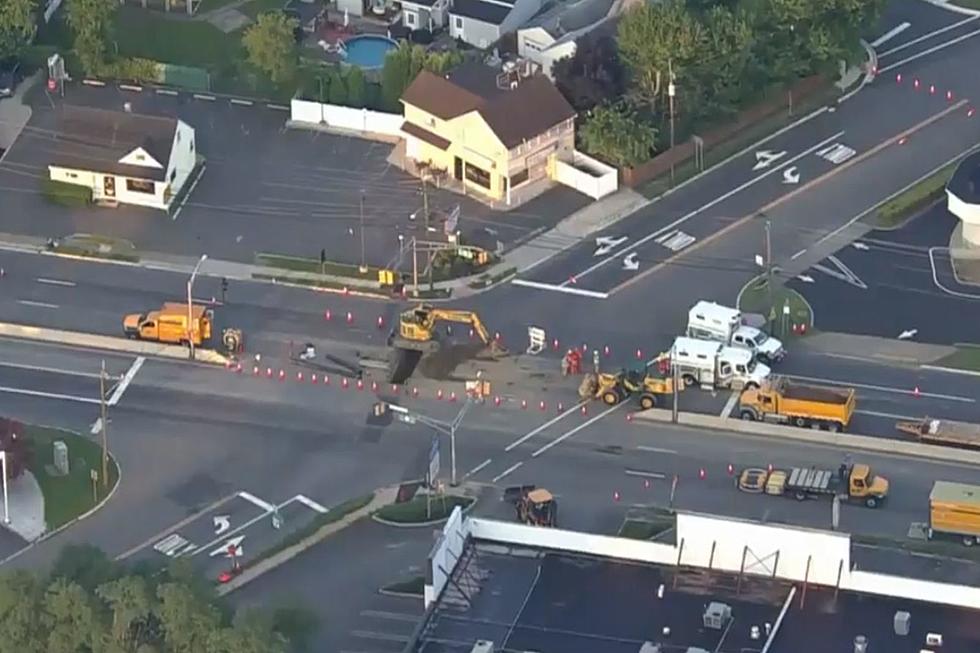 Gas main break closes part of Route 18 in East Brunswick, NJ
Repairs at a gas main break on Route 18 in East Brunswick (CBS New York via Facebook)
🚗 A section of Route 18 closed in East Brunswick around 2 a.m. Tuesday
🚗 The road is expected to remain closed southbound all day
---
EAST BRUNSWICK — A early morning gas main break led to what likely will be an all-day closure of a portion of Route 18.
East Brunswick police told New Jersey 101.5 that a contractor struck a 24-inch gas main at Route 18 and Racetrack Road around 2 a.m. The road was shut down awaiting the arrival of PSE&G crews to assess the situation and begin repairs.
The New Jersey Department of Transportation expects Route 18 southbound to be closed between Cranbury Road and Rues Lane (County Road 617) for most of Tuesday.
Route 18 southbound detour:
• Traffic on Route 18 southbound will be directed to take the ramp onto Cranbury Road
• Stay left and follow signs for Old Bridge/Spotswood/Cranbury
• Use the left lane to make a U-turn onto Cranbury South River Road
• Stay right to take ramp onto Summerhill Road/CR 613
• Turn left onto Rues Lane/CR 617
• Turn right onto Route 18 southbound
Report a correction 👈 | 👉 Contact our newsroom
LOOK: Do you know these 50 famous acronyms?
This list from
Stacker
features a collection of the most common acronyms and their meanings. Popular abbreviations include establishments like ACLU, YMCA, ad the AARP.
Most popular grocery stores in America
UPDATED: All the stores where NJ legal weed is sold
The number of recreational cannabis dispensaries continues to grow, since the first NJ adult recreational sales in April 2022.