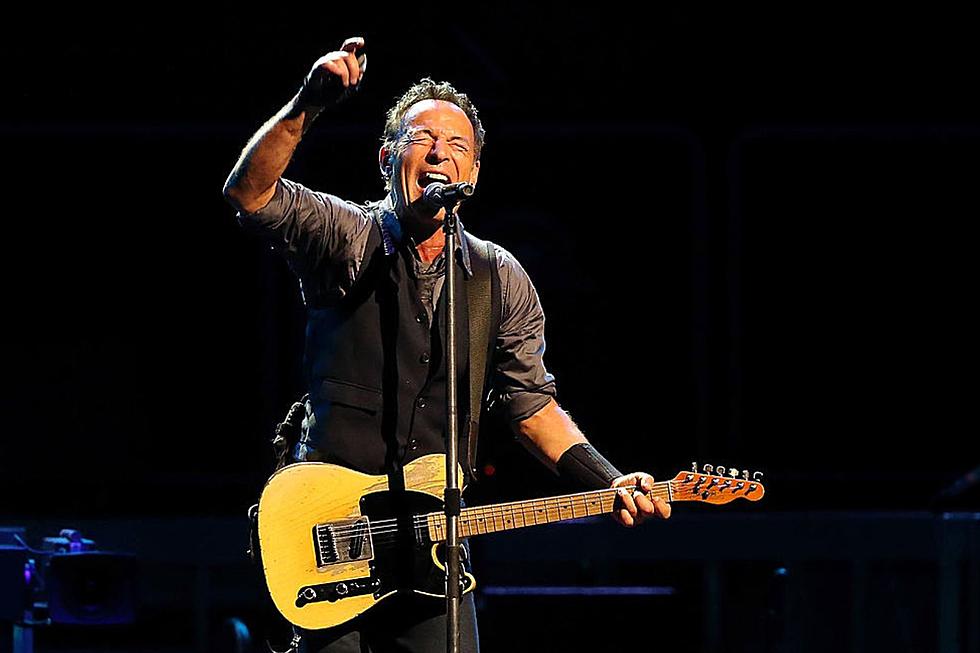 E Street claps back at hater fan dissing Springsteen setlist
Bruce Springsteen- Marc Metcalfe, Getty Images
You can't please everybody. Someone on Twitter went off on New Jersey's poet laureate, Bruce Springsteen, criticizing his setlist.
This jerk questioned whether Bruce's "mental state" was crippling the tour's setlist and went on to say, "These rinse and repeat shows are such the opposite of greatness."
Imagine this troll's surprise when E Street bassist Garry Tallent himself commented back, "You are fuc***g kidding, right??"
Then it became a torrent. Steven Van Zandt's sister Kathi chimed in with, "Why don't you stay home and let some real fans take your ticket? Decline? This man and this band play for three hours — performing from an extraordinary songbook most artists only dream about."
Then Vini "Mad Dog" Lopez, founding E Street Band member, summed it up in a very Jersey way.
"Yeah right Bub!"
Before I tell you what Little Steven previously said about a more rigid setlist on this tour take a look at their July 23 list from Munich and ask yourself if you'd feel you weren't getting your money's worth.
🎶 No Surrender
🎶 Ghosts
🎶 Prove It All Night
🎶 Letter to You
🎶 The Promised Land
🎶 Out in the Street
🎶 Darlington County
🎶 Kitty's Back
🎶 Nightshift
🎶 Trapped
🎶 Johnny 99
🎶 The River
🎶 Last Man Standing
🎶 Backstreets
🎶 Because the Night
🎶 She's the One
🎶 Wrecking Ball
🎶 The Rising
🎶 Badlands
🎶 Born to Run
🎶 Bobby Jean
🎶 Glory Days
🎶 Dancing in the Dark
🎶 Tenth Avenue Freeze-Out
🎶 I'll See You in My Dreams
Personally I'm stunned at anyone having an issue with this setlist. Now what did Steven Van Zandt say previously about not mixing things up as much this tour? Before the Twitter complaint he had talked about this on the Consequence Podcast Network.
The show is not a 'best of' show — it's more like a sample of each of our eras," said Van Zandt. "It's an interesting choice Bruce has made. We haven't changed the set from the very first rehearsal. He just hit on what he wanted to do very early in the rehearsal process. The songs are not all from 'Letter to You,' but they take on that theme. It's not exactly a linear, literal storyline from beginning to end, but it has that color of the theme that comes from the album. Especially 'Backstreets,' in particular. It takes on an entirely different meaning.
Basically, if you want a jam band Phish concert then go see that.
9 Springsteen lyrics that won him the Woody Guthrie Prize
The award is given to artists from any medium who carry on the legacy of its namesake by speaking "for the voiceless with an understanding of how a platform can be used to shine a light on our world, showing us what needs to be fixed and how to fix it."
LOOK: 50 songs you won't believe are turning 50 this year
Opinions expressed in the post above are those of New Jersey 101.5 talk show host Jeff Deminski only.
You can now listen to Deminski & Doyle — On Demand! Hear New Jersey's favorite afternoon radio show any day of the week. Download the Deminski & Doyle show wherever you get podcasts, on our free app, or listen right now.
Click here to contact an editor about feedback or a correction for this story.