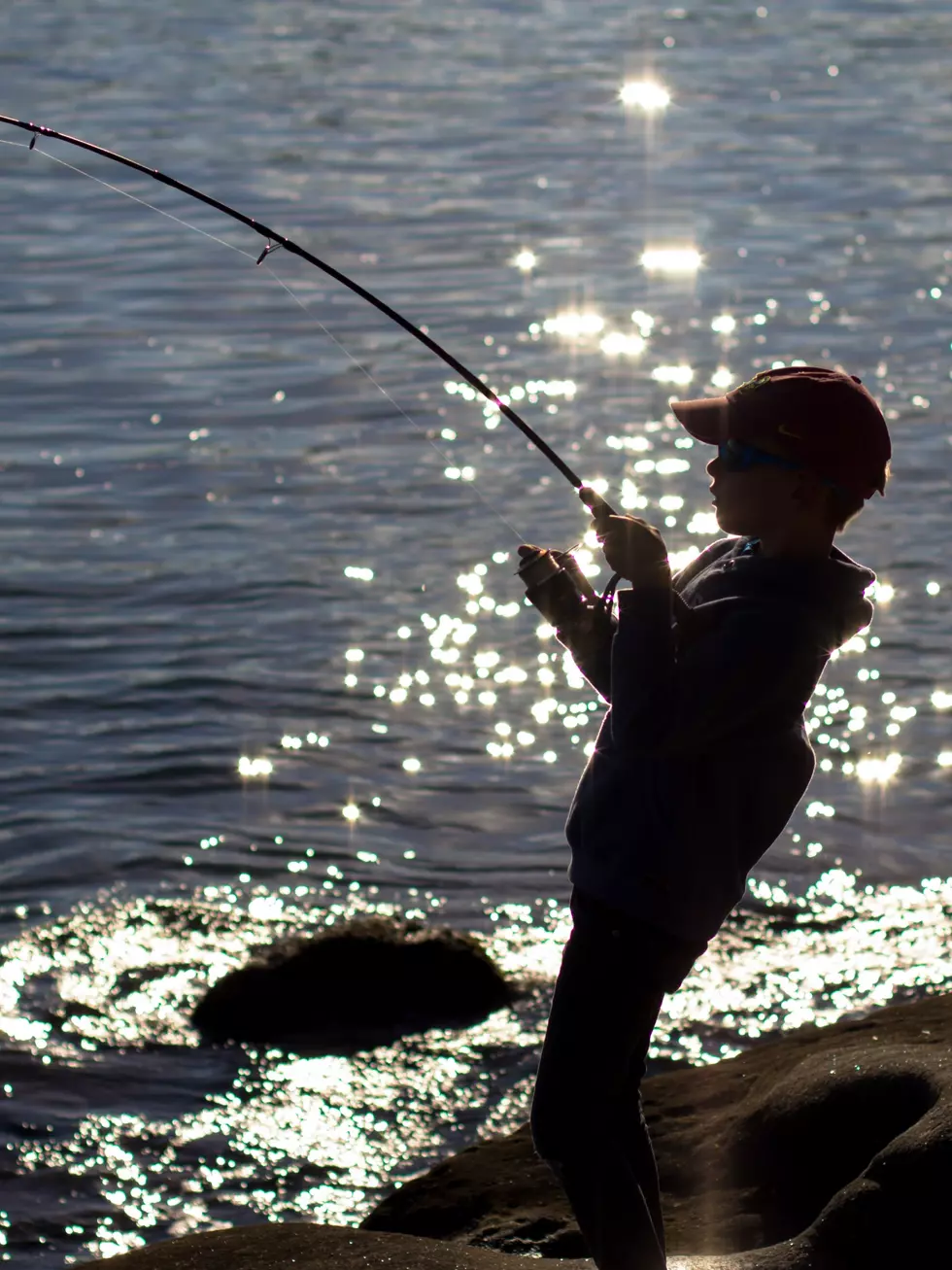 Don't Miss These Statewide New Jersey Youth Fishing Challenges
Photo credit: Unsplash
We've got some free fun happening this summer and I don't want you to miss out!  Check out these free family events!  I'm not that into nature, but my kids love to fish. This solves that problem.  You can sign your kids up for the free Kids Fishing Derby!
The derby is a wonderful family tradition that offers free lunch, and a casting contest for the kiddos!  They give out awards and gift bags too.  The little ones love it! It is all a part of the Get Hooked on Fishing-Not on Drugs program.
This is a statewide program that promotes fishing, the love of the outdoors, and drug prevention for kids and their families. There are some rules to participate in the contest.
Here are the rules:
Registration is required and FREE - see information below for the location you'd like to attend.
Note: Each hosting organization/location may have its own rules or "need to know" information.
Participating youths aged 20 and under are eligible to receive event giveaways and prizes.
Note: Youths will receive a scorecard the day of the event and must turn in their completed
scorecards to receive free giveaways and prizes.
PARTICIPANTS MUST BE PRESENT AT THE CLOSE OF THE EVENT TO RECEIVE A PRIZE!
Here are the locations for the New Jersey youth fishing challenges!
Atlantic County
Egg Harbor Twp. Recreation Alliance
Egg Harbor Township Nature Reserve
314 Zion Rd.
Egg Harbor Township, NJ 08234
Directions
Dena Danz - DDAnz@ehtgov.org
609-272-8120
www.ehtrec.com
Northfield Municipal Alliance
Birch Grove Park
1730 Burton Avenue
Northfield, NJ 08225
Directions
Shannon Campbell - scampbell@cityofnorthfield.org
www.cityofnorthfield.org
Stockton University - New Angles for Success
Lake Fred - Stockton Galloway Campus
101 Vera King Farris Dr.
Galloway, NJ 08210
Directions
Adam Aguiar - Adam.Aguiar@stockton.edu
www.stockton.edu
Bergen County
Old Tappan Municipal Alliance & Environmental Commission
Bonnabel Nature Park
Old Tappan Rd.
Old Tappan, NJ 07675
Directions
Anna Haverilla - haverilla@oldtappan.net
201-664-1849 ext.12
Pre-register Online
Burlington County
Burlington HOFNOD
Vincentown Millpond
Southampton Twp, NJ 08088
Directions
Vic Gorin - vgorin@creativemachining.com
609-468-6106
Facebook: HOFNOD Burlington
Scouts BSA Troop 76B, 76G and Cub Scout Pack 176
Laurel Acres Park
Mount Laurel, NJ 08054
Directions
Bob Kuserk – rkuserk@comcast.net
856-305-2995
The Father Center of New Jersey
Burlington Riverfront Promenade
Burlington, NJ 08016
Directions
Lisa Colclough - lcolclough@thefathercenter.org
609-297-6539
https://www.thefathercenter.org/
Willingboro Recreation & Parks Department
Crystal Lake
Industrial Dr
Willingboro, NJ 08046
Directions
Kendall Brunson - kbrunson@willingboronj.gov
609-877-2200x.1111
www.willingbororec.com
Camden County
Lindenwold Police Department
Lake Worth
Lindenwold, NJ 08021
Directions
Dustin Dilger - ddilger@lindenwoldpd.com
856-784-7566
https://www.lindenwoldnj.gov/police-department
Cape May County
Belleplain State Forest
Lake Nummy
1 Henkinsifkin Rd.
Woodbine, NJ 08270
Directions
Vince Bonica – Vincent.Bonica@dep.nj.gov
609-861-2404
4H Cape May County
Cox Hall Creek Wildlife Management Area
2978 Bybrook Dr.
Villas, NJ 08251
Directions
Rhiannon Worthington - rhiannoncmc4h@gmail.com
609-465-5115
https://www.signupgenius.com/go/10c0d4daeaf2ca4f9c34-hofnod
Cumberland County
Millville Recreation
Corson Park
Millville, NJ 08332
Directions
Samantha Cruz - Samantha.Cruz@millvillenj.gov
www.millvillenj.gov
856-825-7000 x7394
Essex County
HOFNOD Falcon Fishers
Branch Brook Park
Park Ave. & Lake St.
Directions
Jessica Allen - j1allen@nps.k12.nj.us
757-371-4447
Gloucester County
Westville Police Department
Thomas West Park
Westville, NJ 08093
Directions
Patrolman Grant Roberts – groberts@westville-nj.com
856-456-9444 x 310
Hudson County
Hackensack Riverkeeper & Hudson River Fisherman's Association
Laurel Hill County Park
Laurel Hill Rd.
Seacaucus, NJ 07094
Directions
info@hacksensackriverkeeper.org
www.HackensackRiverkeeper.org
*participants MUST sign up for this event at the website above, signup will be posted 1 month prior to the event.
Middlesex County
Borough of South River - Parks & Recreation
Grekoski Park
Whitehead Ave./Devils Way
South River, NJ 08882
Directions
Terri Chandler - tchandler@southrivernj.org
732-254-4412
www.southrivernj.org
East Brunswick Recreation
Dallenbach Lake
380 Durhams Corner Rd.
East Brunswick, NJ 08816
Directions
Ashley Faulcon - afaulcon@eastbrunswick.org
732-390-6797
www.eastbrunswick.org/249/Recreation-Parks
Monmouth County
Neptune Recreation
Hamilton Fire Co. Pond
10 Jumping Brook Rd.
Neptune, NJ 07753
Directions
Cory Zarrella - czarrella@neptunetownship.org
732-869-1202
neptunetownship.org/departments/recreation
Boro of West Long Branch
Franklin Lake
Lakeview Ave.
West Long Branch, NJ 07764
Directions
Jerry Natale - LTTLZKE@comcast.net
732-693-9462
*This event is on Saturday, June 4th
Morris County
Jefferson Township Police Department
Morris County Fishing Education Pond
Weldon Rd.
Lake Hopatcong, NJ 07849
Directions
Jeremy Romash - jromash@jeffersonpolice.com
973-697-1300
www.jeffersonpolice.com
Patriots Path Council - Boy Scouts of America
Winnebago Scout Reservation
102 Timberbrook Rd.
Rockaway, NJ
Directions
Richard Peterson - Richard.Peterson@scouting.org
973-765-9322x.227 http://www.ppcbsa.org/
Ocean County
Ocean County Parks
Lake Shenandoah County Park
Route 88 (Ocean Ave.)
Lakewood, NJ 08701
Directions
Chris Claus - cclaus@co.ocean.nj.us
732-506-5122
www.oceancountyparks.org
Passaic County
Shady Lake Park
Weaver Rd.
West Milford, NJ 07480
Directions
Wyatt Walker - shadylakenj@gmail.com
201-304-1702
www.shadylake.weebly.com
Salem County
The Inn at Salem Country Club
Oakwood Beach
91 Country Club Rd.
Salem, NJ 08079
Directions
Jim Grant - JimGrant423@gmail.com
609-420-8290
www.SalemCountryClubNJ.com
Sussex County
Franklin Borough Recreation Committee
Franklin Pond
15 Cork Hill Rd.
Franklin, NJ 07416 Directions
Concetto Formica – cformica@franklinborough.org
https://franklinborough.org/
Lake Stockholm CC & CA
Lake Stockholm
62 Lakeside Ave.
Stockholm, NJ 07460
www.lakestockholm.com
Kira Shellowsky – treasurer@lakestockholm.com
973-697-5165
New Jersey School Of Conservation
1 Wapalanne Rd.
Sandyston, NJ 07826
Directions
Jessica Shea - jshea@friendsofnjsoc.org
Union County
City of Linden Recreation/Linden HOFNOD
Woodrow Wilson Park
Linden, NJ 07036
Directions
Cybil Specht - CSpecht@linden-nj.gov
908-474-8600
City of Plainfield, Division of Parks and Recreation
Cedar Brook Lake at Cedar Brook Park
Plainfield, NJ 07060
Directions
Veronica Taylor - veronica.taylor@plainfieldnj.gov
908-753-3097
https://plainfieldnj.gov
*This event is on Saturday, June 4th
Warren County
Patriots Path Council - Boy Scouts of America
Mt. Allamuchy Scout Reservation
750 Waterloo Rd.
Stanhope, NJ 07874
Directions
Richard Peterson - Richard.Peterson@scouting.org
973-765-9322x.227 http://www.ppcbsa.org/
PEACE NJ
Alumni Field
Hackettstown, NJ 07840
Directions
info@peacenj.org
www.peacenj.org
*This event is only open to Hackettstown residents
You do have to register in advance to win prizes for the fish-catching contest.  If you have any questions you can email hofnod@dep.nj.gov.  You can read more on the official state website here.
Here are some more amazing New Jersey attraction ideas for you and the family!
How Many of These Popular New Jersey Attractions Have You Been To?
These Are New Jersey's Best Pick Your Own Orchards And Farms
Grab a bag, bucket, or bushel and pick your own delicious fruits and pumpkins from these New Jersey businesses, listed alphabetically.