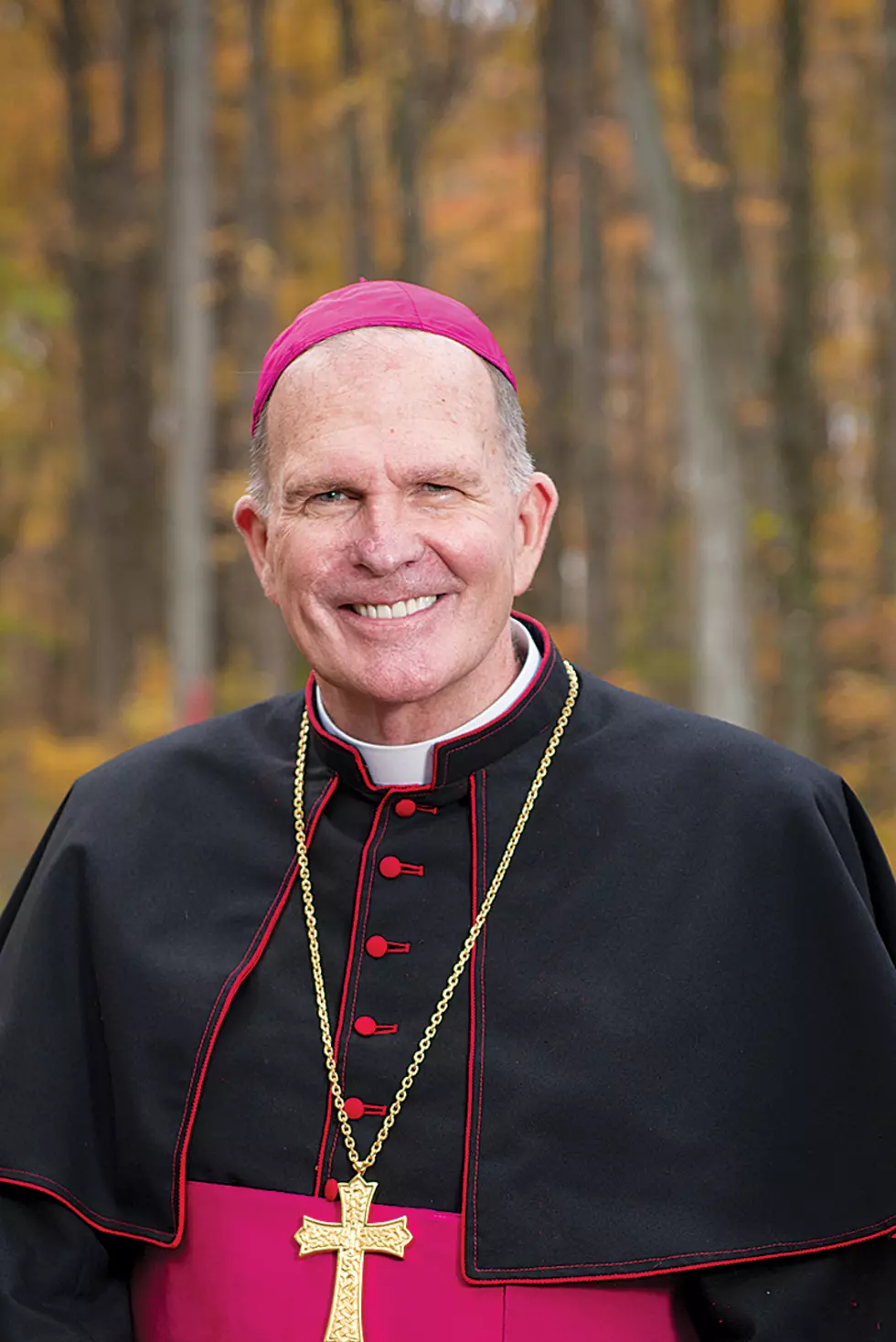 Diocese of Trenton Bishop gives blessing for drive-in masses
Diocese of Trenton Bishop David O'Connell. (Diocese of Trenton/PITTELLI PHOTOGRAPGY)
The Catholic Diocese of Trenton has taken another small step forward in brining the 730,000 flock of believers back together again across the 99 parishes by allowing outdoor/drive-in masses to take place beginning on Monday May 18.
There will have to be some restrictions in place still as churches across the Diocese abide by Governor Murphy's executive order allowing large gatherings as long as you are in your car when it happens.
In a letter to pastors and other priests across the Diocese on Friday, Bishop O'Connell provided specifics as to what can and can't happen with an outdoor mass right now.
Greetings and good wishes!
As you are aware by now, the Governor has issued the following Executive Order 142:
Car Gatherings: The Order states that car gatherings do not violate the Governor's ban on gatherings under Executive Order No. 107. Examples of such car gatherings include but are not limited to drive-in movies, religious services, or drive-through farms or safaris. Car gatherings will be subject to the restrictions in the Order, which include but are not limited to the following:
• Attendees must remain in their same car throughout the gathering, unless 1) an occupant needs to get out of the vehicle for their health or safety or 2) an occupant needs to use the restroom;
• The vehicle must remain closed at all times unless 1) there is six feet of distance between other vehicles or individuals or 2) an officer, public official or guard requires the vehicle to open. There is a further exception allowing the opening of the vehicle if necessary for health or safety;
• Individuals organizing the gathering who are not in vehicles must follow social distancing and wear cloth face coverings; and
• To the degree that a gathering requires pre-payment, or seeks donations of any kind, contactless options for pre-payment or donation, such as online or by telephone, must be offered wherever feasible.
Some pastors have previously inquired about outdoor parking lot / in car Masses.  The Governor's Executive Order provides this possibility for religious gatherings and becomes effective on Monday morning, May 18.
The Post-Pandemic Parish Task Force for Pastors (P4) presents the following guidelines for parishes in the Diocese of Trenton.  Pastors and priests are asked to use good pastoral judgment.
     1. COVID 19 is still a virulent contagious disease communicated between humans; masks should be worn outside wherever possible; handwashing with soap/water or alcohol-based sanitizer should take place; social distancing (six feet) should continue; the dispensation from Sunday obligation and Easter duty remains in effect until further notice.
     2. Those with a COVID 19 diagnosis or symptoms, those not feeling well, or in a  high-risk category should NOT visit church or attend public Mass whether indoors or outdoors.
     3. Pastors should consider offering an outdoor "in car" Mass if it can be done safely and in a dignified, worthy manner.
         a. One only outdoor "in car" Mass per parish on Sunday
         b. Weekday Mass may be offered at the pastor's discretion. 
         c. Such Masses should be offered only if safety and dignity can be maintained.  
         d. In parishes where Masses are offered in a language other than English, the pastor might consider a single bi-lingual Mass or offer one additional Mass if truly necessary.
     4. All pastors/parishes are not required to provide an outdoor "in car" Mass. 
     5. Live-streamed Masses should be continued where currently practiced, even if an outdoor "in car" Mass is provided. 
         a. Masses may be celebrated at an outdoor altar with Communion distributed afterward at the parking lot exits.  A minister should be positioned at both sides of the vehicle. All sacred vessels should be appropriately purified immediately after use.
          b. Masses may be live-streamed from inside the church with Communion being distributed afterward in the manner described above.
     6. Pastors should arrange for assistance from staff and should seek police assistance if possible to maintain order.  Volunteers should be identified and identifiable. Vehicles are to be parked six feet apart (e.g. every other parking space) so that windows can remain open; otherwise windows should remain closed.
     7. No papers of any kind may be handed out or distributed.
     8. The best manner for the distribution of Holy Communion (Cf. 5a above) should be determined, planned and announced by pastor with advice sought by parish leaders.  Hands must be sanitized periodically during the distribution of Holy Communion. Clergy and other ministers are to wear masks.  Communicants are to remove their masks immediately before receiving and replace it afterward.
        a. Any physical contact with a communicant will require minister to sanitize before next distribution
         b. Sanitizer must be readily available to the minister, perhaps held by staff wearing gloves
         c. Communion in hand preferred
     9. The pastor will determine, plan, and announce the manner of taking up the collection.  
    10. Such Masses are experimental and should be discontinued if impractical or undignified.
Additional recommendations:
• FM transmission of audio, they must be on permitted FCC frequencies.
 • The volume of an outside sound system should be properly regulated and in accord with municipal noise ordinances.  
• The outdoor "in car" Mass may be simulcast.
More From Townsquare Media Jersey Shore:
Enter your number to get our free mobile app
MORE INFO: 7 easy ways to stop touching your face