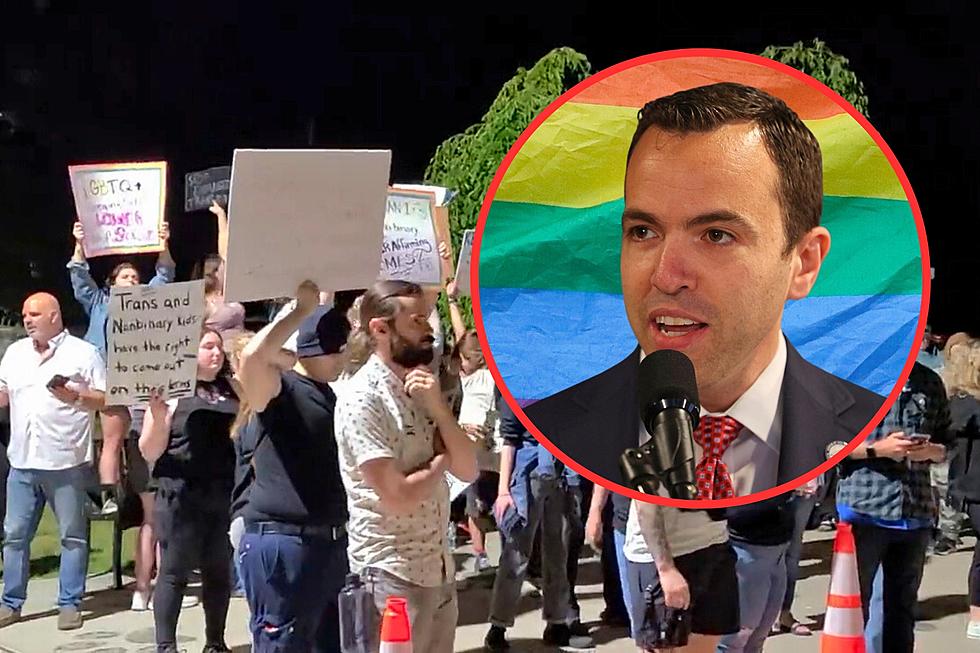 'Bombshell' admission over NJ school trans policy
(AP Photo/Pavel Golovki/@NJPECoalition via Twitter/Edwin J. Torres/NJ Governor's Office).
🔴 'Bombshell' admission on trans policy from Murphy administration
🔴Many school districts could quickly defy 'guidance' from the state
🔴It is seen by some as a major victory for parental rights
---
Nearly two dozen school districts are expected to defy orders from Gov. Phil Murphy's administration regarding parental notification if a child changes gender identity in school.
The actions will come after what one school board member called a "bombshell" admission:
The orders from Murphy are not really orders at all, merely "guidance," and they can be rejected by any district that chooses to do so.
A New Jersey Superior Court judge placed a temporary hold on policies passed by three Monmouth County school districts that would require teachers to notify parents about changes in their child's gender identity.
Judge David Bauman sided with Attorney General Matthew Platkin, whose office sued the districts over the policies. The state argued that the policies would disproportionately impact transgender students and be discriminatory.
The bombshell admission
However, the New York Post is reporting on a brief, but powerful, exchange during a separate hearing involving the Hanover School District.
It was at that hearing on Sept. 6, according to the Post, that Deputy Attorney General James Michael conceded before the judge that ban on parental notification was only "guidance" and not "mandatory."
Monday night, the Hanover Township School Board voted to repeal what is known as Policy 5756 in its entirety.
School board member Gregory Skiff was incredulous about what he said was "a widespread effort to misrepresent to school districts statewide that 5756 was mandatory" when it simply was not.
The admission by Michael has largely gone overlooked. Until now.
Middletown School Board vice president Jacqueline Tobacco told The Post, "It felt like a complete bombshell to us."
The Middletown, Marlboro, and Manalapan school boards are expected to join Hanover Township and reject the state Policy 5756 in favor of writing their own policies.
What the Murphy administration will do is unclear.
Gov. Murphy and his representatives from the Attorney General's Office and Education Department have threatened and taken legal action against districts that have defied guidance on dealing with transgender students for months.
There has been no public comment from Murphy or Attorney General Matt Platkin since Monday night's vote in Hanover Township.
How does this impact the Monmouth County cases?
That is not entirely clear.
Middletown, Marlboro, and Manalapan are all under an injunction by Judge David Bauman which prevents the school boards from implementing changes or modifying current guidelines on parental notification while the suit is ongoing.
Marlboro Township School Board of Education Attorney Marc Zitomer tells New Jersey 101.5 he does not believe the board will act to repeal the policy.
"I have concerns from a legal point of view that repealing the policy would violate the court order," Zitomer says, "Notwithstanding, we are appealing the injunction."
Report a correction 👈 | 👉 Contact our newsroom
Disturbing images from inside Irvington High School
A whistleblowing teacher says Irvington High School is falling apart. In these images taken from the past year, the extent of the deterioration is evident, contributing to an environment that is also beset by growing violence among the student body.
$450 million in school construction funding approved by NJ
These are the $1 billion in projects and the state funding shares announced by the New Jersey Department of Education on Sept. 7, 2023.
School projects include essential building systems upgrades, building code problems, 320 HVAC systems, 79 boilers or water heaters, and 211 roofs.
The 30 worst rated schools in New Jersey
Here are the 30 lowest-rated schools statewide, based on their 2021-2022 New Jersey School Performance Reports — involving scores for language arts, math and attendance. (For an explanation of how the state calculates the "accountability indicator scores" and overall rating for each school,
see page 90 of this reference guide.
)