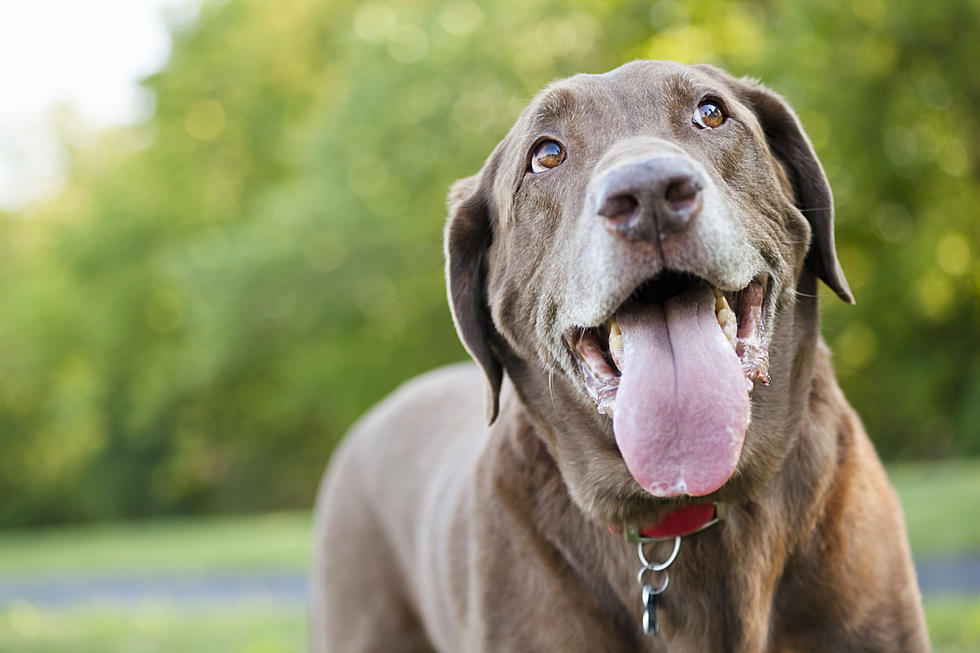 Bark if you're excited! Dogs could soon be allowed in State run Veterans homes
Leslie Banks, ThinkStock
Every dog has its day and they could soon be able to have one such day with some of our military heroes living in State run Veterans homes and facilities, thanks to legislation being sponsored by New Jersey State Senator Anthony Bucco.
Listen to Vin Ebenau mornings on Townsquare Media Radio Stations, email him news tips here, and download our free app.
The bill (S-3028) sponsored by Senator Bucco, and approved by the Senate Military and Veterans' Affairs Committee, would allow family member or friend with a dog, especially a therapy dog, to be able to visit residents in State-run veterans homes.
One of the exceptions is that you must have proof that your dog has had the rabies vaccine as well as any other vaccines required by the state of New Jersey.
Under this legislation, veterans would be permitted to have dogs as service and emotional support animals at a State veterans' residential facility.
There is a bit of confusion when it comes to having dogs in these facilities.
Senator Bucco explains in the crafting of his legislation, that under federal law service animals are allowed on federal DMVA properties with some restrictions in place.
What is allowed under federal law is that any dog trained "to do work or perform tasks for the benefit of an individual with a disability, including a physical, sensory, psychiatric, intellectual, or other mental disability" is allowed but it has to be related to that specific persons disability.
The language of the federal regulation does not include emotional support service animals which is why they're not currently allowed.
Bucco's bill would clean up the language for facilities in New Jersey while mirroring the federal regulations.
He feels it could help in many cases including with veterans suffering from PTSD.
"Family pets, particularly dogs, have been shown in multiple studies to reduce anxiety, loneliness, and depression. The simple act of petting a dog can reduce stress," Bucco (R-25), said in a statement.. "My legislation will finally permit dogs, especially therapy dogs, to visit State-run veterans homes so that the men and women who served this country, and have sacrificed so much, can experience the joy and comfort of these lovable animals. Extensive research has shown that dogs, particularly therapy dogs, can reduce stress physiologically by decreasing cortisol levels. A visit from one of these intelligent canines can be extremely beneficial to veterans who have experienced post traumatic stress disorder or extreme anxiety."
Here are some of the other changes being made or held with Bucco's bill.
The bill requires a veteran accompanied by a service animal or emotional support animal to provide documentation that the animal has been certified, trained, or licensed as a service animal or emotional support animal, that lists the work or tasks the animal has been trained to perform and confirms the service animal or emotional support animal has had a current rabies vaccine as determined by State and local public health requirements, and current core canine vaccines and immunizations as dictated by local veterinary practice standards, which at minimum includes distemper, parvovirus, and adenovirus-2.
The bill prohibits animals other than service animals or emotional support animals on a State veterans' residential facility property unless the animal is present for law enforcement purposes or under the control of the Office of Research and Development in the federal Department of Veterans Affairs.
Under the bill, "State veterans' residential facility" means any State veterans' memorial home or Veterans Haven facility.
KEEP READING: Dog-Friendly Restaurants At The Jersey Shore
Looking to hit the town with your pup by your side? Here are the restaurants to hit up...
ADORABLE DOGS OF THE JERSEY SHORE
THE REAL CUTE PUPS OF THE JERSEY SHORE