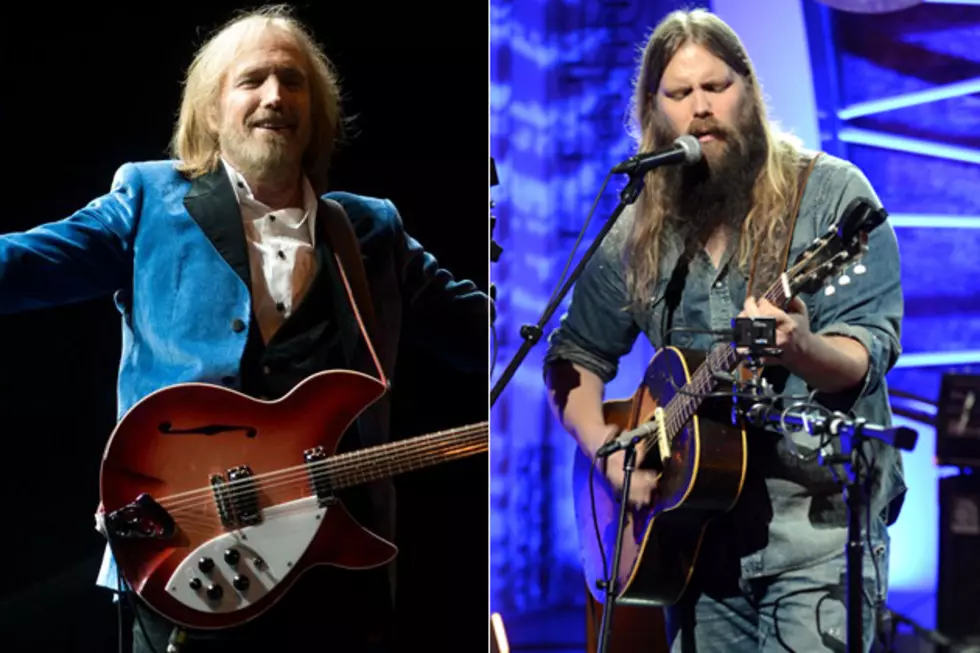 Country Songwriter Won't Back Down From Tom Petty
Samir Hussein / Jason Davis, Getty Images
Tom Petty may credit country music with part of the Heartbreakers' signature sound, but he doesn't mean today's country music, which he recently called, among other things, "bad rock with a fiddle." Now Chris Stapleton, a country-music songwriter, has thrown down the gauntlet.  
A little backstory: In a recent interview with Rolling Stone, Petty lamented, "I don't really see a George Jones or a Buck Owens or anything that fresh coming up ... I'm sure there must be somebody doing it, but most of that music reminds me of rock in the middle '80s, where it became incredibly generic and relied on videos.
"I hate to generalize on a whole genre of music, but it does seem to be missing that magic element that it used to have," he added. "I'm sure there are people playing country that are doing it well, but they're just not getting the attention that the sh--tier stuff gets."
A few days after the Rolling Stone interview was published, Grammy-nominated singer-songwriter Stapleton (who's penned songs like the No. 1 Kenny Chesney hit 'Never Wanted Nothing More') posted an open letter to Petty on Facebook:
Dear Tom Petty,

I think it's safe to say most modern country artists, including me, would list you as an influence. Your recent comments lead me to believe you see room for improvement in modern country music. I, for one, would like to see you put you money where your mouth is in a tangible way.

So, in the interest of making country music less "s–tty" (your words), I suggest a collaboration. I'm extending an open invitation to you to write songs with me, produce recordings on or with me, or otherwise participate in whatever way you see fit in my little corner of music.

In the event that you actually read this and are interested, look me up.

Sincerely,
Chris Stapleton
No word from Petty yet. But since he's in the studio working on his next album, maybe he'll just invite Stapleton to swing by.