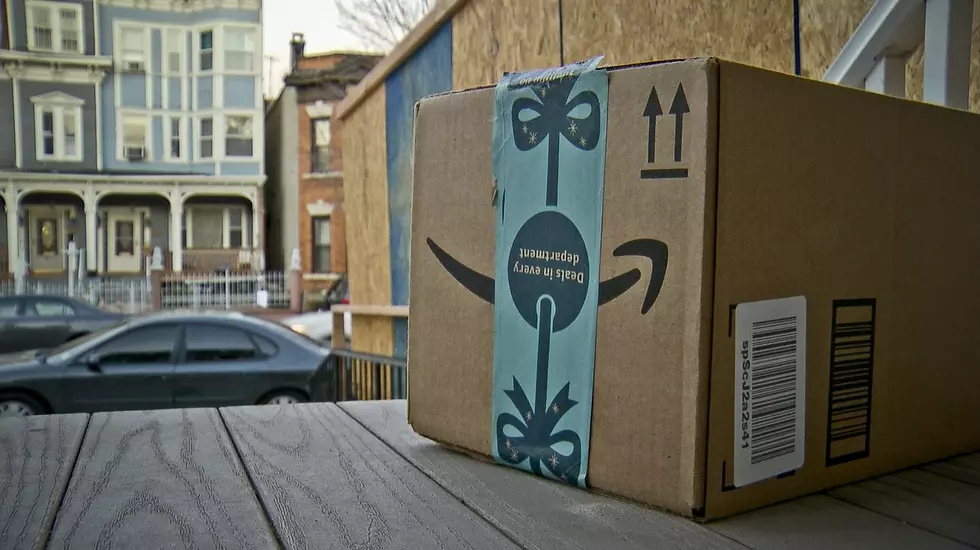 Tips To Avoid Having Your Christmas Stolen By Thieves in Ocean County, New Jersey
Amazon package containing a GPS tracker on the porch of a Jersey City home (AP Photo/Robert Bumsted)
It is the most wonderful time of the year, but even that won't stop horrible human beings from trying to take advantage of good people this holiday season. More and more we see incidents of "porch theft" by what is now known as "porch pirates".
According to the NY Post, "a recent survey found that a staggering 210 million packages vanished from porches across the US over the past 12 months."
Listen to Shawn Michaels mornings on 92.7 WOBM and download our free 92.7 WOBM app
It is a huge problem and around the holidays it seems these low-lives are out more than ever looking to steal your family's Christmas. This is just what happened to us this past weekend. We had shipped Christmas presents and as they sat on the porch waiting for us to bring inside, some creep snuck up and stole numerous gifts and other personal items that were mailed! some of the items are irreplaceable. This is a plague all year but especially at the holidays, but I guess it shouldn't surprise us.
So first let me say if you are a victim of porch pirates contact your online order service and/or delivery service as they may be able to help. Here are some tips from CNET that are useful in combatting porch thefts.
This one I actually heard of before reading the CNET article. If using mail delivery ask for the package to be signed for, this way if the person is not home they will not leave it unattended on the porch.
Install a video doorbell.... brands like Ring, Arlo and Nest sell doorbells that double as home security cameras. These can help watch who is coming to your door.
Invest in a porch lockbox. With these boxes, you give instructions on your online order for opening.
Have your packages delivered to an Amazon Locker, safe and secure for pick-up.
These are just a few tips and we hope they will help you from having your Christmas stolen. If you have any additional tips please post them in the comments section below.
CHECK THEM OUT: 100 years of Christmas toys, gifts and fads