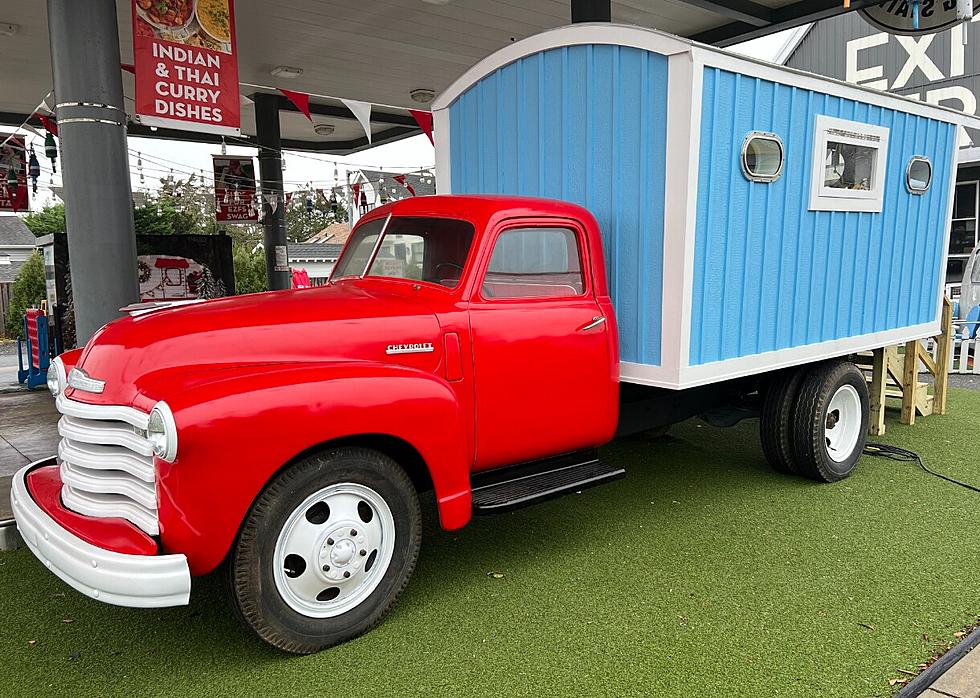 NJ's Coolest Dining Experience is in a 1949 Chevy Truck [PHOTOS]
Exit Zero Filling Station/Facebook
The latest private dining experience at Cape May's Exit Zero Filling Station was 74 years in the making.
The restaurant recently unveiled a restored 1949 Chevy truck with a dining cabin on the back customized to hold a dinner party of up to eight people.
This thing is super cool!
The classic Chevy truck has been restored and painted fire engine red and a diner cabin has been added where the truck bed once sat.
The cabin has been slicked out with an oval ceiling with recessed lights and its own electric fireplace at one end. A table and eight chairs fit well from the look of the photo for anyone looking for an experience with their meal.
This isn't the first time that Exit Zero, at 110 Sunset Boulevard, West Cape May, has featured a creative private dining area.
They also have a classic Airstream trailer they have customized that accommodates parties of six and a Winnebago-style mobile home that has been converted into "Studio Zero" with records and a record player.
During the winter months, these trailers are heated and air-conditioned in the summer.
When it comes to Exit Zero's food, this is how the eatery explains it.
We've continued the Indian and Thai curries that made the old Exit Zero Cookhouse a local legend (in our eyes, at least). But you can't wrong with one of our amazing burgers - OR the famous Hot Chick and Blackened Salmon sandwiches
A little history on Exit Zero, which began as a weekly magazine about Cape May and then opened a retail store in Congress Hall. In 2018, the Exit Zero Filling Station opened, occupying the space of a former gas station with a custom-built restaurant, retail store, and offices.
Exit Zero also took over the restaurants and retail at the Cape May-Lewes Ferry terminal in 2021 after signing a 10-year lease with Delaware River & Bay Authority.
Delicious Cape May Restaurants Open Year-Round 2022-2023
The off-season is my favorite time of year to visit Cape May. You will find that the least crowded time is a great time to try some delicious Cape May restaurants that stay open year-round or most of the off-season.
South Jersey Best Tattoo Joints, According to Listeners