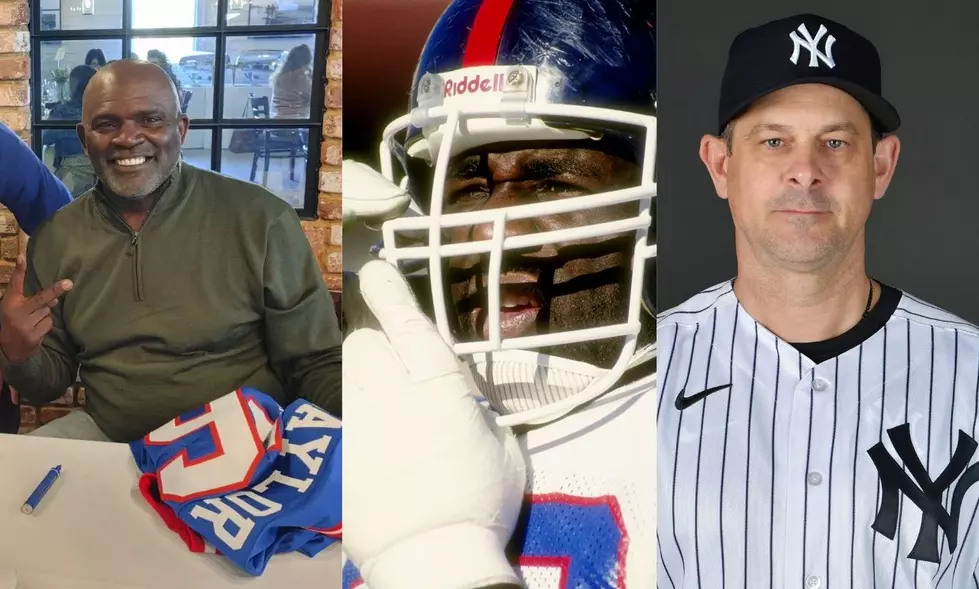 Two New York Giants legends, New York Yankees manager coming to Monmouth County
(LT: Vin Ebenau, Townsquare Media, Leonard Marshall and Aaron Boone: Getty Images)
What a weekend it'll be to be a New York sports fan!
Two former New York Giants and legends of the game -- Lawrence "LT" Taylor, arguably the greatest Linebacker of all time, not just the Giants, but NFL and his pass rushing teammate on a loaded defensive front, Leonard Marshall -- will both be together at the same time meeting with fans and signing autographs.
The event, put on and hosted by Father and Son Sports Cards and Collectibles based in Forked River, takes place on Sunday morning February 5 from 11:00 am until 12:30 pm at iPlay America in Freehold.
Sports Fan Promotion & Coffey Sports, Santos Sports, and Kd Sports Promotions are also helping put on the event.
For LT, it's $200 for a VIP ticket, flats up to 16x20 are $90, footballs and mini helmets are $120, full size helmets-Jerseys and equipment are $150, inscriptions are $50 each, and the LTWASABADMF inscription is $85.
For Marshall, it's $40 for all items with JSA certification and inscriptions are $20 each.
You can buy tickets and learn more about this signing, right here.
You can learn more about Bruce Halliday of Father and Son Sports Cards and Collectibles and all the great athletes and sports figures they've hosted, right here.
Two days prior to that, New York Yankees manager and postseason hero Aaron Boone will be at Convention Hall in Asbury Park to meet with fans and sign autographs.
It'll be from 6:00 to 8:00 pm and is being put on by CollectibleXchange and Bradley Beach resident Frank Luna, who also put on the Oswaldo Cabrera signing in Belmar in December.
"We just had Yankees Phenom Oswaldo Cabrera visit Belmar and I am thrilled to have New York Yankees Manager Aaron Boone join us in Asbury Park," Luna said in a written statement. "It is an honor to work with Brandon Steiner and CollectibleXchange to provide Jersey Shore Yankees fans with a rare opportunity to meet the Manager of the New York Yankees. Not only is Mr. Boone an accomplished Major League Manager, but he was an incredible professional baseball player who hit one of the most historic homeruns in MLB history. This event is the perfect opportunity for families and sports fans to have a fun Friday night out at the Jersey Shore."
You can learn more and buy tickets, here: https://bit.ly/BooneAP
The Nine Best Baseball Players From New Jersey
[carbongallery id="385:615f09e395e7672ca54d33a1"]