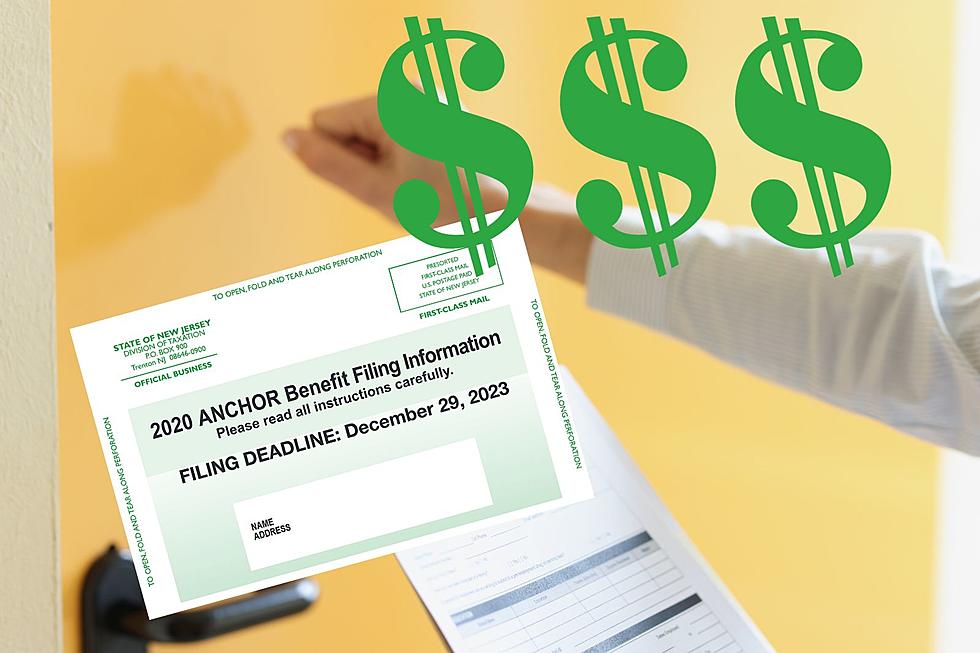 Help to file for your NJ ANCHOR property tax rebate
NJ Department of Treasury/Townsquare Media illustration
💲 The deadline is approaching to apply for the ANCHOR property tax rebate
💲 Helpers will be going door-to-door to help people file
💲 Many will not have to re-file if they were eligible last year
---
Workers from the New Jersey Department of the Treasury are fanning out across the state this week to help people fill out applications for property tax relief.
Known as the ANCHOR Outreach Team, about 300 workers can help with the application and and answer questions about the Affordable New Jersey Communities for Homeowners and Renters benefit (ANCHOR).
State Treasurer Elizabeth Muoio said in a statement, "We are excited to have boots on the ground across New Jersey to help spread the word about the ANCHOR program."
This is the second year for the ANCHOR rebate program which replaced the previous Homestead Rebate.
How much is the ANCHOR rebate?
The rebates are the same amount as last year.
Homeowners making up to $150,000 annually are eligible for a $1,500 rebate. The benefit is $1,000 for those making more than $150,000 and up to $250,000 annually.
State officials did increase the benefit for eligible seniors.
Homeowners ages 65 and older making up to $150,000 annually are now able to receive benefits totaling $1,750. For homeowners ages 65 and older making more than $150,000 and up to $250,000 annually, benefits now total $1,250.
Renters are still included in the ANCHOR rebate program
Renters making up to $150,000 are eligible for a $450 benefit.
The renters benefit did increase for seniors.
Renters ages 65 and older and making up to $150,000 a year are now eligible for a benefit of $700.
You may not need to file
If you were eligible for benefits last year and received a payment, it is likely you do not need to refile to get your benefit paid this year.
As long as your mailing address and bank information are the same as the last time you received your benefit, you're good to go.
But individuals who need to change their mailing address or bank account number must use this portal to apply again online, by Sept. 30. No changes can be made after that date.
All other applicants who did not receive a payment last year have until Dec. 29 to file an application.
When will the helpers be knocking on doors?
According to a statement from the New Jersey Department of the Treasury:
The ANCHOR Outreach Team is scheduled to canvass communities through December 24th, 2023, just days before this season's filing deadline of December 29th. The team will knock on doors six days a week, Monday through Saturday, between 1pm and 7pm. Canvassers will also attend in-person community events in the coming months. The team will wear dark blue vests with yellow lettering identifying them as members of the ANCHOR Outreach Team, as well as yellow ID badges.
If a homeowner or renter cannot be reached at the time of canvassing, the team will leave officially authorized door hangers with ANCHOR information.
These towns actually cut their property taxes in 2022
New Jersey 101.5 examined Department of Treasury data to see which municipalities saw an average drop in property taxes last year. Here are the Top 20 average tax cuts followed by the rest.
Weird things NJ taxes - and some they don't
In general, New Jersey assesses a 6.625% Sales Tax on sales of most tangible personal property, specified digital products, and certain services unless specifically exempt under New Jersey law.
However, the way the sales tax is applied in New Jersey sometimes just doesn't make sense.
New Jersey puts out an itemized list for retailers that spells out what is, and what is not, taxed.
Perhaps because this is New Jersey, there are some bizarre and seemingly contradictory listings.
Dennis Malloy's dream vacation to Italy