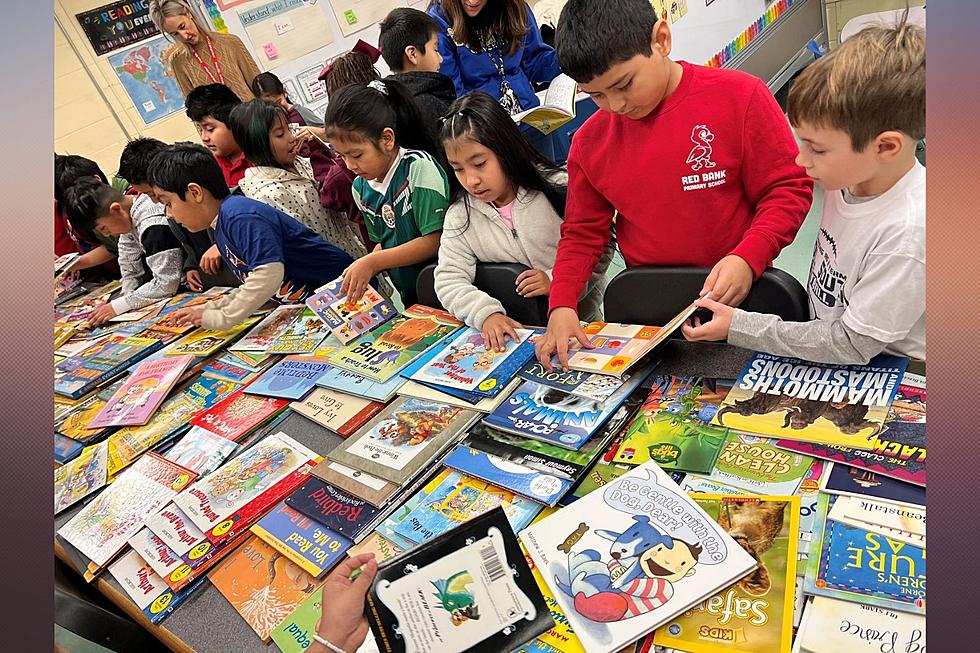 Monmouth County nonprofit that collects books for NJ kids needs your help
The Bridge of Books Foundation
📚 The Bridge of Books Foundation needs new and gently used books for NJ kids
📚 The non-profit also needs financial donors to help them secure a new space
📚 The goal is to give kids access to books to promote learning and a love of reading
---
A chapter of The Bridge of Books Foundation in Monmouth County has been in existence for 20 years.
The volunteer nonprofit was started in 2003 by Abigail Daly in Rumson shortly after the birth of her daughter. She said she was looking for a stay-at-home-mom project in between playdates, feedings, and diaper changes.
What is the Bridge of Books Foundation?
Daly learned about The Bridge of Books Foundation which started in San Francisco, California in 2000 and because of her love of books and reading, she thought it would be a wonderful idea to bring the organization to New Jersey.
Little did she know that this volunteer project was going to turn into a 20-year career for her.
The foundation's message is simple and fundamental. It collects new and gently used books for children from birth to high school.
The books are then sorted, boxed up by age, and donated to kids across New Jersey who need access to books in order to support the development of literacy skills and encourage a love of reading.
Over the course of 20 years, The Bridge of Books Foundation has distributed more than 1.3 million to New Jersey children in need, Daly said.
What kind of donations are needed?
Daly said first and foremost, the volunteer non-profit is in dire need of financial donors. The foundation lost its operational space during the COVID-19 pandemic. For the past two years, they have not been able to find a suitable physical space, so they've been forced to operate out of two storage units.
Still, they've managed to distribute between 50,000 and 70,000 books a year. But, if they were to operate out of a physical space, they could double that amount.
She also said the number of outstanding requests for books is not dissipating. If anything, it has increased since COVID and the need is across the board.
"As you can imagine, it's very challenging to try and meet that kind of need from storage units. So, we're looking to rent a space and looking to build more of an infrastructure around the mission because we all know how important books are," she said.
They are the building blocks to learning to read, she added. They are an inspiration, and are a means to magic, travel, and education.
In terms of book donations, Daly will take books from birth to 18 years, new or gently used.
Where are the books distributed?
They are distributed mostly to schools that ask for donations. Daly said she likes to give extra books to give kids choices. So, if a school asks for books for 500 kids during an event like "Read Across America," she'll donate 1,200 books. That's two books per kid, plus some extra treats.
Books are also donated to health clinics, newborn programs, transitional shelters, prisons, and other community events.
After Superstorm Sandy, The Bridge of Books Foundation came up with a program to put bags of books into FEMA centers.
"Not only do people come and ask for us for books or make requests for books, but if we see situations where we think there might be children who could benefit from having access to books, we'll try to talk our way in there," Daly said.
Where can people make donations?
Anyone looking to make either a monetary or a book donation can go to the Bridge of Books Foundation website and inquire there.
Daly said collecting books for children in need is a great project for kids who are looking for service hours for Confirmation or the National Honor Society. It's a great volunteer opportunity that does not require a lot of parental assistance.
Plus, it's a great learning experience for kids who have access to books to appreciate them and the joy they bring.
"It's about educating our community both about the need for books and learning some empathy and compassion and project management books. I think it's kind of cool all the different things you can get out of being involved with Bridge of Books," Daly said.
Jen Ursillo is a reporter and anchor for New Jersey 101.5. You can reach her at jennifer.ursillo@townsquaremedia.com
Click here to contact an editor about feedback or a correction for this story.
LOOK: 25 must-visit hidden gems from across the US
From secret gardens to underground caves,
Stacker
compiled a list of 25 must-visit hidden gems from across the United States using travel guides, news articles, and company websites.