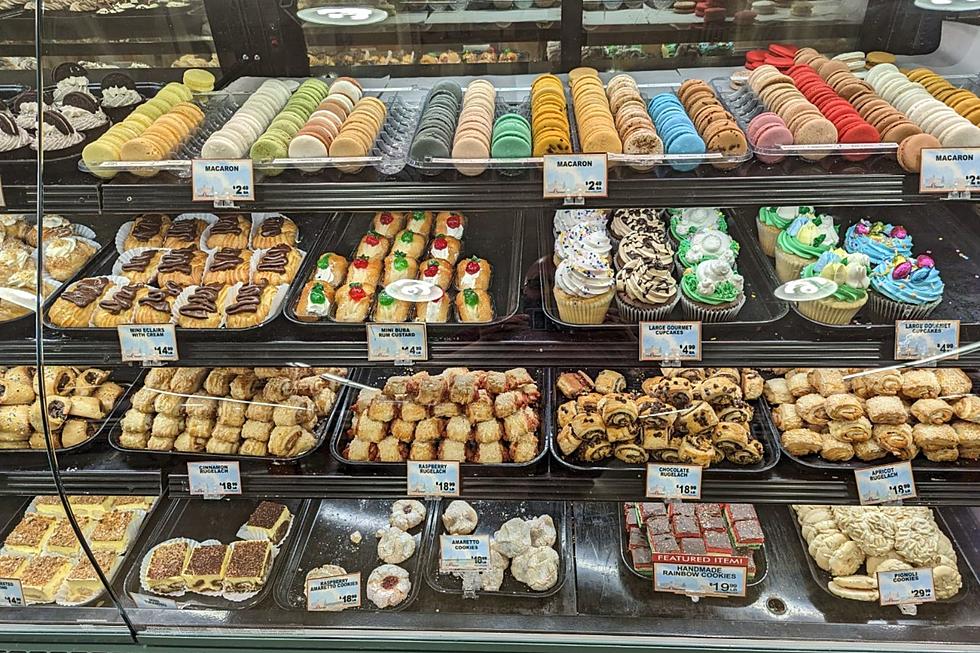 25 of the best bakeries in New Jersey — just in time for the holidays
Dennis Malloy / Townsquare Media
🍰 It's time to order desserts for the upcoming holidays
🍰Check out 25 of the best bakeries in New Jersey
🍰Many are family-owned for generations
---
With the holidays just around the corner, it's time to start planning your dinner menu. No matter the meal, it's always important to top it off with special desserts, whether that's pies, cakes, cookies, pastries, and more.
If you're not doing the baking yourself, it's a good thing to know that New Jersey is home to hundreds and hundreds of bakeries. Everyone has their local favorite. Where do you get your tasty treats?
These are 25 of the best bakeries in the state, in no particular order.
Calandra's has three locations in New Jersey:
204 First Avenue, Newark; Open daily 6 a.m. to 9 p.m.
244 Route 46 East, Fairfield; Open Mon-Sat 6 a.m. to 9 p.m. and Sun 6 a.m. to 8 p.m.
234 Bloomfield Avenue, Caldwell; Open Sun-Thurs 7 a.m. to 9 p.m., Fri-Sat 7 a.m. to 10 p.m.

Calandra's is known for its many cakes, pies, and cookies. Specialty cakes include Chocolate Strawberry Shortcake, Baked Alaska, Blackout Cake, and Cannoli Shell. Gourmet and stuffed cupcakes, French macaroons, chocolate mousse, cream puffs, lobster tails, and pecan tarts are also on the menu. Calandra's will even make special dog cakes for your four-legged friend.
The three bakeries deliver their products to more than 500 supermarkets, delis, and restaurants in the tri-state area. The Calandra family also owns and operates several hotels and restaurants in North Jersey. The family also produces and sells their own line of olive oil, coffee, fresh pasta, homemade sauces, and wines from their vineyard in Italy.
303 Main Street, Keansburg
Open Tues-Sun 6 a.m. to 6 p.m.
Now owned by famous New Jersey chef, David Burke (who grew up in Hazlet), the Dixie Lee Bakery has been in existence in Keansburg since 1933. The 90-year-old bakery is apparently named after Bing Crosby's first wife, Dixie Lee who was an actress, dancer, and singer in the day. Burke has made improvements to the baked goods and continues to sell traditional pastries, donuts, breads, cakes, and its famous black-and-white cookies.
1027 Chestnut St, Roselle
Open Tues-Sat 5 a.m. to 6 p.m. and Sunday 5 a.m. to 3 p.m.
Originally from the Ironbound section of Newark, the family, Raul, Julie, Linda, and Annie found their way to Roselle in 1991 to open this Portuguese bakery filled with a wide selection of quality offerings. Once you go inside, you'll be greeted with cakes, pastries, breads (especially the multigrain loaf with raisins), pastel de nata (custard cup), and so much more.
Pinho's is also known for its coffee cakes, Horseshoes, pies, and pound cakes, as well as eclairs, rum balls, napoleons, mousse tarts, cheesecakes, cupcakes, and cake slices. They also have a large assortment of miniatures that can be pre-ordered in trays.
2 Gordon Ave, Lawrence Township
Open Tues-Sat 7 a.m. to 3 p.m.
All of The Gingered Peach baked goods are handcrafted in small batches from scratch using fine ingredients from King Arthur flour to Barry Callebaut chocolate.
The bakery is known for its cinnamon buns, stickies (the traditional sticky bun with butter, raisins, and chopped pecans), scones, muffins, cupcakes, caramel crack (rich brioche rolled and baked in the bakery's signature toffee sauce), banana pudding, and so much more. The menu is updated seasonally.
600 Main St, Bradley Beach
Open Sun-Thurs 6 a.m. to 9 p.m. and Fri-Sat 6 a.m. to 10 p.m.
In 1960, Giovanni Di Iorio left his hometown near Naples, Italy, and came to New York City. He helped his children establish Del Ponte's Bakery in Brooklyn. In 1999, Del Ponte's opened in Brandly Beach, which is an extension of Di Iorio's baking traditions.
Del Ponte's offers a variety of baked goods including cookies, cakes, pastries, and more than 20 varieties of biscuits and bread.
Some specialties include: Lemon and anisette drop cookies, lobster tails, bear claws, elephant ears, linzer tarts, 20 pie varieties, 8 varieties of crumb rings, and more.
56 Payne Rd, Lebanon
Open Tues-Sun 8 a.m. to 5 p.m.
Established in 1998, Sweet Melissa Patisserie is a French-influenced bakery and café. All of the baked goods are made from scratch and rolled by hand. Husband and wife owners, Christopher Rafano and Executive Chef Melissa Murphy Rafano have lived in Hunterdon County since 2010. The new location in Clinton Township opened in May 2016.
Come in for any dessert like double dark chocolate cherry cookies, and order any customized treat, as well.
Sweet Melissa Patisserie was also awarded "Best Bakery" and "Best Brunch" by Hunterdon Happenings in 2017.
2201 NJ-35, Sea Girt
Open Tues-Fri 7 a.m. to 7 p.m. Saturday 7 a.m. to 8 p.m. and Sunday 7 a.m. to 5 p.m.
Featured on The Food Network's Top Places to Eat, Simona's Bakery features cookies, cakes, cupcakes, macarons, brownies, pies, cheesecakes, pastries, muffins, crumb cakes and tub cakes (gourmet jumbo cupcakes deconstructed in a jar)
A must-try is the blueberry white chocolate cupcake with blueberry preserve filling. Another is the chocolate mousse and raspberry cupcake featuring three kinds of chocolate and a raspberry surprise.
410 NJ-10, Ledgewood
Open Mon-Fri 7 a.m. to 7 p.m. Saturday 7 a.m. to 5: 30 p.m. and Sunday 7 a.m. to 3 p.m.
Owned and operated by Albert and Joe Stango who have been in the bakery business for more than 30 years, there is always a wide variety of baked goods at Giancarlo's. There's also an Italian deli and a pizzeria.
Giancarlo's is known for its bread, rolls, Pignoli cookies, and Danish cheese rings. Other specialties include cupcakes, tarts, macarons, pies, Italian desserts, and more.
https://chocolatecarousel.com/
2510 Belmar Blvd, Wall Township
Open Tues-Fri 9 a.m. to 4 p.m. Saturday 9 a.m. to 3 p.m. and Sunday 9 a.m. to 1 p.m.
Founded in 20023, owners Lisa and John Porada pride themselves on employing formally trained and talented cake designers and pastry chefs at Chocolate Carousel. They are known for their specially crafted occasion cakes (mostly weddings), handmade chocolates, pastries, and pies.
Pastry specialties include eclairs, Cannoli, French horns, lobster tails, brownies, and baklava. They also pride themselves on jumbo flavored cookies, more than 35 stuffed cupcakes, layer cakes,
Cookies: Chocolate Crackle, Jumbo flavors, more than 35 stuffed cupcakes, 16 different pie flavors, and more.
Porada's motto: "Life is short, eat dessert first."
Chocolate Carousel has received several local and national awards for its work and philanthropy.
614 Main St, Hackensack
Open Tues-Sat 6:30 a.m. to 6 p.m. and Sunday 6:30 a.m. to 3 p.m.
"Home of the famous heavy crumb cake," B& W Bakery has been open for over 90 years. They bake their crumb cake all day long, making nearly 2,000 pounds of their famous extra-crumbly streusel topping a week, according to the website.
The New York Times calls this cake "to die for."
479 Port Reading Ave, Port Reading
Open Tues-Sun 7 a.m. to 5 p.m.
D'Orsi's Bakery has been in existence for over 70 years, known for its superior breads, breakfast items, cakes, cupcakes, cookies, and pastries.
80 Bridge Ave, Bay Head
Open Tues-Thurs 6:30 a.m. to 5 p.m., Fri-Sat 6:30 a.m. to 6 p.m. and Sun 6:30 a.m. to 4 p.m.
Open from March through December, you can bet there is always a long of people outside Mueller's Bakery waiting to get their hands on freshly baked goodies. Mueller's has been pleasing locals and visitors alike for decades.
While the pastries, cakes, breads, bagels, donuts, coffee, cookies, Danish, and their famous crumb cake are enough of a reason to go to Mueller's, it's become a tradition among locals. Many begin their mornings, especially in the summer outside of Mueller's. For others, it's the go-to place on a Sunday to grab the perfect dessert to bring to grandma's house.
Mueller's crumb cake is so famous, that they even ship it all over the world.
301 N Harrison St, Princeton
Open Tues-Sun 8 a.m. to 2 p.m.
Lillipies is a small-batch bakery that opened in 2016, specializing in single-serving pies, artisan breads, sweets, and breakfast all day long.
Their breads are high-hydration sourdough, fermented anywhere from 12 to 36 hours at a low temperature. Organic flour is used in all their breads and baked goods.
Their signature single-serving pies, known as Lillipies, have been deemed as one of Food Network's "10 Best Pies from Coast to Coast."
Pies are seasonal so some that are available now are apple crumb, pumpkin, Bourbon pecan, cranberry key lime, and more.
550 Cookman Ave #104, Asbury Park
Open Wed-Thurs 10 a.m. to 7 p.m., Fri 10 a.m. to 9 p.m., Sat 10 a.m. to 10 p.m., Sun 10 a.m. to 7 p.m.
A delightful play on words, Confections of a Rockstar bakery has been featured on The Food Network, MTV, US Weekly, People Magazine, E! News, and more.
As a young girl, owner Kimmee found her passion for music. She later found her passion for baking when her father opened a bakery in Freehold. In 2009, she wanted to manage her rock band and get things rolling to also open a bakery. Combining her two childhood passions, Kimmee decided on a rock n' roll-themed bakery. In August 2012, Confections of a Rockstar was born.
Even the desserts have cool names to them. Some include:
Rasbury Park: vanilla cupcake with a graham cracker base, swirled with fresh raspberries, and cream cheese frosting, then drizzled with raspberry sauce.
Hungry Heart: chocolate stuffed croissant with a chocolate drizzle
Haulin Oats: oatmeal raisin cookie
Knockin' on Heaven's Door: triple chocolate cookie with walnuts
254 Bellevue Ave, Montclair
Open 7 days a week 6:30 a.m. to 7 p.m.
You name it, Mattarello's has it. Order anything like Cannoli, mini pastries, creampuffs, Tiramisu, cookies, cheesecakes, macarons, donuts, tarts, specialty coffees, and more.
Some specialties include Chestnut Chocolate pie (rich chocolate and chestnut inside a shortbread crust topped with leaves), ricotta pear cake (shortbread layered with fresh pears and ricotta mousse), and Ferrero Rocher mousse (sponge cake layered cake covered with chocolate ganache and cracked hazelnuts).
32 Franklin Turnpike, Waldwick
Open Mon-Fri 7 a.m. to 7 p.m., Sat 6:30 a.m. to 7 p.m., Sun 6:30 a.m. to 6 p.m.
Reinholds has been a Bergen County favorite for decades. Many locals rave about their onion rolls, salt sticks, crumb cake, coffee rings, and their signature "Yum Yums."
The Yum Yum is a twisted doughnut with cinnamon and glazed all over.
They also make great wedding cakes customized to your liking.
11 St Mihiel Dr, Delran
Open Tues-Sat 6 a.m. to 6 p.m. and Sun 6 a.m. to 1 p.m.
L& M is a family-owned and operated bakery for more than 58 years.
They offer a wide variety of cakes, pound cakes, pies, more than 30 flavors of donuts, butter cookies, chocolate chip cookies, black and white cookies, pastries, cupcakes, breads, babkas, and seasonal treats.
25 Village Center Dr, Freehold
Open Mon 9 a.m. to 5 p.m., Tues-Fri 9 a.m. to 7 p.m., Sat 8 a.m. to 5 p.m., and Sun 9 a.m. to 4 p.m.
Always served fresh, La Dolce is known for its freshly baked breads, Italian pastries, cupcakes frosted with buttercream icing and topped with rainbow sprinkles, Italian cookies, and more.
15 Haddon Ave, Haddon Township
Open Wed-Sat 7 a.m. to 7 p.m. and Sun 7 a.m. to 6 p.m.
Established in 1939, McMillan's is run by the original family, now in its fourth generation. All the creations are baked with fresh and local products from the South Jersey region.
McMillan's is famous for its cream donuts. Each and every donut is handmade and filled individually with as much whipped cream as it takes.
305 Washington Ave, Spring Lake
Open Thurs-Sun 8 a.m. to 3 p.m.
The Scone Pony, a play on words of the legendary Stone Pony in Asbury Park, is famous for its signature scones, along with cookies, cupcakes, and other pastries.
Scone flavors include vanilla bean with vanilla bean glaze, blueberry, blueberry lemon with lemon glaze, cranberry orange with orange glaze, lemon poppy with lemon glaze, cinnamon chip with vanilla bean glaze, and chocolate chip with chocolate glaze.
763 Broadway, Bayonne
Open 7 days a week 5:30 a.m. to 8 p.m.
This full-service bakery has been serving Bayonne since 1924. Judicke's is famous for its sprinkled donuts, brownies, apple turnovers, and sprinkle cookies.
Three locations in Cape May:
701 Beach Ave 7 a.m. to 5 p.m. daily
505 Carpenters Lane 8 a.m. to 5 p.m. daily
1202 Route 109 6 a.m. to 12 p.m. daily
This family-owned business has three charming locations nestled in the coastal town of Cape May. The bakery is known for its award-winning donuts and world-famous sticky buns.
The sticky buns have put Madison's Bakery on the map. They are made from a treasured family recipe, featuring a golden, buttery dough coated in a rich, gooey glaze and sprinkled with a blend of cinnamon and sugar.
24 S Broad St, Ridgewood
Open 7 days a week 7 a.m. to 10 p.m.
The patisserie is known for its French pastries, chocolates, and breads and has a reputation for unwavering excellence. The bakery also offers an array of savory selections for breakfast and lunch including crepes made in front of customers.
Specialties include The Ridgewood Cake (chocolate mousse, vanilla crème brulee filling, and chocolate sponge), The Olivera (verbena tea mousse, with chocolate pineapple cremeux, and pistachio Dacquoise), and The Planetarium (milk chocolate mousse, pear crème filling, and hazelnut Dacquoise).
247 Main St, Matawan
Open Tues-Sat 8 a.m. to 6 p.m. and Sun. 8 a.m. to 2 p.m.
The Abbate family, originally from a small town in Sicily, opened their first bakery in Brooklyn in 1976. In 2000, they moved the business to Matawan. Their passion has always been passing down family recipes to their customers.
Abbate is known for its homemade prosciutto bread made only on Saturdays and Sundays.
But they have a wide array of other baked goodies like cakes, cookies, pies, and more. Try their new rainbow cookie cheesecake and the salted caramel apple cheesecake, too.
356 W Main St, Freehold
Open Mon 7 a.m. to 4 p.m., Tues-Thurs 7 a.m. to 7 p.m., Fri-Sat 7 a.m. to 8 p.m., Sun 7 a.m. to 5 p.m.
Bruno's has been a family-owned establishment since 1973, with pastry and bakery shops in Brooklyn, New York City, and Staten Island. Their newest location is in Freehold operated by Chef Joseph and Fina, filled with traditional Italian sweets, breads, and cakes, plus cookies, tarts, cheesecakes, mousse cakes, layer cakes, biscotti, chocolate truffles, pastries, and Chef Biagio's signature Panettone.
The Bruno's family competed at the highest level of food competition winning Bobby Flay's Cannoli throwdown, and Rachel Ray's Royal Wedding Competition. Plus, it is also the proud home of the "Cake of the Century" and Bakers Retail of the Year.
Be sure to check out one of these amazing bakeries for your Thanksgiving, Christmas and other holiday desserts.