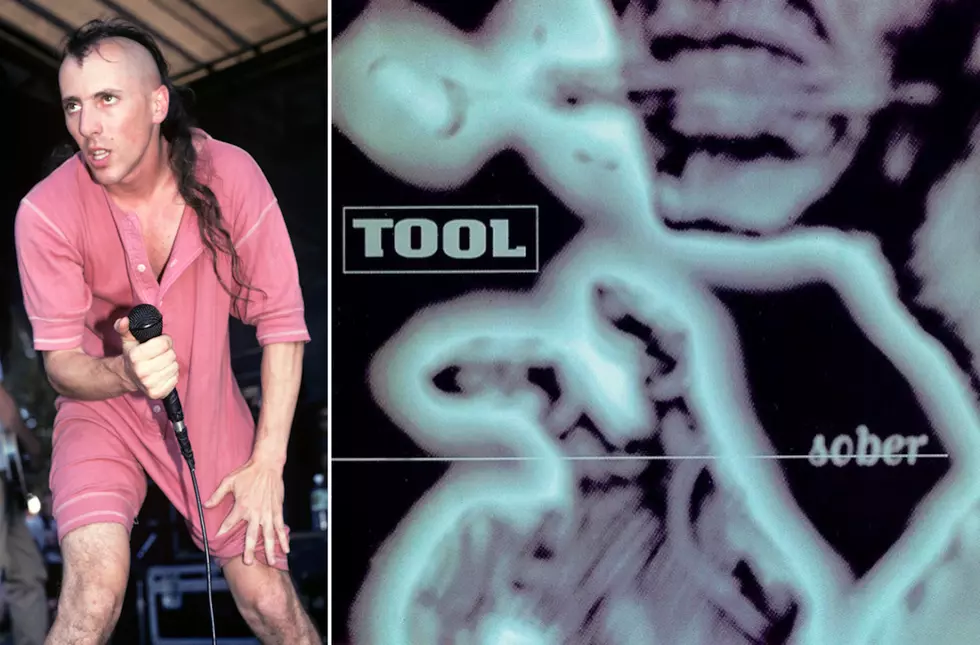 30 Years Ago: 'Sober' Brings Tool to the Masses
Ebet Roberts, Getty Images / Zoo Entertainment
"Sober" marked Tool's breakthrough to mainstream audiences, but its origin could be traced back several years earlier.
In the late '80s Maynard James Keenan was fronting a band called Children of the Anachronistic Dynasty, an industrial-rock group from Grand Rapids, Mich. The band built a small local following and self-released two cassette EPs, but never scored a record contract.
Arguably the highlight of Children of the Anachronistic Dynasty's career was a 1987 performance on a local public-access channel, which included the song "Burn About Out." Its verses were similar to what would become "Sober," but the track lacked the powerful chorus fans would later come to love.
Children of the Anachronistic Dynasty was finished by the end of the year. Keenan moved to Los Angeles and was onto his next group, Tool.
Watch Children of the Anachronistic Dynasty Perform 'Burn About Out'
Keenan revisited "Burn About Out" during sessions for Tool's debut LP, Undertow, and some lyrics would be changed.
Keenan is famous for withholding the inspiration to his words, but guitarist Adam Jones admitted to Guitar School that "Sober" was inspired by a friend of the band who was "at his artistic best when he's loaded. A lot of people give him shit for that. I don't tell people to do or not do drugs. You can do what you want, but you have to take responsibility for what happens. If you become addicted and a junkie, well, that's your fault."
With its ominous bass line and gradual build, "Sober" is like watching the lighting of a long fuse, witnessing it gradually burn until it finally hits a powder keg and erupts during the song's chorus. Listeners were captivated by the track when it was released as a single in May 1993. "Sober" became a radio hit, climbing to No. 13 on Billboard's mainstream rock chart.
"It hasn't been really important to us to get in the Top 40 and that whole rat race," Jones admitted. "What's important to us is not how many albums we're selling and all that shit. It's making real music for people who appreciate it. It's not writing a hit song so we can sell as many albums as we can look like big rock stars."
Watch Tool's 'Sober' Video
A music video featuring stop-motion animation with models designed by Jones earned heavy rotation on MTV, and the band was thrust toward fame. "We wanted to take as much time and effort making the video as we did the song," Jones said. "The video took a month to plan and a month to do."
The results were similar to filmmakers the Brothers Quay, which infamously drew the ire of Nirvana's Kurt Cobain. "Oh God, I hope they get sued," he said in an interview with MTV. "It is such a ripoff; it's a shameless ripoff. I mean, I wanted a Brothers Quay style, but I didn't want anything like that. That was terrible."
Regardless, "Sober" represented Tool's mainstream arrival, propelling their debut album to multi-platinum sales. Suddenly, the group was in the upper level of modern metal acts.
Rockers With Hidden Talents
Each of these famous musical artists also does something else exceptionally well.
When Tool Dressed Up as Led Zeppelin