Top 10 Funniest Christmas Movies
Don't feel like grabbing the box of tissues this year to watch 'It's a Wonderful Life'? Want to lighten it up this year when you sit down with the family to watch a Christmas movie this season? Well then we have the ultimate list for you.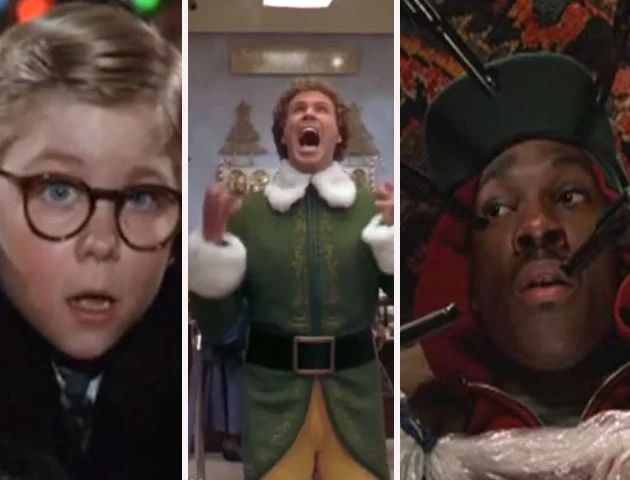 The holidays are about family, fun and laughter and we have plenty of laughter for you. Here are the top 10 funniest Christmas movies of all time.
10. 'Jingle All the Way' –
Forget for a second that the movie has Sinbad as one of the main actors in it. We can all sympathize with Arnold Schwarzenegger's character as the dad who waited until the last minute to try and get the hottest toy of the year.
Subscribe to 105.7 The Hawk on
---
9. 'The Ref' –
A bad cat burglar is forced to take a family hostage and quickly realizes they are extremely dysfunctional. While he has the family hostage, Dennis Leary, who plays the unknowing burglar, decides he's going to give the family a present by helping to fix their issues. You start to feel bad for Leary's character, as even robbing a house, shouldn't have to make you put up with a family like this as punishment.
Subscribe to 105.7 The Hawk on
---
8. 'Elf' –
A young orphan hops a ride to the north pole and is raised as an elf. AS he becomes an adult, he starts to realize that he's different and discovers that he was adopted. So the elf, played by Will Ferrell, heads to New York to find his biological father, who ironically, is on the naughty list.
Subscribe to 105.7 The Hawk on
---
7. 'The Santa Clause' –
Tim Allen put down his tool belt long enough to star as a business man working in the toy industry who magically gets tagged to be the next Santa Claus.
Subscribe to 105.7 The Hawk on
---
6. 'Home Alone' –
What kid didn't want to be Mcauly Culkin when this movie came out? You get left home with a run of their house AND you get to defend your house against the bad guys, any kid would've signed up for that mission in a heartbeat.
Subscribe to 105.7 The Hawk on
---
5. 'Bad Santa' –

An absolutely hilarious movie with Billy Bob Thornton as a con man disguised as Santa. A class nerd tries to show this warped Santa the true meaning of Christmas.
Subscribe to 105.7 The Hawk on
---
4. 'Scrooged' –
Bill Murray does a fantastic job of playing tv executive Frank Cross who gets visited by 3 ghosts on Christmas Eve on this modern take on the Charles Dickens classic.
Subscribe to 105.7 The Hawk on
---
3. 'Trading Places' –
What happens when a snobby investor crosses paths with a con man at Christmas time? You get one of the funniest comedies of all time.
Subscribe to 105.7 The Hawk on
---
2. 'A Christmas Story' –
This film is an absolute must-see for the holiday season. A boy falls in love with a bb gun that he wants for Christmas. The only problem is that every adult around him thinks its a bad idea, telling him over and over again "You'll shoot your eye out kid."
Subscribe to 105.7 The Hawk on
---
1. 'National Lampoon's Christmas Vacation' –
There is no better way to laugh during the holidays than to watch the Griswold's Christmas celebration. Even the magic of Christmas isn't enough to save poor Clark Griswold and his family from, well, Clark Griswold.
Subscribe to 105.7 The Hawk on
---
What are you favorite Christmas comedies? Leave your picks below.